Precious Metals Weekly Market Wrap
After heavy selling at mid-week that was prompted by a series of upbeat economic reports, precious metals rebounded on Friday after a very disappointing U.S. labor report that made a continuation of massive Federal Reserve stimulus more likely. In the off-chance that anyone needs to be reminded, in just ten days the central bank could announce a reduction in their current $85 billion per month money printing effort. This action is seen as decidedly negative for precious metals despite this asset class not benefiting from Fed money printing, now approaching $700 billion in 2013.
Safe haven buying driven by speculation over military action in Syria continues to underpin metal prices as this was a key factor in both gold and silver rising to their highest levels in more than three months in late-August. The bearish outlook on precious metals by U.S. investors has clearly faded over the summer and hedge funds are the most bullish since January, but, as always, India and China remain the most important demand drivers.
Another report of exceptionally high gold imports from Hong Kong to China and revived Indian demand as the wedding season gets underway indicate there has yet to be a sustained slowdown in Asian buying. We are about to enter the most favorable months of the year for gold and silver, but, after a tumultuous year for precious metals, it is unclear whether seasonality will have the impact that many gold bulls and bears expect.
For the week, precious metals were mixed as the gold price was down 0.6 percent, from $1,396.50 an ounce to $1,388.80, and silver rose 1.3 percent, from $23.53 an ounce to $23.84. Gold is now 17.1 percent lower so far this year, down 27.8 percent from its record high of over $1,920 an ounce two years ago, and the silver price has fallen 21.4 percent in 2013, now 51.8 percent below its record high near $50 an ounce in early-2011.
Developments in Syria and the September 17-18 Fed meeting remain the two most important short-term drivers for metal prices and this was clear to see in recent trading. Gold and silver plunged early last week after the White House delayed any military action in the Middle East, opting to consult Congress instead, and then economic data came in better than expected.
To be sure, U.S. military action in Syria leading to a major escalation of geopolitical tensions between the East and the West will drive metal prices higher, but there were few developments on this front last week. But economic data and their influence on any upcoming Fed decision was an entirely different matter.
After reports from the Institute from Supply Management showed both the manufacturing and services sectors expanded at a brisk pace in August, the gold price dipped as low as $1,365 an ounce and silver approached $23 an ounce, their lowest levels in two weeks. But metal prices reversed sharply on Friday after the monthly labor report came in below expectations with the underlying data dismal in many respects.
This complicates any Fed decision on tapering their asset purchase program since the U.S. economy is clearly improving, however, the labor market remains in what can only be described as terrible shape despite the falling jobless rate. Recall that workers leaving the labor force (and, as a result, no longer being counted as "unemployed") have been the most important factor behind the improvement in the unemployment rate while modest growth in nonfarm payrolls (that is barely enough to keep pace with population growth) has been primarily low-paying and part-time work.
As such, the Fed will have to take into consideration the underlying details of the job market data and that means another week of uncertainty for financial markets.
In China, economic data appears to have had no impact on their relentless demand for gold this year as shown below where July proved to be another month of hefty imports from Hong Kong to the mainland.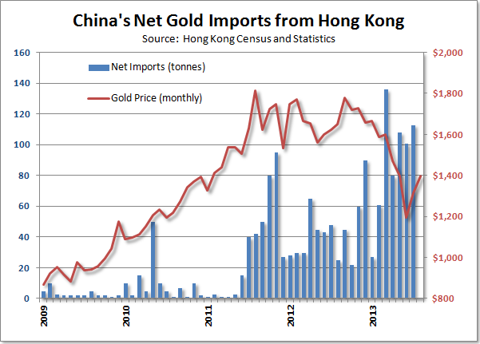 After reaching a record 137 tonnes in March, net imports rose from 101 tonnes in June to 113 tonnes in July, according to the latest data from the Hong Kong Census and Statistics Department.
With year-to-date net imports of over 600 tonnes and when considering that this is just one source of gold supply, it is now widely believed that China will overtake India this year as the world's biggest consumer of gold.
Both nations could see record gold demand of over 1,000 tonnes in 2013, though, due to government efforts to curb gold imports. India remains a wildcard during the last few months of the year when demand normally increases due to wedding season buying.
According to a Reuters report, heavy rains during this monsoon season will bolster demand in the months ahead since most of the gold buying in India occurs in small quantities in rural areas that are wholly dependent upon income derived from agriculture. This quote from 36-year old sugar cane farmer Nilesh Japtap in the western state of Maharashtra provides some important insight on the nature gold demand in the country:
Last year I bought 20 grams. This year, I am planning to buy 30 grams. Gold helps in many ways. Whenever I need money, I pledge (GOLD) with the bank. I can even sell it during a medical emergency.
Multiply Mr. Japtap's increased purchase and rosy outlook by, perhaps, hundreds of millions and this could prove to be a very difficult period for government officials trying to aid an ailing economy and plummeting currency by reducing their trade deficit through lower gold imports. With inflation at about 10 percent and gold proving to be far better than any other investment alternative (in local currency terms), they face a difficult task.
Imports slowed sharply in July due mostly to confusion over the government's latest round of regulations that have since been clarified as discussed in this Mineweb story. Gold imports are again rising, but the key question is how much demand was "pulled forward" earlier in the year when prices fell and imports surged, a subject that was discussed in last week's Why Gold Seasonality Might Not Matter This Year.
Here in the U.S., Bloomberg reported that hedge funds are the most bullish on gold in eight months as indicated by a 34 percent jump in net-long positions during the last week in August. Bearish bets plunged by the most in eight months, falling 37 percent. While institutional investors and other money managers in the U.S. may not yet be adding to their gold positions, they've largely stopped selling as holdings of popular metal ETFs such as the SPDR Gold Shares ETF (NYSEARCA:GLD) and the iShares Silver Trust ETF (NYSEARCA:SLV) have stabilized over the last month or so.
After rising a total of 10 tonnes over three straight weeks, GLD holdings fell by just 1.8 tonnes last week while the SLV trust was little changed in recent days. Holdings at GLD remain down sharply for the year while SLV holdings are about 2 percent higher and it now appears that one key factor for a sustained move higher in metal prices is in place, namely, the end of metal ETF selling that was widely seen as a reflection of negative sentiment in the West.
As commodities traders return from their summer vacations, it is shaping up to be an interesting fall season for precious metals with the resolution of two key developments - war in Syria and money printing at the Fed - driving gold and silver prices over the next two weeks.
Disclosure: I am long GLD. I wrote this article myself, and it expresses my own opinions. I am not receiving compensation for it (other than from Seeking Alpha). I have no business relationship with any company whose stock is mentioned in this article.
Additional disclosure: I also own gold and silver coins and bars.