Back in April in my article titled, "Regenerative Medicine's Time Has Come", I covered two very interesting companies focused on this field: NeoStem Inc. (NBS) and Neuralstem Inc. (NYSEMKT:CUR).
Since the writing of the article, these stocks have gained the following:
CUR $1.20 to a high of $1.79 for a 49% gain
NBS $6.40 to a high of $8.90 for a 55% gain
As you can see, these stocks have outperformed the market in a big way. Since the writing of the article, there have been even more positive developments for both stocks, so today I will go over them in this update. NBS has four distinct divisions: Amorcyte, Athelos, PCT, and VSEL Technology. The focus is cardiovascular, autoimmune disorders, and regenerative medicine. There is also a new focus for NBS, intellectual property. Patents have become the buzzword in investments over the last several months so it is very good to see NBS is pursuing this possible revenue source.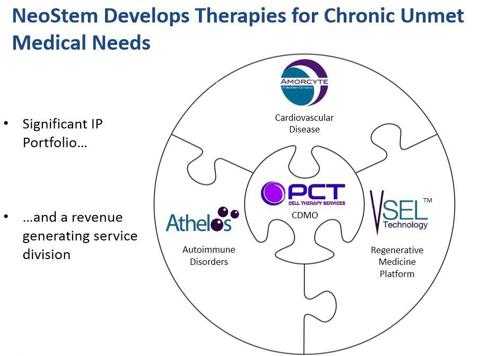 On July 16 the company performed a 1 for 10 reverse stock split. This helped to dramatically reduce the outstanding shares of NBS and has, in part, helped to bring the stock to the attention of both investors and institutions. Also helping was the move from the NYSE to the Nasdaq market place. Average dollar trading volume has picked up nicely since the move, making it more appealing to investors that look for liquidity in stocks they own and trade.
In August NBS also hired an investment banker to be its new CFO. Robert Dickey IV has 15 years of management experience at life sciences companies. He has specific expertise in financing, M&A, partnering/licensing transactions and project management, as well as international experience. The hiring of Dickey could signal the beginning of a new stage in the evaluation of NBS and also bring much needed institutional attention to the company.
Since my last article there has also been some key updates from NBS. First up, we have the earnings report from August:
Revenues were $4.4 million
Net losses from continuing operations were $8.6 million
$14.7 million in cash
Secured $4.6 million in grants
Progenitor Cell Therapy generated a 73% increase in revenues from Q1 2013
Market cap of $150m
Float 17.1m shares
Insiders own 15.8%
PCT offers its clients and NeoStem cell processing and development capabilities on both the East and West Coasts of the U.S. and is pursuing plans to expand internationally. Per the last report, NBS also signed a contract with " a large pharmaceutical company that is entering the cell therapy sector." Potential news on what company this is could positively impact the stock.
Most investors are unaware that NBS has a partnership with the Vatican that was made back in 2011. The goal of this deal is to promote the use of adult stem cells for treating disease rather than focusing research on embryonic stem cells. Back in August, NBS stated that its chief financial officer was named to the new position of vice president of strategic initiatives and mentioned this Vatican deal, perhaps signaling some progress or potential news on this in the near future.
Amorcyte is the lead product of NBS and the one I focused on the most last time. In the last few months, we have had some updates. Enrollment has continued in its PreSERVE Phase 2 clinical trial with 120 patients infused as of August 8, 2013. The trial is on track to complete patient enrollment for this trial in 2013 with data read out 6-8 months after the last patient is infused.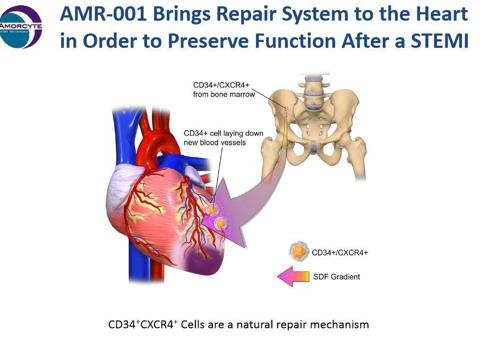 The leading cause of death continues to be heart disease, as you can see from the chart below. The market potential for NBS just on this indication could be huge.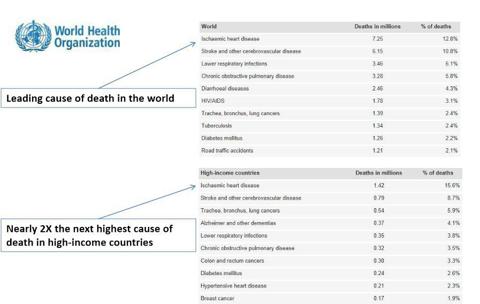 NBS is presenting at many conferences in the month of September, which should bring more investor and institutional interest to the stock. The company may also release news too. The new CFO is definitely putting his investment banker talents to work getting interest in the company. Here is the list of the eight conferences NBS is attending.
CUR is a company focused on the development of treatments for central nervous system diseases based on human neural stem cells. Its stem cell technology enables the isolation and expansion of human neural stem cells from various areas of the developing human brain and spinal cord. The key update for CUR over the last several months has been its spinal cord research and this has driven the stock up nicely during that time.
CUR is expected to begin its NSI-566 ALS Phase II trial in September at both Emory and the University of Michigan. The trial, with generous funding from the National Institutes of Health and the ALS Association, will focus on cervical area injections and an increase in both the number of injections each patient receives, as well as the number of cells in each injection. The ALS trial will treat eight patients with T2-T12 complete paralysis. The primary endpoints of the trial are to demonstrate safety and toxicity of NSI-566 to treat chronic spinal cord injury. The other key development in the last quarter was NSI-189 that also advanced in the second quarter. The FDA approved the third and final cohort in the major depressive disorder Phase Ib trial, and dosing has nearly been completed. The company expects data from the trial to be available in the second half of the year so news could come at any time sending shares higher, if results are positive.
Recently the company announced that it is working with the National Football League Alumni Association (NFLAA) to develop a trial for treating NFL alumni members suffering from traumatic brain injuries (TBI), with NSI-189, the lead compound in the company's neurogenic drug platform. NSI-189 is currently in a Phase Ib clinical trial to treat major depressive disorder (MDD). This news from a few weeks ago should get more attention given the news last week that the NFL settled with the NFL players for $765m, with some of that money being set aside for research. Given the earlier partnership announced by CUR, it is reasonable to assume CUR should see some potential funding for this trial in the near future. Also, the high profile nature of news like this also helps to bring more institutional interest into small cap stocks like CUR.
On Thursday CUR raised $4m in financing at $1.60 per share. The risk on CUR, aside from bad trial results, is of course the constant financing the company does. However, on a positive note the recent financing actually saw shares of CUR increase so that can be viewed as a positive.
CUR continues to roll out positive news on its spinal cord pipeline. It also has a possible funding deal coming funded by the NFL. Developments on these could help the stock move nicely higher in the coming year.
In June, NBS was given a price target of $25 per share. That is 300% higher than the current price of the stock, giving potential investors here tremendous upside potential. NBS is still an unknown stock to much of the investing world. The new CFO has a strong background in the investment-banking world and is starting to put that knowledge to work. As more and more institutions and investors discover NBS, the stock price will respond. Fund ownership is only 6.6% of NBS. With a very small float now of only 17m, once the stock gains attention, the accumulation should push shares much higher. Investors taking a serious look at NBS should also view its investor presentation PowerPoint slide for more information.
I will look back again in a few months to see how NBS and CUR have performed. Perhaps both stocks will see a similar 50% move.
Disclosure: I have no positions in any stocks mentioned, and no plans to initiate any positions within the next 72 hours. I wrote this article myself, and it expresses my own opinions. I am not receiving compensation for it (other than from Seeking Alpha). I have no business relationship with any company whose stock is mentioned in this article.