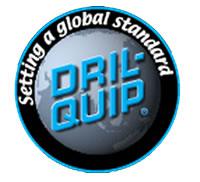 Like the name implies, Dril-Quip (NYSE:DRQ) is a leading manufacturer of highly engineered offshore drilling and production equipment well suited for use in deepwater, harsh environment and severe service applications. The company is on track to grow net income by 40% in 2013. Best-in-class operating margins, a large contract with Petrobras (NYSE:PBR), and a stock buyback plan provide additional catalysts going forward.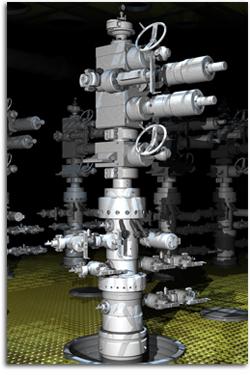 Drill-Quip is in excellent position to capture growing drilling equipment requirements resulting from recent deepwater discoveries in the Gulf of Mexico and in the offshore waters of Norway, Brazil, and Africa. The company's subsea and surface wellheads, production trees, mudline hanger systems, drilling and production riser systems, wellhead connector and diverters are used by every major integrated, large independent, and foreign national oil and gas company throughout the world.
Robust Earnings Growth
In its Q4 and full year 2012 earnings release, DRQ posted net income of $2.94/share and issued guidance of $3.40 to $3.60 for 2013. Six months later the company issued 2013 first half results of $2.03 and raised guidance to $3.85 to $4.05.
Current street estimates are for $1.05 in Q3 and $1.11 in Q4.
Taking the midrange of the company's guidance ($3.95), earnings would grow 34%. Using street estimates for the second half ($2.16), earnings for full year 2013 will come in at $4.19, or 43% above 2012.
Competitive Landscape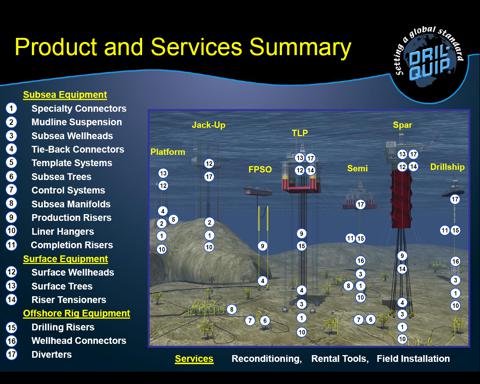 Click to enlarge
DRQ competes alongside companies like Aker Solutions, Cameron International (NYSE:CAM), FMC Technologies (NYSE:FTI), and GE Oil & Gas (NYSE:GE). Despite these high quality competitors, Dril-Quip has consistently posted margins more than double that of its peer group. One reason is because DRQ keeps a lid on capital expenditures by buying used machinery and rebuilding them with custom numerical CNC fabrication controllers. The result is custom made purpose-built machinery designed specifically for the company's high technology product line. DRQ's 214 acre campus in Houston, TX provides in-house forging and heat-treating capabilities and is one of the largest rough and finish machining facilities in the industry. According to a June presentation, capital expenditures are expected to be only $80 million in 2013. One result of its lean manufacturing operations was a best-in-class operating income margin of 22.1% for full-year 2012: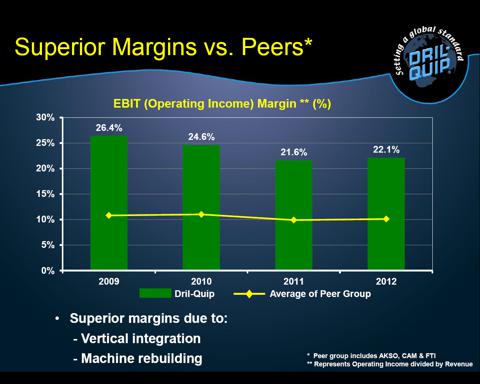 Click to enlarge
Petrobras Contract
In August of 2012, DRQ announced a $650 million contract with Petrobras to deliver subsea wellhead systems and associated tools to be used in the drilling of deepwater wells offshore Brazil. Dril-Quip expects to begin delivering products under the contract in the second half of 2013. Considering total revenues for full year 2012 were only $733 million, this was a huge contract award for DRQ and is a strong catalyst going forward.
Backlog
DRQ has consistently grown revenues and backlog despite the financial crisis and a moratorium on drilling in the Gulf of Mexico after the deepwater Horizon spill in 2010. The company's backlog has grown from $881 million at the end of 2012 to $1.1 billion by the end of June.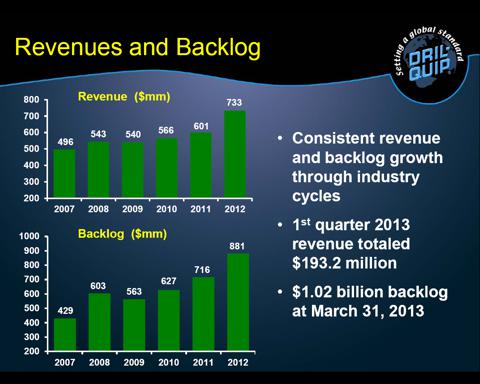 Click to enlarge
Stock Analysis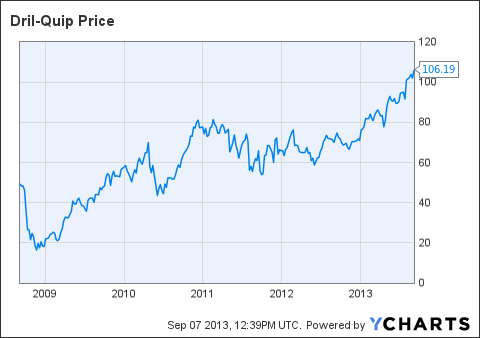 Mkt Cap = $4.32 billion
Shares Outstanding = 40,821,000
P/E (ttm) = 30.2
EPS ((tm) = $3.52
Div (Yield) = N/A
The stock has been on a tear - up 45% so far in 2013. DRQ trades at a rich valuation with a trailing 12-month P/E of 30. After breaking through prior resistance at $80, the stock has gone nearly straight up to $106.
Obviously the market respects DRQ's ability to grow earnings. Based on Friday's close, if full year 2013 earnings come in as expected ($4.19/share), the P/E would be ~25. One thing to keep in mind is the $100 million stock buyback plan announced in June of last year. The program has no expiration date and does not obligate the company to acquire any particular amount of common stock. Any repurchased shares are expected to be cancelled. At the current stock price, full execution of the plan would amount to ~940,000 shares, which if retired by year-end, could boost earnings to $4.29/share. On the other hand, DRQ does not pay a dividend, so there is no yield cushion should the overall market experience a correction, the price of oil fall dramatically, or if DRQ fails to meet earnings expectations.
Risk Analysis
The standard risks relevant to any deepwater oil services company with worldwide operations certainly apply to DRQ: oil spills, drilling moratoriums and/or regulatory shutdowns, foreign currency exposure, and the price of oil itself. From a competitive standpoint, the company has a good handle on its low-cost custom manufacturing operations and is returning margins double that of its peers, which should enable it to easily retain market share if pricing pressures result due to a drop in oil prices. Also, the huge contract with Petrobras is a testament to its strong competitive position in the subsea drilling equipment market and would provide a safety cushion should future order growth slow.
Summary & Conclusions
Dril-Quip is one of the fastest growing and best positioned oil drilling equipment companies. Earnings are set to grow 40% this year. Backlogs continue to grow. Cost-conscious control of its in-house custom manufacturing operations is a strong competitive advantage: operating margins are double that of its peer group. A very significant contract with Petrobras and a $100 million stock buyback program are additional catalysts going forward.
Another consideration is recent chatter of a GE takeover. A Bloomberg article Friday mentioned both Dresser-Rand (NYSE:DRC) and Dril-Quip as potential GE buyout candidates. In light of GE CEO Jeff Imelts' comments on his desire to grow the company's lucrative Oil & Gas business, as well as the recent $3 billion takeover of Lufkin and the previous acquisition of Dresser Industries, this is not idle speculation. It's clear GE is hungry to buy established, well respected, and branded companies to bolt-on to its existing oil and gas equipment business. Dril-Quip certainly fits the description. Due to anti-trust concerns, if deals did go down, I would expect Siemens (SI) to buy DRC, and GE to takeover DRQ. With GE's $16 billion+ cash hoard, it must be viewing Dril-Quip (and Dresser-Rand) as very attractive targets, which it could easily afford.
Based on the factors discussed in this article other than the buyout chatter, it is conceivable DRQ could grow net income by 40% again next year - per share earnings could reach $5.60-$6.00 in 2014. At the midpoint of that estimate and with a P/E=25, the stock could hit $145 over the next 12 months: up ~35% from Friday's close. On a buyout prior to year-end, I doubt DRQ would agree to a price less than $150-175, in the range of $6-7 billion.
All that said, the market and DRQ's stock have been on a nice run in 2013. Recent geopolitical concerns revolving around Syria and significant production interruptions in Libya and Nigeria have pushed oil prices significantly higher. A correction in the overall market and/or in the price of oil are likely over the next few weeks and months. Although I rate DRQ as a BUY, investors should scale in slowly and wait for a better entry point. If a significant pullback comes, it would be a great buying opportunity and would be time to go heavy on DRQ.
Disclosure: I have no positions in any stocks mentioned, but may initiate a long position in DRQ over the next 72 hours. I wrote this article myself, and it expresses my own opinions. I am not receiving compensation for it (other than from Seeking Alpha). I have no business relationship with any company whose stock is mentioned in this article.
Additional disclosure: I am an engineer, not a CFA. The information and data presented in this article was obtained from company documents and/or sources believed to be reliable, but has not been independently verified. Therefore, the author cannot guarantee its accuracy. Please do your own research and contact a qualified investment advisor. I am not responsible for investment decisions you make. Thanks for reading and good luck!