Introduction
In this article I'll provide an update on Total (NYSE:TOT), a French oil and gas company which is one of my favorite companies in the sector thanks to its huge diversification and generous dividend
As I said in my previous articles, I consider Total to be an excellent dividend play that belongs in almost every income-oriented portfolio (see my previous article "why Total belongs in your income portfolio").
I will determine whether or not Total is still attractive after the recent share price increase, and will propose a buy-write option strategy at the end of this article to increase your returns.
Is Total still attractive after the recent share price increase?
Total enjoyed a good summer as its ADR share price increased from $47 to in excess of $57/share in less than three months on the back of higher oil prices and concerns about an upcoming war in the middle east with Syria as a starting point.
Because Total's run was caused by an increased oil price (see next image for a chart of the evolution of the Brent crude), I don't think Total is now valued too expensively. As you can see, the oil price increased from approximately $100/barrel in June to in excess of $116/barrel as of Friday.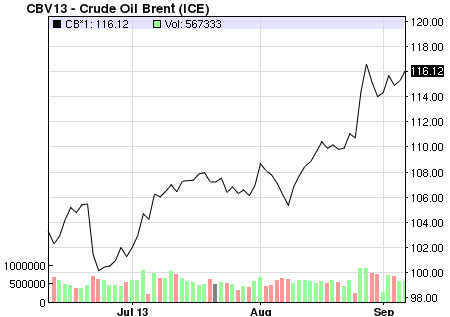 As it looks like the average price of Brent crude for Q3 will be at least $107-110/barrel, I expect Total to post accordingly increasing net profits also fueled by a higher refinery margin as the average Brent price in Q2 was "just" $102.4/barrel. The spread between the Brent crude and NYMEX crude is also widening again (up from 4% in June to 5.5% today), which is another reason why I expect Total to post higher refinery margins than the $24.1/tonne it generated in Q2.
Based on these reasons, I think Total is still trading quite cheaply at just 9 times the expected 2013 earnings.
The upcoming dividends
In a previous article, I said the next ex-dividend dates for Total are September 19th and December 11th, and Total will pay a gross dividend of 0.59 EUR ($0.78)/share on these dates. As France levies a 15% withholding tax on dividends paid to American citizens (if you live somewhere else, please consult your tax/investment advisor about the applicable treaties between your country and France), the net dividend will be $0.66/share.
A possible option strategy: Buy stock and write a C55 January 2014
In this paragraph I'll propose a relatively risk-less option strategy to potentially increase your returns on Total by buying the shares and writing covered call options. As I'll point out, the worst that can happen is that you'll end up with shares in Total at an average cost of less than $53.50/share (excluding dividends).
If you'd buy 100 shares at $55.58 and write a call with a strike price of 55 and expiration date January 2014 for $2.30, your average cost per Total share would be $53.38 (excluding broker commissions). You'd also receive two $0.66 dividends, which lowers your average cost base further to just $52.06.
As long as Total is trading higher than $55/share, your shares could be called away any time at $55 (and you might miss the dividend then). But this isn't bad at all, because in the previous paragraph, I explained how a buy-write strategy actually lowers your cost base to $53.38. So even if your shares would get called at $55 (which is relatively unlikely before expiration day) before you would be entitled to a dividend, you'd still make a profit of 3.03%.
If Total trades and expires under $55/share, your shares won't be called and after receiving the two dividend payments, your average cost per share would be just $52.06, and at this price your net dividend yield would be 5.07%. And if Total expires under $55/share in January, you can always repeat this tactic over and over again to continue to lower your average cost base.
Conclusion
At this moment, Total has a net yield of 4.75% (after the 15% withholding tax in France), but there are possibilities to increase the returns by writing covered calls on the stock you own. Total is quite cheap right now as the company is trading at just 9X this year's earnings and 8 times next year's expected profit. Even after the recent share price increase of 18% Total is still attractive.
Disclosure: I am long TOT. I wrote this article myself, and it expresses my own opinions. I am not receiving compensation for it (other than from Seeking Alpha). I have no business relationship with any company whose stock is mentioned in this article.