The price differential in natural gas is currently $12 between Japan's LNG import prices and the U.S. domestic prices.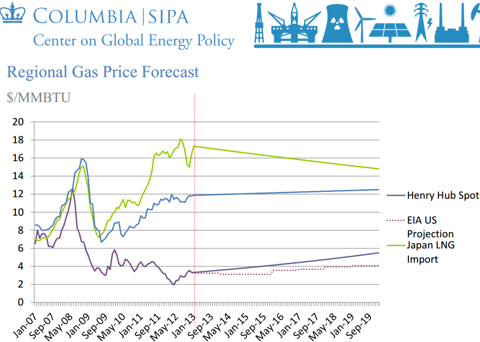 In this article, I will feature one Canadian oil and gas company that is positioned to be one of the leading producers of Montney gas and supplier to Canada's West Coast LNG projects.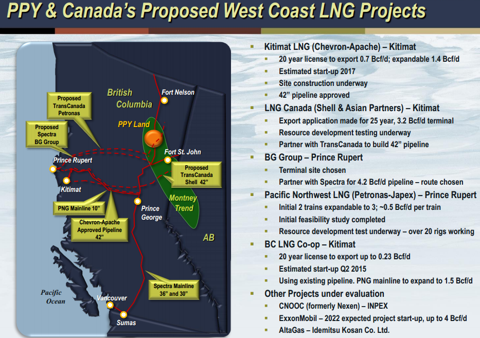 Painted Pony Petroleum's (OTCPK:PDPYF) market cap is currently $707 million, which is only one quarter of its evaluated value of $2,752 million.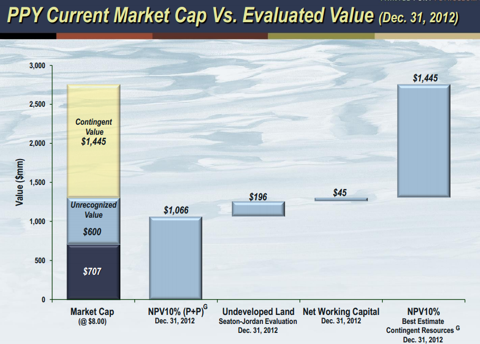 Financials
Painted Pony reported the second-quarter financial results on August 13 with the following highlights:
| | |
| --- | --- |
| Revenue | $23.0 million |
| Funds flow from operations | $12.6 million |
| Net income | $0.7 million |
| Net cash | $22.1 million |
| Production | 7,928 boe/d |
During the second quarter, over 1,500 boe/d remained shut-in due to weather related curtailments and infrastructure capacity constraints. During the first week of August, field estimated volumes averaged over 9,200 boe/d.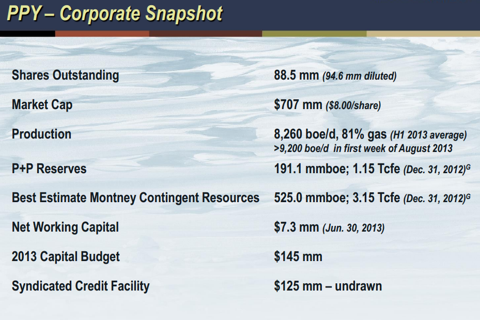 Outlook
Montney gas operations
To date during 2013, Painted Pony has drilled or is currently drilling a total of eight (5.6 net) Montney horizontal wells. A further five (4.0 net) horizontal wells are expected to be drilled during the balance of 2013, including two (2.0 net) new wells on the liquids-rich project at Townsend.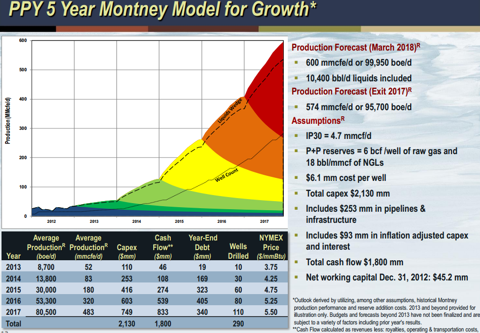 The production forecast for 2018 is 600 mmcfe/d or 99,950 boe/d in Montney.
Light oil operations
In Saskatchewan, Painted Pony has participated in the drilling of three (1.4 net) wells to-date this year. A further five (3.1 net) wells targeting light oil are expected to be drilled during the balance of this year.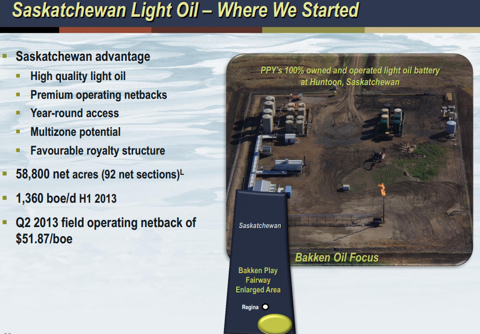 The company's capital budget for second half of 2013 is $80 million.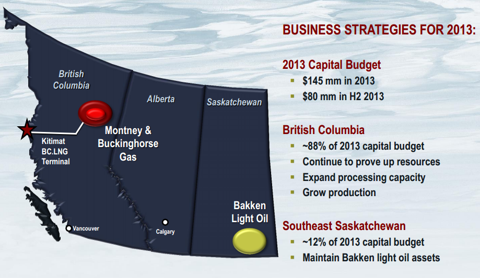 Competition
Painted Pony's competitors in Montney include Petronas, Talisman (NYSE:TLM), Sasol (NYSE:SSL), Encana (NYSE:ECA), Mitsubishi (OTCPK:MSBHY) and Shell (NYSE:RDS.A).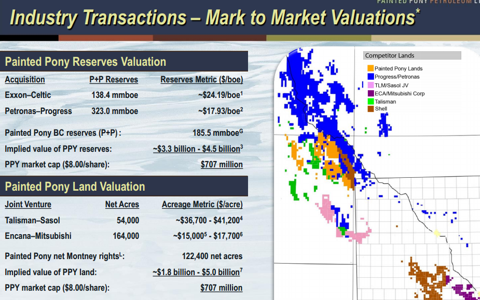 In October 2012, Exxon Mobil's (NYSE:XOM) Canadian subsidiary, ExxonMobil Canada, agreed to buy Celtic Exploration (OTC:CEXJF) for $2.64 billion, in a deal to raise its presence in some of Western Canada's most promising shale oil and gas regions. Celtic had 138.4 mmboe of P+P reserves in Montney. The deal valued Celtic's reserves at $24.19/boe.
In December 2012, Petronas completed a $6 billion Progress Energy (OTC:PREX) acquisition after the deal won Ottawa's approval. Progress had 323.0 mmboe of P+P reserves in Montney. The deal valued Progress' reserves at $17.93/boe.
Painted Pony's British Columbia P+P reserves are 185.5 mmboe. By using the same valuation metrics as in Celtic's and Progress' deals, Painted Pony's reserves should be worth $3.3 billion to $4.5 billion versus the current market cap of $707 million.
In December 2010, Talisman Energy announced it had reached agreement to create a strategic partnership with Sasol to develop the Farrell Creek assets in Talisman's Montney shale play in northeastern British Columbia. Talisman sold a 50% working interest in its Farrell Creek assets to Sasol for a total consideration of $1,050 million. This transaction closed on March 1, 2011. Farrell Creek represents approximately 51,000 net acres of land in the Montney. The deal valued Talisman's land at $36,700 - $41,200 per acre.
In December 2012, Encana entered into an $2.9 billion agreement with Mitsubishi for a 40 percent interest in the Cutbank Ridge Partnership. The partnership holds about 409,000 net acres of Encana's undeveloped Montney-formation natural gas lands in the company's Cutbank Ridge resource play in northeast British Columbia. The deal valued Encana's land at $15,000 - $17,700 per acre.
Painted Pony has 122,400 net Montney acres. By using the same valuation metrics as in Talisman's and Encana's deals, Painted Pony's land should be worth $1.8 billion to $5.0 billion versus the current market cap of $707 million.
Insiders are buying
Here is a table of Painted Pony's insider-trading activity by calendar month.
| | | |
| --- | --- | --- |
| Month | Insider buying / shares | Insider selling / shares |
| September 2013 | 3,064 | 0 |
| August 2013 | 3,733 | 0 |
| July 2013 | 3,449 | 0 |
| June 2013 | 3,075 | 0 |
| May 2013 | 2,939 | 0 |
| April 2013 | 5,392 | 0 |
| March 2013 | 20,200 | 0 |
| February 2013 | 5,700 | 0 |
| January 2013 | 11,972 | 0 |
There have been 59,524 shares purchased and there have been zero shares sold by the insiders this year.
Conclusion
The biggest risk for the stock is the price of oil and natural gas. Painted Pony is positioned to benefit from the price differential in NGL between Asia and the U.S. By the time West Coast LNG terminals are operational starting in 2017, Painted Pony should have reached production rates of almost 500 mmcfe/d (80,500 boe/d) or $833 million in annual cash flows.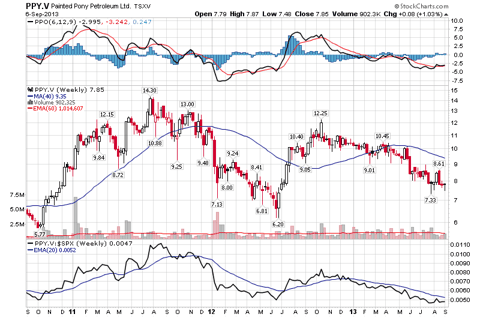 Disclosure: I am long OTCPK:PDPYF. I wrote this article myself, and it expresses my own opinions. I am not receiving compensation for it (other than from Seeking Alpha). I have no business relationship with any company whose stock is mentioned in this article.