This Thursday, lululemon athletica (NASDAQ:LULU) reports earnings. And though EPS and future estimates will be critical, the report will be overshadowed by any news from the search for a CEO. Though the current, lame duck CEO Christine Day will stay on board until a successor is named, the company is now in limbo. At this point, there is no telling not just who the next CEO will be, but perhaps importantly, what role they'll take in relation to lululemon's founder and chairman, Chip Wilson. And since LULU is at such a critical point - these lingering questions mean that LULU will continue to suffer in the meantime.
As evidence, the stock is 15.5 percent below its all-time high, which was hit immediately prior to Day's announcement. Though the price has recovered roughly 50 percent of that decline (from all-time high to recent low), its inability to move higher is also concerning. Price is constrained by the 50-day moving average - at $70.73 - and the 200-day moving average - at $70.23. Should the 200-day MA fall below the 50-day, it could inspire additional selling pressure.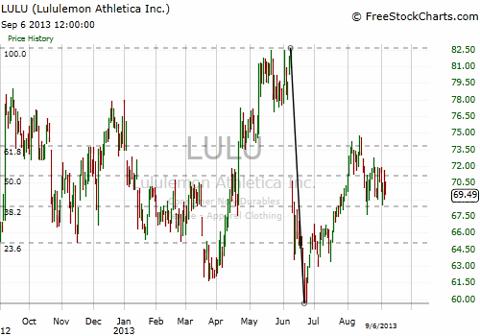 This week, the athletic apparel maker is expected to show profits in the second quarter of 35 cents per share, a 10 percent decline year-over-year that is the result of the see-through pants incident. LULU currently trades at a forward price-to-earnings ratio of 28.4 and a price-to-sales multiple of 7.18. Comparatively, Under Armour (NYSE:UA) trades at a forward P/E of 37.57, but a price-to-sales of 3.64. UA has a substantially higher PEG ratio - of 2.59, compared with LULU's PEG of 1.57 - though the company itself is valued at $7.28 billion vs. LULU's $10.51 billion.
Whether that valuation is rich or not will be determined as the company answers the following three questions.
How Will LULU Open the Brand to Men?
Herein lies lululemon's challenge - how are they going to expand the brand to men's athletic apparel? Or how are they going to achieve more growth within the market? At present, men's sales represent about 12 percent of LULU's revenue, so there is obvious room for growth.
However, whether the brand's standalone men's stores will be successful is another question. The company is prepping for standalone stores beginning in 2016, according to plans announced in the last conference call.
That is going to be the chief struggle for the company during the next CEO's tenure. As Uggs can attest, converting interest among women to sales for men can be a struggle. Despite recruiting Tom Brady as a spokesman, Uggs was unable to convince men that its boots were cool. (And for good reason.)
LULU might face less of an uphill battle than Uggs, but its foray into men's apparel will nonetheless be challenging - and perhaps not least of all because of the feminine sounding name and image that lululemon inspires.
How Will LULU Respond to Competition?
Lululemon is also experiencing greater competition with its target demographic than it has ever before. Gap's (NYSE:GPS) Athleta brand is preparing an assault on LULU - recently naming Nancy Green, a veteran of Gap and the executive in charge of growth in China, as the brand's general manager. And it is easier to be chasing the industry leader than it is to continue to innovate and expand. Athleta, which opened its first store in 2011, is hoping to expand to 60 by the end of 2013. Comparatively, LULU has more than 200 stores.
These stores are still experiencing good growth, which is forecast to be between 5 and 7 percent in the second quarter. As Athleta, and lower-priced competitors like Target (NYSE:TGT), get their brands up and running, it will be important to note whether this rate can continue.
Can LULU Add Manufacturing, Supply Chain Efficiencies?
Lululemon's sheer pants weren't the first challenges management has had in supply chain issues. The more than $60 million blunder follows other problems, such as bleeding dyes in other clothing. This is partially a "good" problem to have - as it results from the company's growth and expansion. But, when customers are paying for luxury goods, they are not paying for products that fail to measure up.
As the company grows and potentially expands beyond North America and Australia, it will need to maintain quality standards and implement safeguards. Without it, the brand is sure to lose cache.
Between these and other challenges, it is unclear how long Lululemon can remain among the fastest-growing companies in the world. Until it secures a CEO and demonstrates it can tackle these problems, I wouldn't touch the stock.
Disclosure: I have no positions in any stocks mentioned, and no plans to initiate any positions within the next 72 hours. I wrote this article myself, and it expresses my own opinions. I am not receiving compensation for it (other than from Seeking Alpha). I have no business relationship with any company whose stock is mentioned in this article.