Last year when Arena Pharmaceuticals (NASDAQ:ARNA) and Vivus (NASDAQ:VVUS) received FDA approval on their respective anti-obesity drugs, there was a palatable excitement in the air. Investors were salivating at the prospects of a prescription solution for some 100 million obese people in the United States, and another 100 million people that are overweight.
The term blockbuster was assigned to Vivus' Qsymia as well as Arena's Belviq. Qsymia reached the market first in the Fall of 2012 while Belviq awaited scheduling from the DEA. Vivus saw very modest initial sales, and at about 3 months into the launch, despite no competition from Belviq, began a discount program. The Vivus discount worked to a modest extent, and eventually the company had to initiate a second discount.
While Vivus and Qsymia were on the market, Arena and its marketing partner Eisai (OTCPK:ESALY) were developing launch plans and awaiting final scheduling from the DEA. That final scheduling came in May of 2013, and Arena's Belviq was set to launch on June 7th of 2013.
After what was a very modest pace set by Vivus and Qsymia, the street had backed off of any thoughts of an immediate blockbuster. Meanwhile, Eisai and Arena were maintaining a positive stance and in May spoke of $200 million in sales by March 31st of 2014. A few weeks later Eisai spoke of $150 million in gross sales by the end of 2013. While neither number was blockbuster ($1 billion in gross sales in 1 year), the numbers were high enough to point to a drug that carried blockbuster potential at some point down the road.
Many investors felt that Belviq would outpace Qsymia by a wide margin. When Belviq did launch, it was done so with immediate discounts. This was something that Vivus waited about 3 months to implement. With immediate discounts Belviq was indeed outpacing the launch of Qsymia by a decent margin. The problem has been that even while beating Qsymia, it was clearly not sales pace that would meet the expectations Eisai had set up in May and June. Both the $200 million projection as well as the $150 million projection were soon labeled as "hopeful aspirations" by Eisai just weeks after launch and not long after the Arena CEO had characterized the Eisai projections as "conservative".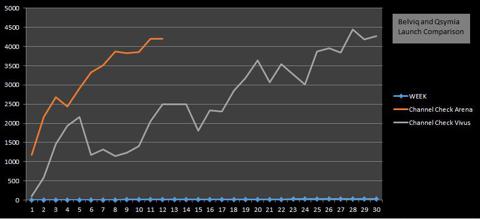 Click to enlarge
Thus, we were looking at a launch that is softer than many expected. I myself had projected long before launch that it was my opinion that Arena's Belviq needed to sell 40,000 prescriptions in the first 12 weeks to be considered good. As it turns out, with a 30% adjustment on IMS Health numbers and a 20% upward adjustment on Symphony Health numbers, Belviq sales stand at about 43,000 and 46,000, respectively. Thus, we are off to what I would characterize as a good start.
The chart below outlines the launch of Belviq. The blue line represents exponential type growth that would pace toward $150 million in gross sales by the end of 2013. The yellow line illustrates a theoretical analyst model that would deliver enough gross sales to generate sales revenue to Arena of about $10 million during 2013 (it assumes $100 per prescription net sales). The orange line represents IMS sales numbers adjusted up by 30%. The green line represents Symphony numbers adjusted up by 20%.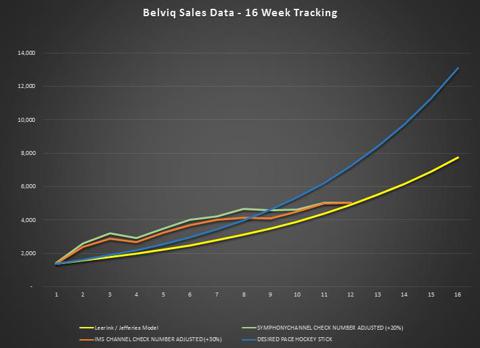 Click to enlarge
As you can see, the sales pace thus far is flatter than the exponential model that is now labeled as hopeful aspirations. Sales are tracking just above, but more importantly flatter, than the analysts' line. The analysts' line tracks to $68 million in sales by the end of 2013. What is important here for investors is to understand where things look to shake out in the coming months.
If investors have already arrived at the conclusion that gross sales will be at $70 million or less, we are in the correct neighborhood for expectations. If investors have not yet arrived at that conclusion it is simply a matter of time before you get to that point.
The analyst model calls for total script sales of 341,000 by the end of the year. Essentially, in order to meet this expectation, we need to see 300,000 scripts sold in the next 18 weeks. That represents an average of 16,666 scripts per week. If that seems daunting, you can understand why the price of Arena stock has been under so much pressure. I have stated that this company needs to show growth no matter what and despite the holidays. The growth that is required to meet the expectations of the most bullish analysts demands see some impressive numbers in the next several weeks. By example, week 13's adjusted number needs to be at 5,505. Week 14 needs to be at 6,166. Week 15 needs to be at 6,905, and week 16 at 7,734. The growth curve of the analyst line is getting steeper than the trajectory being demonstrated by actual IMS and Symphony sales numbers.
One thing investors need to understand is how Arena is booking sales revenue. The charting I do is tracking sales as if they are being booked by sales to the consumer. Arena is booking from Eisai sales to the distributors. In Q2 there was $10 million in gross sales, and just over $4 million in net sales. Arena's share was a bit over $1 million. That first order was 50,000 bottles of Belviq. To meet analyst expectations we need to see 6 more orders of 50,000 bottles.
The next thing investors need to consider is what we can expect in revenue from each 50,000 bottle order. The first 50,000 bottles generated net sales of $82 per bottle and about $26 per bottle for Arena. I am modeling at $100 per bottle in net sales and $31.50 to Arena. I use a higher number because, in theory, as time passes, the percentage of freebies will decrease and the average per bottle will increase.
The first three months does not define this company. It does give a pretty good idea of where 2013 will wind up. If it is not already clear to investors it will be soon. This drug and this stock will be a process that will take time to develop. Patients that are taking the drug appear to be seeing results. What we have here is a situation where doctors need to be brought up to speed, insurance companies need to be brought into the fold, and consumers need to be made aware. On top of all of that we have Wall Street and investor expectations. Expectations (realistic ones) need to be framed by Arena and Eisai. As yet this has not happened, and in my opinion, this is a big challenge to the equity.
Bringing doctors up to speed is the responsibility of Eisai. The company has 200 reps visiting doctors as each day passes. Would more reps help? Yes. Do we need more reps? Not necessarily. Eisai is experienced enough to know the proper ratio of reps. Getting over 40,000 scripts sold in 3 months is a good start. In theory there should be more than double the doctors visited in the remaining 18 weeks of 2013. The stack effect will be taking shape. This should help script numbers increase.
Getting additional insurance companies on board seems to be a slower process. This is a huge hurdle. It also ties to the issue of how many reps are in the field. Belviq is expensive. Doctors can know a lot about the drug, but consumers need to be willing to absorb the expense. It is an ongoing challenge. It is also a big wild card for investors. There is no good way to track insurance coverage. The same insurance underwriter may cover anti-obesity in one state but not another. Investors will need to be patient when it comes to this. Insurance coverage is the first step. Getting to the best possible tier once covered is the next. Eisai is the driver of getting insurance coverage as well.
Consumer awareness is big as well. Unfortunately, a direct to consumer campaign is not likely a 2013 event. Companies can not market directly to the consumer until the doctors have been brought up to speed. Usually that process takes at least 6 months, and sometimes longer. In theory, the start of 2014, with a consumer ad campaign, can deliver some good potential for investors to consider. However, do not look for advertising to impact the numbers in 2013.
Investors that are expecting gross sales of between $40 million and $75 million are the ones that are in the right ballpark. That should translate to 2013 sales revenue of between $6 million and $10 million for Arena. At a pace of $40 million the equity will be challenged to see marked appreciation. Gross sales of $70 million would be demonstrating exponential type weekly sales growth and would generate excitement behind the equity. The current exponential trend-line looks to be pacing at about $55 million in gross sales. The linear trend-line is pacing at around $30 million. They key is whether or not Belviq sales can "go exponential" or not. Again, this is what is challenging this equity. Over the next 4 weeks we will begin to see whether this drug can track with exponential growth. The near and mid term will challenge the patience of many investors.
Longer term investors have more latitude and time to see developments fall into place. There is indeed a massive potential market for Belviq. Giving up on that potential could be costly. We have thin insurance coverage that can get traction, more doctors visited each week, and an yet to be seen direct to consumer ad campaign. The longer term is demonstrating potential that investors could very well profit from. Stay Tuned!
Disclosure: I am long ARNA. I wrote this article myself, and it expresses my own opinions. I am not receiving compensation for it (other than from Seeking Alpha). I have no business relationship with any company whose stock is mentioned in this article.
Additional disclosure: I have no position in Vivus.