There's been a lot of news out of Redmond, Washington lately. For those that don't know the significance of that location, it's where Microsoft's (NASDAQ:MSFT) headquarters are located. The tech giant has been very busy lately, with the latest news being a deal with Nokia (NYSE:NOK) to acquire Nokia's devices and services business. Investors don't seem to like the deal, with Microsoft shares at their lowest point since late April, as you can see in the chart below.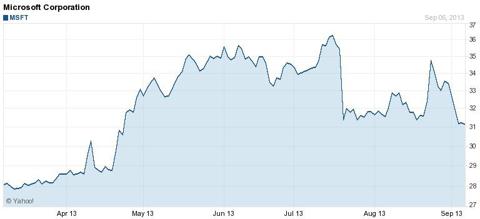 (Source: Yahoo! Finance)
While there have been many who have questioned the deal, there is an important aspect that many might have missed. Today, I'll cover the financial impact of the deal, and why it is a win for Microsoft shareholders in the US.
Brief details regarding the purchase:
By now, everyone should know the details of this deal, so I'll just repeat them briefly for those that did miss it. Microsoft will pay 3.79 billion Euros to purchase substantially all of Nokia's devices and services business, and 1.65 billion Euros to license Nokia's patents. Microsoft also offered Nokia 1.5 billion Euros in financing, and Nokia has taken Microsoft up on that offer.
Stephen Elop, who was the CEO of Nokia, has stepped down from his position, and will be the head of the devices and services unit. Many had speculated Elop to be the successor to Microsoft CEO Steve Ballmer, who recently announced his retirement. This deal makes Elop an even larger favorite for the head spot at Microsoft. Microsoft predicts the purchase to hurt fiscal 2014 (ending June 2014) earnings per share by $0.08, be neutral for fiscal 2015, and to improve earnings per share by $0.08 in fiscal 2016. That will obviously depend on how Microsoft integrates the new units and how future product launches are received.
Why this is a financial win:
For now, let's ignore the impact of the purchase on both revenues and earnings. The impact I really want to talk about is on the balance sheet, which has a lot to do with Microsoft's upcoming dividend raise. In that dividend raise preview, I detailed how Microsoft's balance sheet, while improving overall in most financial ratios, was getting worse for shareholders. The following table shows some key balance sheet ratios at the end of the past three fiscal years. Dollar values are in millions.

*Liabilities to Assets ratio. Data taken from recent 10-K filings. Here is the most recent one.
The key in the table above is Microsoft's US cash pile, the total of US held cash and short-term investments. That balance is a lot lower than both the one and two year ago periods. Why is that important? Well, Microsoft pays its dividends and repurchases shares using those US funds. Any of Microsoft's overseas cash, which is the majority of Microsoft's cash and investments balance, cannot be used. There are two ways the company can use the foreign cash, but neither is a great option for shareholders. First, Microsoft can bring the cash back home, but then have to pay billions in taxes for repatriation. The second item is to take out debt in the US against the foreign cash, which then involves interest expenses and adding extra debt to the balance sheet.
So where's the financial win in the Nokia deal? Well, Microsoft stated that it will draw upon its overseas cash resources to fund the deal. That's not surprising, given how Nokia is based in Finland. But while it is not surprising, it is important. Microsoft will not use any US cash for this deal. For those that were worried about the dwindling US cash pile, it won't get any lower thanks to this deal. Had Microsoft made a deal involving a US company, it could have faced the two issues I mentioned above, either repatriating foreign cash and paying taxes, or more debt and interest expenses. With nearly $70 billion in foreign cash resources at the end of fiscal Q4, this deal represents about 10% of that amount. Microsoft wasn't going to repatriate those foreign funds anytime soon, so it might as well have made an acquisition.
Why these US funds are so crucial:
Right now, Microsoft is not a growth company. It is not a name like Facebook (NASDAQ:FB) that investors are looking for revenues and profits to rise quickly, year after year. Microsoft is a value name, and there are many investors buying it for the cash returned to shareholders, in the form of the dividend and buyback.
When it comes to the large cap technology space, there are three other companies I always look at in terms of value investments, and they are Apple (NASDAQ:AAPL), Intel (NASDAQ:INTC), and Cisco Systems (NASDAQ:CSCO). All four names sport market caps over $110 billion and annual dividend yields over 2.40% as of Friday's close. A chart showing their yields can be found below.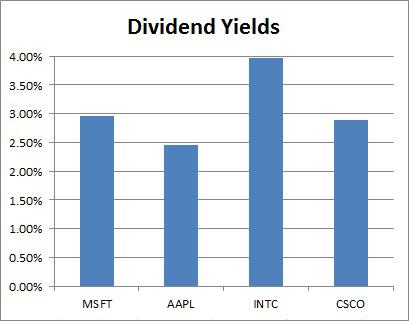 Microsoft's dividend is not spectacular in itself when compared to others in the space. Intel clearly leads in terms of yield, and Microsoft's yield is just a few basis points above Cisco's. Yes, Microsoft has a sizable advantage over Apple, but Apple's buyback trounces everyone right now, and Apple has a lot more potential growth opportunities than Microsoft in my opinion.
I brought up the buyback in a recent Microsoft article arguing that Microsoft needed to do something big. Since that article, CEO Steve Ballmer has retired and Microsoft made the big Nokia purchase. Those are big items, but not quite what I was thinking about. Microsoft bought back $4.6 billion in stock during its latest fiscal year, but did it really do much? The answer is not really, as you can see from the table below comparing the diluted share counts for the four top tech names.

*Microsoft and Cisco changes are for their recently completed fiscal years. Apple's change is the first nine months of its fiscal year, and Intel's is for the first half of its fiscal year.
So even with all of the money spent on the buyback, Microsoft's share count showed the smallest reduction. Don't forget, Intel still has two quarters to go. Intel's buyback has slowed in recent quarters, but they still are doing well in the share count reduction category. Apple has done a number of accelerated repurchases, and their quarterly share count took a huge drop in their fiscal Q3. Going forward, Apple's $60 billion total repurchase plan will have a dramatic impact on Apple's share count. Microsoft's current buyback plan is almost finished, with about $3.6 billion left, and I'm almost surprised that it has not announced an extension or new plan yet. Given that it has less than a year left at the rate it has been buying back stock, some announcement should take place in the next six months it seems.
So how does Microsoft really shake things up? Well, the best way would be the dividend in my opinion. Microsoft is expected to announce its next dividend in the next few weeks, as the last few years have ranged from September 18th to 22nd for the announcement. Since it has paid $0.23 a quarter for the past four payments, this is expected to be a dividend raise announcement. In my dividend preview article, I said my expected raise was 2 to 3 cents, which would put the quarterly dividend at $0.25 or $0.26. It would also put the annual dividend at $1.00 or more. However, with two recent stock flops, the first after the poor quarterly report, and the second after the Nokia deal, maybe Microsoft needs to go big or go home. If it really wants to become a dividend favorite or value investors' dream, maybe it needs to raise the dividend even more, to maybe $0.27 to $0.30 per quarter. That is, unless it decides to announce a large buyback at the dividend announcement.
The real question is does it have the money for a big raise? As I showed above, the company's US cash pile has decreased over the past year. That is why the Nokia deal is a financial win, because the deal only involves foreign cash resources. Microsoft still has the potential for a decent dividend or buyback raise, but that flexibility would have been severely limited had it announced an acquisition using US funds.
Final Thoughts:
Microsoft's purchase of Nokia has analysts skeptical. Many see Nokia as a dying business, and that Microsoft has nothing to gain from this purchase. I'm not arguing today that this deal is going to transform Microsoft into a mobile powerhouse to challenge Apple or any other name out there. My argument today focused on the financial aspect of the deal. In my opinion, it's a financial win for Microsoft because the deal did not involve US cash resources, which Microsoft needs for its dividend and buyback. Microsoft took a gamble here, but it's a positive that it did it with foreign based cash resources, of which it has plenty. The deal is a financial win because it shouldn't hurt Microsoft's dividend or buyback in my opinion. Whether the gamble pays off in the long run remains to be seen, but I think a gamble acquisition could have been negative for shareholders if it needed US funds. For now, I won't count Microsoft out, and I'm keeping it on the dividend radar, waiting to see if we get that expected raise in the next couple of weeks.
Disclosure: I have no positions in any stocks mentioned, but may initiate a long position in AAPL over the next 72 hours. I wrote this article myself, and it expresses my own opinions. I am not receiving compensation for it (other than from Seeking Alpha). I have no business relationship with any company whose stock is mentioned in this article.
Additional disclosure: Investors are always reminded that before making any investment, you should do your own proper due diligence on any name directly or indirectly mentioned in this article. Investors should also consider seeking advice from a broker or financial adviser before making any investment decisions. Any material in this article should be considered general information, and not relied on as a formal investment recommendation.