Microsoft (NASDAQ:MSFT) had a rough ride with its first tablet, the Surface RT, with a $900 million write down capping the year end review of the amount of unsold inventory on hand and the company's assessment of its recoverable value. The Surface RT tablet is a joy to use, light and functional with a full version of MS Office built in. Coupled with the Type Keyboard, it is a very fine tablet for road warriors and is backed with a rich application library that is far more impressive than most critics of Microsoft will admit.
Surface RT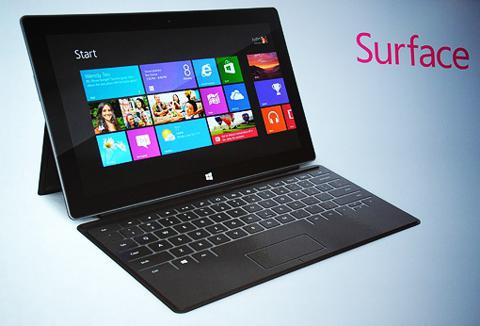 So why did the device experience poor sales? Price was a major issue, and the comparison to the full Windows 8 Surface Pro tablet did not help, since many users were confused about the differences.
The correct comparison to the Surface RT is really Android and Ipad tablets, not the Surface Pro which is more a fully functional ultrabook than a tablet, complete with Core i5 processor, pen, USB port and storage expansion capability. The Surface Pro shares the look and feel of the Surface RT making the confusion understandable.
Surface Pro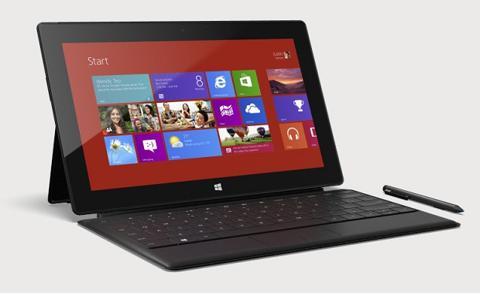 Recent reports suggest the device is now gaining traction.
Microsoft cut the price of the device and an entry level Surface RT tablet can be had for $349. Considering the full version of MS Office included, the tablet is a steal for students who use Office applications at school or university. The tablet has a lot of other features that really are impressive in use. The integration into SkyDrive makes it easy to manage your files not only on your tablet but also on your desktop, laptop or other Windows device and photos taken with the built in camera can be shared with SkyDrive. Xbox SmartGlass and Xbox Music Pass features make consuming content such as music, video and movies a pleasure. Live Tiles keep you current on weather, stocks, sports scores and anything else you like to follow.
The touch functions are much more intuitive and easy to use than traditional touch icons and the Search "charm" is context sensitive and extremely powerful.
A new version of the Surface RT is reportedly in the works powered by an Nvidia Tegra 4 processor, and potentially a 7 or 8 inch version may join the current line up.
The bill of materials for an 8 inch Surface RT is estimated by Tech Thoughts to total just over $200 making it possible to sell the device profitably at prices competitive with Android tablets and the iPad mini.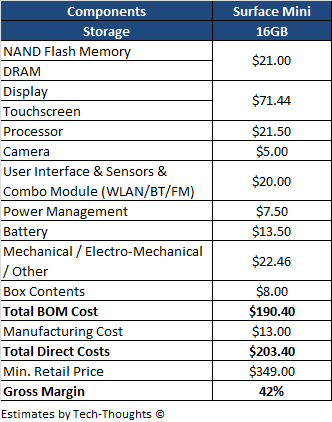 Microsoft could use a win with its device strategy. The $900 million write off last quarter left many investors with a bad taste, and many others have been critical of its agreement to buy the Nokia (NYSE:NOK) handset business. I think both the device strategy and the Nokia purchase are sold strategic moves that will pay off for Microsoft over time. Some integration of strategic thinking and branding will be needed in short order given rumours that Nokia is also considering a Windows RT tablet.
I have no doubt that with Nokia's vast worldwide distribution and the value I see in the Surface RT tablet that a coordinated marketing effort and appropriate pricing can bring Surface RT or its Nokia equivalent to life.
The fact is that the tablet space is getting more and more competitive and maturing quickly. I don't think Microsoft will make billions from tablets regardless of the success of the Surface RT device. Even selling ten or twenty million of these tablets would only had $1 or $2 billion to Microsoft margins and the marketing cost could eat up half of the margin. The strategic significance is the broadening of the Microsoft experience to consumers that might otherwise drift to iOS and Android devices. The key selling point (beyond the sheer elegance of the product) is the MS Office inclusion to which a touch optimized version of Outlook is reportedly in Beta test for release in the near future.
New users who become accustomed to the power of MS Office are more likely to use Windows devices as they migrate to fully-featured laptops, ultrabooks or desktops over time. While many think these markets are dead or dying, the simple fact is that most real work is done on personal computers - not smart phones or tablets - and the new Intel (NASDAQ:INTC) processors providing fan less designs, increased power and longer battery lives are in my view likely to spur an upgrade cycle that will endure for several years.
I am long INTC and MSFT.
Disclosure: I am long MSFT, INTC. I wrote this article myself, and it expresses my own opinions. I am not receiving compensation for it (other than from Seeking Alpha). I have no business relationship with any company whose stock is mentioned in this article.