Dry shippers must have been thrilled the day they thought 2013 would be would be a boom year for economy and the stock market overall. Most of them were posting huge net losses and new 52 week lows as cheap market shipping prices due to overcapacity were devastating their financial performances.
That all changed, and changed in a big way, just last week. The Baltic Dry Index, which tracks shipping rates, had a 19% spike last week alone, its biggest spike in over 2 years, rising 5.71% on Friday alone: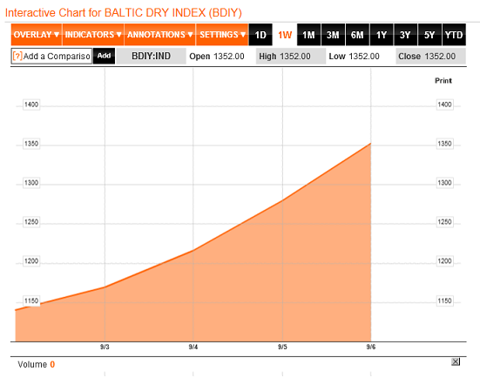 Apparently the pendulum has finally swung in the other direction. Undersupply of ships and overheated demand out of China for iron ore is what the rise is mostly being attributed to. So we should all do a mad rush into any dry shipping stock, right? Not so fast. A closer look at the index reveals that it's a basket of shipping rates for 4 types of ships, and one type in particular carried the index the most. It was the Capesize shipping rates, jumping an astonishing 43% last week! Panamax rates weren't too shabby either coming in at a 13% gain last week and a 6.5% rise on Friday. The other two sizes - Supramax and Handysizes barely budged. There are currently orders to increase the fleet size of Panamaxes by 24% vs. only 16% for Capesize. Taking all this together, I believe investors should look toward investing in shippers who are most likely to benefit from the rise in Capesize rates first and foremost and then the rise is Panamax rate next. There's always a risk that rates could slip backwards so selecting quality companies with great balance sheets will help mitigate that risk. Below is my favorite and why:
Genco Shipping & Trading Limited (NYSE:GNK) owns a fleet of 53 drybulk vessels, consisting of nine Capesize, eight Panamax, 17 Supramax, six Handymax and 13 Handysize vessels, with an aggregate carrying capacity of approximately 3,810,000 dwt. In addition, its subsidiary Baltic Trading Limited currently owns a fleet of nine drybulk vessels, consisting of two Capesize, four Supramax, and three Handysize vessels. After the expected delivery of the two Handysize vessels that Baltic Trading has agreed to acquire, Baltic Trading will own 11 drybulk vessels, consisting of two Capesize, four Supramax and five Handysize vessels. That's a lot of Capesize and Panamax vessels for this $170 million market cap company. It has a last reported shareholder equity value of nearly $1 billion. From its latest quarterly release:
During the second quarter, management maintained an opportunistic time charter approach in a volatile rate environment. By employing a large majority of our vessels on short-term or spot market-related contracts, we expect to increase the Company's future earnings potential when market conditions improve while continuing to provide high quality service for our customers
I would classify the 43% jump in Capesize rates last week and 19% jump in the index overall as improved market conditions which GNK was strategically positioning for. Now its earnings potential should shine.
Other dry shippers I considered and am still considering as possible buys are Starbulk Carriers (NASDAQ:SBLK) , DryShips (NASDAQ:DRYS), and Navios Maritime Holdings (NYSE:NM).
The Starbulk fleet consists of a total fleet of 5 Capesize and 8 Supramax vessels. It last reported shareholder equity of over $300 million vs. its tiny $55 million market cap. It last reported a nice net income already with optimistic forward comments about the future. Its small fleet is growing with new orders. Since it doesn't currently own any Panamax vessels, it's less diversified and I consider it more risky than Genco Shipping.
DryShips easily has the most impressive fleet of the group comprised of 12 Capesize, 28 Panamax and 2 Supramax. However, DryShips is not a pure play on dryshippers as most of its business these days is oil rigs and oil tankers with dry shipping a minority of its business. It has a $1.16 billion market cap vs. $3.87 billion in shareholder equity. It operates 47 vessels (16 Capesize, 11 Panamax, 18 Ultra-Handymax and two Handysize)
Navios Maritime Holdings has the most Capesize vessels in its fleet compared to the other 3. It operates 47 vessels (16 Capesize, 11 Panamax, 18 Ultra-Handymax and two Handysize). It has a market cap of $732 million vs. $1.29 billion in shareholder equity.
Conclusion
For those with a speculative appetite, now is the time to invest some speculative capital into dry shippers, my favorite one being Genco Shipping & Trading Limited. It's always most risky trying to declare a new bull market has been born in any asset class, but that's also where the most potential reward may be. I believe most of the shipping stocks have already been priced for doom, often trading at a fraction of their shareholder equity. Now is the time to invest for the boom.
Disclosure: I have no positions in any stocks mentioned, but may initiate a long position in GNK, SBLK, DRYS, NM over the next 72 hours. I wrote this article myself, and it expresses my own opinions. I am not receiving compensation for it (other than from Seeking Alpha). I have no business relationship with any company whose stock is mentioned in this article.