The disruptive power of streaming video became quickly apparent as soon as Netflix (NASDAQ:NFLX) debuted the service to supplement its DVD business. Amazon (NASDAQ:AMZN) quickly followed with Prime, and it was off to the races for the growing industry. The most important shift taking place now is the one from pure service to dedicated streaming devices. A new study from Parks Associates shows that Roku is the primary choice in more homes than Apple (NASDAQ:AAPL). It should be noted that at the time of the study, Google's (NASDAQ:GOOG) Chromecast was too new to have made a meaningful impact, but as it gains momentum and popularity, the search king is likely to learn from Roku's success, and even surpass it.
The Parks Associates Study
Parks Associates studied 10,000 U.S. homes with broadband service and looked at which had a dedicated streaming media device. Of the ones that did, 37% reported that Roku was the primary devices used relative to 24% for Apple. Since 2011, the number of homes that have one of these devices has doubled to 14%, meaning that the growth for both Roku and Apple is significant. Additionally, Parks Associates projects that by 2017, there will be 330 million connect TVs, making this a significant market that can drive revenue for the companies that are properly positioned.
A Fragmented Market
As the streaming video market continues to evolve, there is an increasingly significant divide between services and hardware. Part of Netflix CEO Reed Hastings's genius was in convincing device makers to include integrated functionality for the service in Blu-Ray players, game consoles, and TVs. This is one of the reasons that Netflix was able to grow so quickly, and why it has taken Amazon Prime some time to catch up.
With the introduction of Roku devices, Apple TV, and now Chromecast, the relationship between the hardware and service has remained friendly. At least initially, these media devices are benefited by offering access to the most possible number of services. The low cost of these services has kept them in hot demand, but as competition picks up, which devices gets which services may become the next battleground.
Just as content is likely to become the differentiator for streaming services, which services a device can access could be the differentiator for streaming devices. To put this in context, Variety recently reported on a study by RBC Capital markets that showed original content is helping Netflix retain customers; 43% of people reported that original content was an "extremely" or "moderately" important factor in keeping the service, and 64% said they had watch original content in the preceding three months.
The battle for content with Amazon and others - leading Netflix making a push in original content - has been fairly tame so far. Content producers have remained relatively open to offering content (TV and movies) through streaming options. Netflix and Amazon are not waiting for that to change, getting into original content early. If the device segment follows this same lead, a battle for services - or 'channels' - could be similar to the content battle.
Roku Is Quietly Leading… For Now
I contacted Parks Associates to clarify what was meant by the 'primary' device and to determine if the Apple numbers included households that used iPads and iPhones to steam content to their TVs. The firm explained that of the households with a dedicated media streaming device, 84% had only one and of the other 16% - with more than one device - most said they used Roku more than they used any other option. The study looked at dedicated devices, so Blu-Ray players, game consoles, and other devices were not a part of the 37% and 24% results. Neither iPads nor iPhones were explicitly considered, so the total percentage for Apple could be much higher than the numbers suggest. Still, within the realm of dedicated devices, Roku is leading the pack.
Part of why I believe that Roku is having so much success is because of the breadth of channels it offers as well as the level of customization. As production costs continue to fall, the ability of content providers to go directly to the market increases. Recently, NBC Universal's Lauren Zalaznick commented that people are talking about YouTube much as they talked about cable 30 years ago. Much of what Roku is doing with its channels mirrors the approach being taken by YouTube.
The Takeaway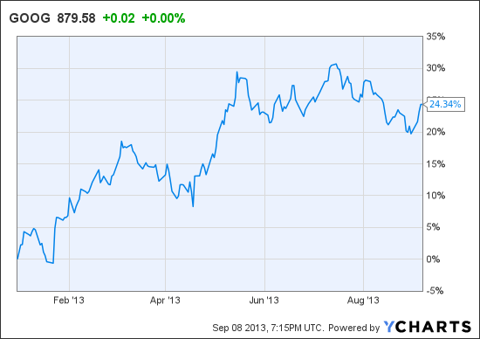 The message of Roku's lead is that the model is working. These statistics do not really include Chromecast, which has been essentially sold out since its introduction. While Apple may be undercounted, Roku is doing well with the combination of device and content. As YouTube continues to establish itself, and Chromecast gains in functionality and popularity, Google is likely to become a powerhouse in the space. While Google shares are trading at a multiple above 25, the company continues to find new avenues of growth. Streaming video devices and service could be another winner for the search king, and as such, the stocks remains a must own.
Disclosure: I have no positions in any stocks mentioned, and no plans to initiate any positions within the next 72 hours. I wrote this article myself, and it expresses my own opinions. I am not receiving compensation for it (other than from Seeking Alpha). I have no business relationship with any company whose stock is mentioned in this article.