The Vivus (NASDAQ:VVUS) anti-obesity drug Qsymia is still essentially seeing flat sales for the third week in a row. This is happening as a new CEO takes over after former CEO Tony Zook stepped down only a month into that role after a long proxy fight.
Vivus saw great traction in prescription numbers when the company was able to add certified pharmacies to its distribution, but the influx of new channels for selling the drug, as I anticipated, leveled off. What we seem to have now is Vivus stuck in the 10,000 scripts per week range. I am anticipating that next week will be flat yet again.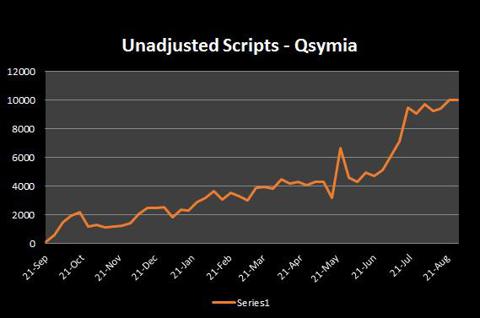 On an unadjusted basis Vivus has seen about 203,000 prescriptions sold in 51 weeks. This number is well short of what was expected from an anti-obesity drug with a potential market of over 100,000 Americans. Even with a 30% upward adjustment we are seeing sales at a modest 264,000. If next week does indeed remain flat the 1 year adjusted prescription sales figure will be right around 277,000. At about $60 per script in net sales, the revenue story only approaches about $16.5 million, well short of the type of cash needed to continue operations and pay for FDA required studies.
What will it take to see sales increase? Insurance coverage, advertising, and consumer acceptance. Competitor Arena (NASDAQ:ARNA) has Belviq on the market, and other entrants such as Orexigen (NASDAQ:OREX) are waiting in the wings. Vivus had the advantage of being first to market, but the market has not yet been robust enough to show the blockbuster promise that was once assigned to it.
Generic phentermine sells between 130,000 and 150,000 scripts per week. This is the market that both Vivus and Arena are trying to tap into. Thus far these companies have managed to garner just a modest share despite Qsymia being on the market for nearly a year and Belviq being on the market for 3 months.
For investors to question the slow growth in sales is a natural reaction. The bigger issue is what the company mission will be. With Tony Zook stepping down and a new CEO taking the reins, investors need to know whether or not the strategies outlined by Zook are still intact.
Modest sales of Qsymia make the Stendra pipeline more important than ever. Vivus was able to partner with Stendra in Europe and received a cash infusion, but there is still clearly a need to see sales of Qsymia or Stendra begin to hit the desired marks. As yet the inaction is dragging the potential of the sector down. Stay Tuned.
Disclosure: I am long ARNA. I wrote this article myself, and it expresses my own opinions. I am not receiving compensation for it (other than from Seeking Alpha). I have no business relationship with any company whose stock is mentioned in this article.
Additional disclosure: I have no position in Vivus or Orexigen.