First Cash Financial Services (NASDAQ:FCFS) reported earnings Tuesday morning and the stock responded by trading sharply higher. The strength certainly benefited the ZachStocks Growth Model which currently has a 4% position in the stock. ZachStocks published a positive article on FCFS earlier this spring and while it has been a bumpy ride, it appears that the company is making some good strategic decisions and realizing attractive growth.
Earnings for the third quarter came in at $0.35 per share, above consensus expectations and 21% above the third quarter of 2008. More importantly, management increased their guidance slightly for the year and it appears both revenue and earnings growth remain solid. Revenue came in at $94.6 million which is up 20% when taking currency fluctuations into consideration.
Most of the company's recent strength has come from their operations in Mexico. Pawn operations south of the border were up 38% compared to 12% for a US store base which is much more mature. While the dollar has been relatively weak, the peso has had even more difficulty which has added pressure to the revenue side of the income statement. At the same time, a weak peso has caused store opening and operating expenses in Mexico to be lower, so the positives and negatives balance each other out. It appears that the strategy for broad expansion into Mexico is paying off.
With 45 store openings year-to-date, we are on target to meet our goal of 60 new pawn stores in Mexico for 2009. Importantly, the new stores opened this year, along with 64 stores opened and acquired last year, have generated early stage growth in pawn loan portfolios and profits at a record pace.

~Rick Wessel, CEO
One interesting sign of the times is that First Cash is benefiting from the increase in gold prices. Scrap jewelry can be a strong source of revenue and the company expects that they will see significant additional revenue in the fourth quarter as a direct result of selling jewelry at higher prices for the gold and silver content.
From a financial perspective, FCFS continues to increase its strength. The total debt level was reduced by $31 million over the last quarter (37%) and it is likely that the company will pay off more debt during the final quarter of 2009. The fact that the company continues to open new stores while reducing debt and interest expense should add to long-term earnings stability and create a more attractive company for investors.
Free cash flow for the third quarter came in at $43.8 million which was significantly higher than the $9.3 million seen in the third quarter 2008. This cash flow takes into account the expense of rolling out new stores which is what makes the number so impressive. At some point over the next year, the company will have to decide whether they have the ability to reinvest this cash positively in their business or whether they should return it to shareholders in the form of either declaring a dividend or purchasing stock. This kind of issue is a great problem to deal with.
Currently the stock is trading at less than 12 times expected earnings for 2010. While there is certainly some concern regarding regulatory issues in the industry, the company should be able to continue to operate with strong profits and attractive margins. I expect investors to be more confident throughout the next year as the regulatory environment becomes more clear and believe that the stock could easily trade into the mid 20's before this time next year.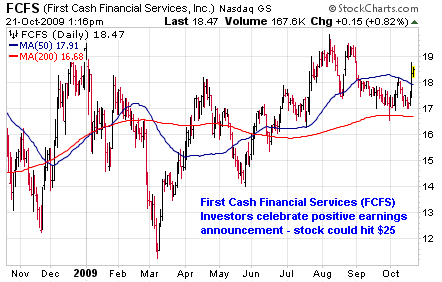 Disclosure: Author has a long position in the ZachStocks Growth Model