By Brandon Clay
Oil at $80 may seem cheap compared to $150, but it's still a lot of money. Crude for November delivery closed above $80 a barrel today. The trend is bullish, and now may be a good time for investors to look at the energy sector.
Last week, we highlighted an income-generating ETF focused on Canadian royalty trusts – a solid way for conservative investors to play surging oil prices. One stock that caught our eye this week is Oceaneering International (NYSE:OII). Texas-based Oceaneering is an oil and gas services firm. The company gets most of its revenue by providing goods and services to companies that are drilling for oil and gas offshore. One of their specialties is deepwater remotely-operated vehicles (ROVs), or "robots" in layman's terms. They also have other revenue sources – for instance, Oceaneering recently landed a contract to build spacesuits for NASA – but most investors view OII as a play on rising energy prices.
Oceaneering has turned a profit every year since 1999, including a record $3.65 a share in 2008. Analysts are forecasting a drop to $3.38 a share for 2009, but they also expect a nice rebound to $3.51 a share in 2010. The shares, while up more than 89% in the past 52 weeks, still appear inexpensive at just 16 times forward earnings. The firm's balance sheet is in good shape with just $140 million in debt and nearly $96 million in free cash.
Oceaneering fills a unique niche in its industry, helping oil and gas explorers drill in deep water locations that can be hundreds of miles offshore. Its services are expensive, but producers like Chevron (NYSE:CVX) and ExxonMobil (NYSE:XOM) have little choice if they want to replace their reserves. OII is in a market sweet spot.
Next week's (10/29) earnings report could be a near-term catalyst for Oceaneering shares. Analysts are expecting a quarterly profit of 87 cents on revenue of $471 million. OII had a great second quarter, despite tumbling oil and gas prices, beating estimates by 11 cents a share. Investors with a long-term time horizon and a bullish oil outlook would do well to consider Oceaneering. For an indirect play on rising crude prices, go with oil services performer OII.
click to enlarge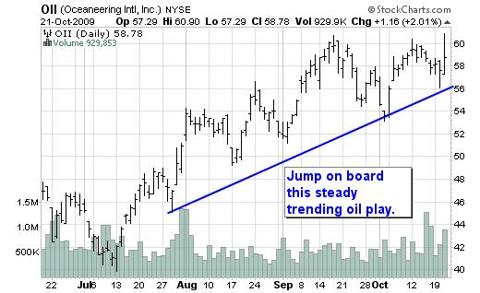 Click to enlarge