More than half of US consumers are planning to cut back on holiday spending this year, and a significant number will not be buying gifts for co-workers and acquaintances as a result of cost-cutting and tighter budgets, according to a new study (pdf) from online comparison shopping site PriceGrabber.com.
click to enlarge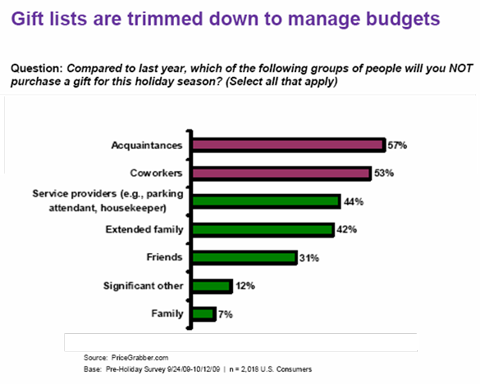 The PriceGrabber.com Holiday Forecast found that 57% of consumers do not plan to buy gifts for acquaintances, and 53% do not plan to buy for co-workers. By contrast, only 7% are not planning to buy gifts for family members and 12% won't buy for significant others in their lives, Retailer Daily writes.
Not as Bad as 2008
The overall results indicate 53% of consumers expect to spend less this year than they did in 2008 on holiday shopping, though the percentage planning to cut back is lower than last year. In 2008, 71% of consumers expected to decrease their annual holiday spending.
In a positive sign for retailers, more than half of consumers plan to or already have started their holiday shopping before the traditional Thanksgiving start of the holiday season. Some 22% plan to start in October, and another 30% plan to start in November: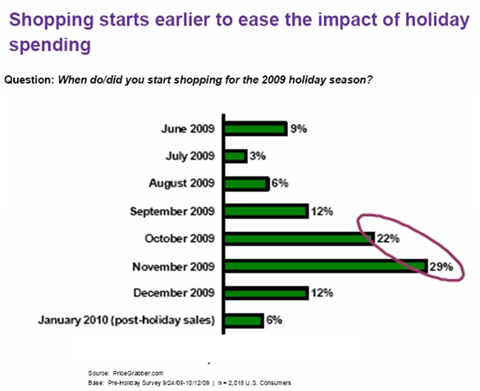 Retailers with an online presence and discounters stand to benefit from consumer price sensitivity this holiday season. Seven in 10 (70%) of consumers plan to save money by performing research and comparison shopping online this year, compared to 38% last year; while 50% plan to shop at discount/outlet stores, compared with 43% last year: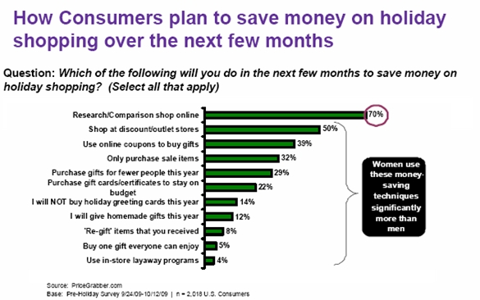 In terms of total holiday spend, most consumers expect to spend less than $1,000 in holiday shopping this year. The largest segment of consumers, 36%, expect to spend $100-$499, PriceGrabber said. Another 28% plan to spend $500-$999, while 6% expect to spend $0-$99. Thirty percent expect to spend more than $1,000.
Other recent holiday spending forecasts largely echo PriceGrabber's prediction for a mediocre but not awful 2009 retail holiday season. The National Retail Federation (NRF) predicted a 1% decline in holiday sales this year, an improvement from last year's 3.4% drop.
According to a survey from The Nielsen Company, the 2009 holiday season should deliver virtually flat sales results. The survey indicates 44% of consumer households will spend the same on the 2009 holidays as they did in 2008, with 42% planning to spend less and only 4% planning to spend more.
Two other recent research reports also predict flat holiday sales performance this year. Retail Forward expects flat holiday growth in all retail channels except automotive, food, and drug.
In addition, research firm Deloitte is also predicting flat holiday sales this year. Deloitte's 2009 holiday forecast expects total 2009 holiday sales to register a 0% change, excluding motor vehicles and gasoline, from last year. This would be an improvement from what Deloitte tracked as last season's 2.4% decrease, the first decline in holiday sales according to Deloitte's analysis of Commerce Department data dating back to 1967.
The most recent American Express Spending and Saving Tracker Update reinforces PriceGrabber's predictions for many consumers starting their holiday shopping early. According to the update, 80% of overall respondents intend to make end-of-year holiday gift purchases, with 22% planning to start in October, 30% planning to start in November and 28% planning to start in December.