With all of the bullish commentary on Google's (NASDAQ:GOOG) "imminent" rise to the psychologically important $1000 level, now may be the time for a reality check. Google's competition is getting stronger; their revenue growth is slowing, and shares trade at a TTM P/E of 27, which the company's earnings growth doesn't really justify. I'm not saying that Google will fall drastically or anything like that, but if you're looking for lots of upside potential, you may be better off looking elsewhere in the tech sector.

Google's main revenue streams: advertising and mobile
The landscape of Google's business has changed significantly over the past few years, so it's worth discussing exactly how Google makes its money today. The source of the majority of Google's revenue, search advertising, has not changed much, except that now there is the additional challenge of monetizing mobile ads, which I'll discuss more in just a minute.
A source of growth for Google is its mobile devices business, which should be further accelerated by its purchase of Motorola Mobility last year, which adds new smartphones, tablets, and set-top boxes to Google's product portfolio. As Google's Android platform has been incredibly successful so far, this should give the company an opportunity to develop smartphones and other devices that are optimized for its platform.
The company's first flagship smartphone since Google's acquisition, the Moto X, was recently released and has gotten generally favorable reviews. The phone is marketed as the most customizable smartphone ever, with over 2,000 combinations of colors, memory, etc. The Motorola Mobility division is expected to contribute just 7% of Google's revenue this year, but this number could definitely rise in the future if the Moto X (and its successors) is well-received in the marketplace.
The looming challenge: mobile ad revenue
Mobile Internet use is growing fast, and I think that companies who are heavily dependent on ad revenues really need to figure this one out if they hope to maintain their growth and high margins. According to the latest data, about 17.4% of all internet traffic has come from mobile devices so far in 2013. This is a 57% increase from just a year ago, when 11.1% of traffic came from mobile.
When it comes to monetizing mobile ad revenues, Google is doing okay, but the competition is intense. According to a recent Forbes article, Google has a 56% market share in mobile ad revenues, a figure which should equate to about $8 billion this year. However, a looming threat to Google's mobile ad market share comes in the form of Facebook (NASDAQ:FB), which is currently a distant second with about 13% of the market. Facebook's growth momentum in the mobile ad category is strong, with mobile ad revenues more than quadrupling in just the past year, thanks to new and innovative mobile ad formats, such as app installation ads.
Another point to take note of is that mobile ads are less lucrative than traditional search advertising. First of all, mobile ads have a 30% lower click through rate than desktop ads, meaning that companies like Google can't charge as much. Also, as I stated earlier, about 17% of all web traffic now comes from mobile devices. However, search traffic is another story. About one-third of internet search traffic comes from mobile devices, and this is expected to rise to more than 50% by 2015.
Of the $59.6 billion in revenue that Google is projected to earn this year, it is expected to bring in about $39 billion (or about 65% of the total) from ad revenues this year, so while about one-third of their search traffic comes from mobile devices, this is only expected to account for about 20% of the company's total ad revenues. If the percentage of mobile traffic continues to increase, and ad revenues become more dependent on mobile ads, you can see where this could present a problem for Google's number one revenue stream.
The numbers
So, not only is there uncertainty surrounding Google's future mobile ad revenues, it looks like there is significant downward pressure on revenues if Google is not able to squeeze more money out of its mobile ads. Additionally, Google's revenue growth has been on a downtrend for quite some time, and after a slight rebound after the recession, growth is expected to continue to fall this year and next: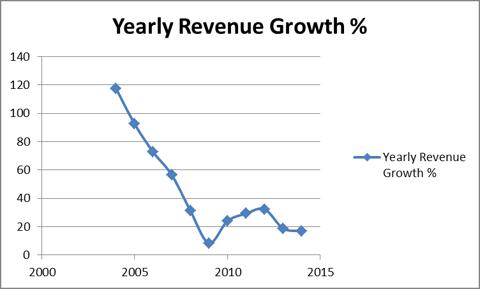 Click to enlarge
(Click to enlarge)
Google is expected to post earnings of $43.57 for this year, and is expected to grow its earnings to $51.42 and $60.68 in 2014 and 2015, respectively. This translates to earnings growth of 18% per year, but what frightens me a bit is the uncertainty surrounding Google's ability to meet these expectations. For example, of the 30 analysts who follow the company, estimates for next year range from a low of $43.51 to a high of $56.34, a very wide range. On the low end, it would mean zero growth for 2014. My point is that with this much uncertainty going forward, especially with mobile ad revenues, shares are not cheap at 27 times TTM earnings. If I were invested in Google, now might be a good time to sell and look elsewhere, especially after the recent rally in Google's share price.
Disclosure: I have no positions in any stocks mentioned, and no plans to initiate any positions within the next 72 hours. I wrote this article myself, and it expresses my own opinions. I am not receiving compensation for it (other than from Seeking Alpha). I have no business relationship with any company whose stock is mentioned in this article.