GW Pharmaceuticals (NASDAQ:GWPH) is "the original" medical cannabis company. Established in 1998 in the U.K., it is the clear market leader of the sector. Since June 2001, the company has been listed on the London Stock Exchange and it recently made its debut on the NASDAQ.
Its flagship product "Sativex" is approved for treatment of spasticity due to multiple sclerosis in 22 countries and has already launched in 7: Canada, Denmark, Germany, Israel, Norway, Spain and the United Kingdom, with further regulatory approvals pending.
The U.S. offers a lot of untapped potential for the company, with the company having opened a Phase III Investigational New Drug or IND application with the FDA, the U.S. having more than 400,000 MS patients and spasticity affecting up to 80% of them.
Additionally, Sativex is undergoing clinical trials for treatment of cancer pain, neuropathic pain as well as rheumatoid arthritis with 2 pivotal Phase III trials expected in 2014.
So if I sound so high (pun intended) on the business prospects, how come I am down on the stock? I have 2 concerns and here is the first one:
(in millions GBP)
I don't think the chart above needs much explanation: I don't know about you, but I have a very big problem with a company when it's management compensation reaches such ridiculous proportions of the operating profit and at times, almost doubles it.
The 2nd concern, which is strongly tied to the first one is shareholder dilution:
(scale is in millions of shares)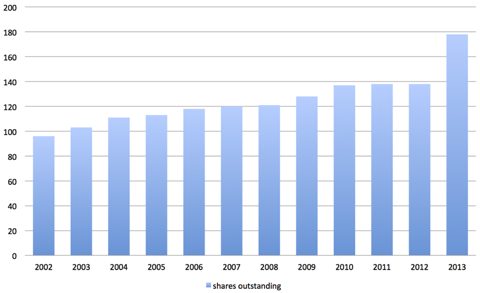 (Click to enlarge)
Now, it would be perfectly understandable if the increase in share count was explained by funding company needs, especially since this is a relatively young biopharmaceutical company, but alas, this is not the case.
To my knowledge, while the 2013 bump in share count caused by the NASDAQ listing was genuinely helpful to the company since the proceeds are going to be used for R&D, the previous steady share count growth was essentially caused by stock incentives for company management.
Conclusion:
While the stock might be a fine vehicle for speculation (especially if the medical cannabis stock mania catches a second wind), I believe it will make for a poor long-term investment due to serious problems outlined above.
Disclosure: I have no positions in any stocks mentioned, and no plans to initiate any positions within the next 72 hours. I wrote this article myself, and it expresses my own opinions. I am not receiving compensation for it (other than from Seeking Alpha). I have no business relationship with any company whose stock is mentioned in this article.