Shares of Google (NASDAQ:GOOG) have jumped 30% since last September on multiple expansion and earnings growth. Sentiment in the shares has rarely been higher over the last five years and investors are pinning hopes of $1,000 per share on next year's launch of Google Glass. A wave of consumer tech launches over the next two quarters and possible pricing competition in devices threatens expectations for next year. Weaker than expected sales and operational problems threaten the near-term outlook and investors should consider hedging their position or selling the shares.
Enthusiasm for Google Glass may wear off as other wearables impress
Investors poured into Google last year when it broke $800 and analysts started predicting $1,000 per share. The stock has benefited greatly from the troubles at Apple (NASDAQ:AAPL) as growth investors look for the next revenue story. As of last September when Apple was hitting its all-time high, Google was trading for just 19 times trailing earnings. Now, with the exodus of Apple investors looking for another tech giant, the shares trade at almost 26 times trailing earnings.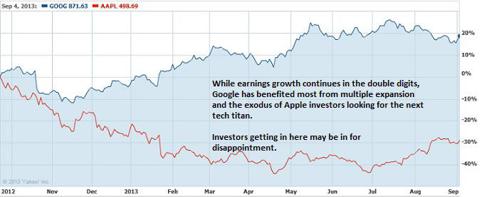 Click to enlarge
(Click to enlarge)
Google's performance has been a mirror image of Apple's since September of last year.
Much of the enthusiasm for the stock can be attributed to rumors around Google Glass. The product is expected to launch in 2014 at a price point between $200 and $500 each. Early demonstrators have had to pay over $1,000 for the product and I think it will price at the high end of the range, around $399 or more.
The device looks cool but I think the company risks coming late to a wave of product launches. Apple has set a date of September 10th for its new iPhone. Rumors are that two new phones will be released, including a lower-priced option for emerging markets. Apple will also probably get a new iPod and the fabled iWatch to market before Google glass as well.
Samsung (OTC:SSNLF) is making the news with its beat on releasing a wearable watch product. The Galaxy Gear is getting tepid reviews and may be a little pricey at $299 but the company has plenty of time for a revamp before the end of the year. The Korean electronics company has also recently released a new version of its popular Note line, the Galaxy Note 3.
The wave of new consumer gadgets risks consumer exhaustion by the time Google Glass comes to market, especially since it will miss the critical holiday shopping season. This, along with competition from Microsoft noted below, may cause some significant pricing pressure on the device market.
Does Google risk getting buried under a wave of product launches?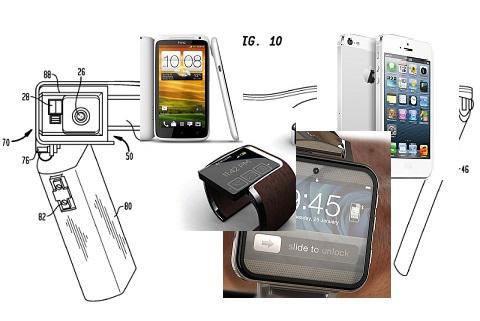 Microsoft-Nokia deal risks competition in handsets with prices coming down
The $7.2 billion buyout of the Nokia (NYSE:NOK) cellphone division by Microsoft (NASDAQ:MSFT) may not help the Redmond-based behemoth and it could weigh on the rest of the market as well. The whole deal seems like two struggling companies trying to team up for their own survival in the space. The deal risks alienating other cellphone manufacturers like HTC (OTC:HTCKF) and Samsung as they have got to wonder if Microsoft might try steering customers to its own product. The threat of increased IP lawsuits and difficulties of integration threaten the strategic outlook for the company. Microsoft may answer by lowering prices to boost sales, a move that will only hurt the industry.
Google may see another threat from the deal as Microsoft integrates Nokia's mapping service across its own products and competes more directly with Google Maps.
Earnings risk and downside on sentiment
Even without the possibility of increased competition in devices and possibly lower prices over the near-term, the company is showing weaker profitability and problems with its Motorola integration.
Core Google revenue for the second quarter increased to $13.1 billion, 20% higher than the comparable period last year, but well below expectations for $13.3 billion. Average cost per click (NYSE:CPC) fell 6% in the second quarter from a year ago, the seventh consecutive quarter to show declines. The drop in pricing follows last year's second quarter decline in CPC of 16%, meaning prices are down more than 21% over the last two years. This portion of revenue represents 93% of total sales for the company and the continued weakness is alarming.
As cost per click revenue decreases, traffic acquisition costs (NYSE:TAC) increased 16% over the prior year. The company is now paying out 25% of revenue to network members and distribution partners for traffic. The higher expenses caused the operating margin to sink 4% compared to the same quarter last year. Google's operating profitability of 22% is now the lowest it has been since 2004.
The Motorola Mobile division added another $1.0 billion to top-line growth, an 18% increase from the same period last year but below expectations. The Motorola Home division was sold in April for $2.4 billion in cash and stock as Google struggles to use the phone manufacturer to its promised potential. The quarterly operating loss from the Motorola division increased to $342 million, up substantially from the loss of $199 million booked in the same period last year.
Bottom-line earnings for the quarter came in at $10.78, missing estimates by more than 11% on top-line and margin weakness.
Earnings estimates for the final two quarters of FY2013 have already come down 6% but are likely to fall further. Full year 2013 earnings are expected at $43.57 with 2014 earnings expected at $51.42 per share for 18% growth on the year. This is despite annualized earnings growth of just 11.0% over the last two fiscal years.
The current price multiple of 25.6 times trailing earnings is above the 5-year average of 23.9 times and above the 3-year range of between 24 and 16 times.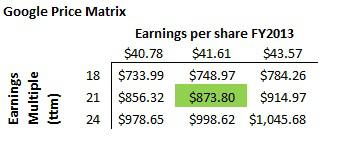 At my estimated FY2013 earnings of $41.61 per share, my price target for the first quarter of 2014 is $873.80 with more risk to the downside.
Limited upside with significant risks to the downside
Sentiment in the shares is likely to come down over the next two quarters as margin weakness and earnings downgrades hit. There is limited upside potential in the shares unless it can maintain its high price multiple and meet lofty earnings expectations.
Competitive pressures put further risk on sales and earnings over the first half of 2014 and the launch of Google Glass could ultimately disappoint. Investors with a long-term positive outlook on the shares may consider selling calls to protect a position from downside. New investors should reevaluate their own price target and may want to wait for a cheaper entry.
Disclosure: I have no positions in any stocks mentioned, and no plans to initiate any positions within the next 72 hours. I wrote this article myself, and it expresses my own opinions. I am not receiving compensation for it (other than from Seeking Alpha). I have no business relationship with any company whose stock is mentioned in this article.