CYS Investments (NYSE:CYS) has probably been my worst performing stock in 2013. CYS' stock has tended to always trade at a sharp discount to its book value, even when compared to its mREIT peers. One cause of this discount was that CYS has typically paid out a lower dividend yield as a result of it holding mostly 15-year MBS instead of the more typical 30-year. This situation has been exacerbated by CYS' horrendous Q2 2013 results, which saw the company post a ghastly 21% Q/Q decline in book value. YTD, CYS is down about 35%. However, it is my opinion that CYS may rebound later in the year, especially as the effects of the Fed's tapering are known. CYS' last quarterly dividend was for $0.34 per share, which equates to a 17.80% yield.
CYS' book value fell of the deep end in Q2 2013
CYS made the fateful decision to issue preferred equity for around $200M towards the end of April 2013. Assuming these funds were used to invest in Agency RMBS, as stated in the press release, then CYS most likely lost quite a bundle. MBS prices have been absolutely ravaged in recent months, with yields for MBS rising at levels not seen since 1994. As a result of this ill-fated capital raise and insufficient hedging, CYS' net asset value, also known as book value, took a massive hit in Q2 2013. As shown below, CYS' book value fell from $12.87 to $10.20, a massive 21% decline Q/Q. YTD, CYS has seen its book value drop about 34%. Do note that this is essentially the same percentage as the YTD stock price decline of 35%.
Also note that CYS' decline has been steeper when compared to some of its peers, such as American Capital Agency Corp (NASDAQ:AGNC) and Annaly Capital (NYSE:NLY). However, as a whole, the entire sector has vastly underperformed the S&P, which has posted a 16% YTD return.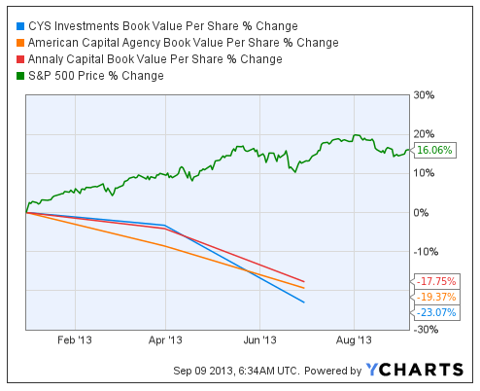 Drop income has become more and more important for CYS
AGNC and CYS have both been underperformers this year. Part of the reason may be a result of their use of drop income to boost results. Simplified, drop income is essentially: "The difference in price between the front month and back month in a mortgage-backed security ("MBS") dollar roll trade". (from Investopedia).
In an earlier article on AGNC, I explained drop income in more detail:
This income is associated with purchases of agency mortgage backed securities ("MBS") on a forward-settlement basis through the "to-be-announced" ("TBA") dollar roll market. The price differential between MBS purchased for a forward settlement date and the price of MBS for settlement in the current month is referred to as the "price drop". The price drop is the economic equivalent of the net interest carry (interest income less implied financing cost) on the MBS earned during the roll period.
One result of drop income is that it raises a mREIT's leverage. This may have been a factor in both AGNC's and CYS' YTD underperformance when compared to NLY.
As shown below, CYS' overall profit has been more and more dominated by drop income compared to the more traditional net interest rate spread, which CYS defines as "core income". Also notice how CYS' core income has collapsed 53% in one year, from $0.38 per share in Q2 2012 to about $0.18 per share in Q2 2013.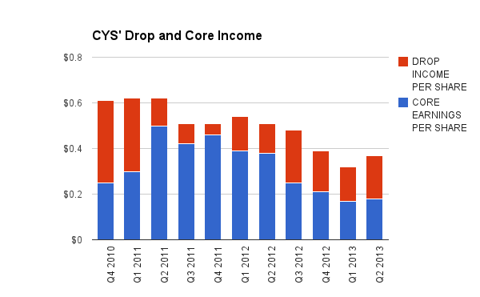 Good News: Higher net spread and increased dividends
While CYS has had more than its fair share of bad news, the company is seeing some improvements. As a result of the rise in interest rates, CYS' net interest rate spread has risen in recent quarters. For Q2 2013, CYS' spread increased 17% to 1.36% from its historic low of 1.16% last quarter. Do note that CYS' calculation for its net interest rate spread combines "drop" and "core" income.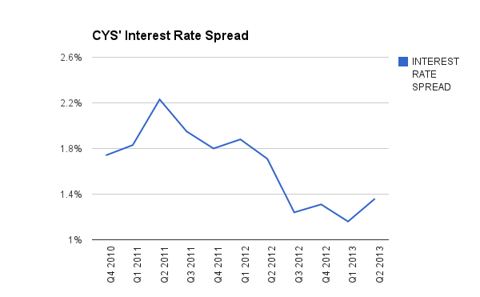 As a result of this increased profitability, CYS was actually able to increase its dividend 6% in Q2 2013 to $0.34 per share from $0.32 last quarter.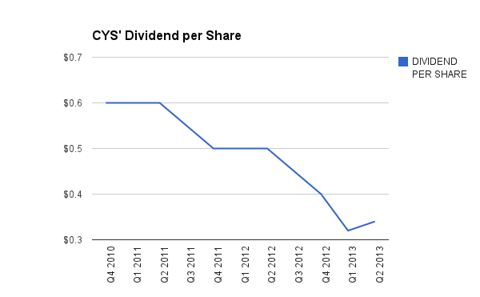 As shown below, this increase was in sharp contrast to last quarter's dividend cuts of 11% and 16% for NLY and AGNC, respectively.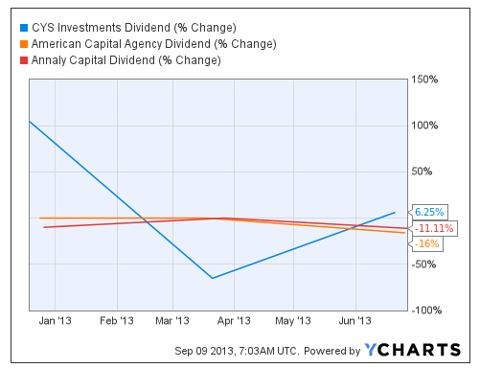 However, to be fair, all three have seen large dividend declines from early 2012 levels. Do note that the large spike in CYS' Q4 2012 dividend was due to a one-time year-end special dividend of $0.52 per share, which was bundled with the regular quarterly dividend of $0.40 per share.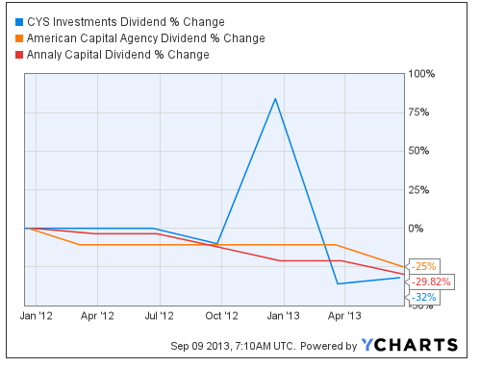 Conclusion
In my opinion, CYS made a lousy decision to raise capital earlier this year. MBS prices were already showing volatility and a more cautious approach may have been warranted. CYS' shocking Q2 2013 book value decline vastly overshadowed the improvements made in profitability or even the dividend increase.
Make no mistake about it, CYS is a hard stock to own. It has vastly underperformed and under-delivered. However, I believe the company is seeing improvements in its core business, namely interest rate spreads. At current prices CYS trades at a large 25% discount to its June 30 book value of $10.20. However, as many investors know, MBS prices have moved significantly since then. Proceed with caution with this stock.
Disclaimer: The opinions in this article are for informational purposes only and should not be construed as a recommendation to buy or sell the stocks mentioned. Please do your own due diligence before making any investment decision.
Disclosure: I am long CYS, AGNC. I wrote this article myself, and it expresses my own opinions. I am not receiving compensation for it (other than from Seeking Alpha). I have no business relationship with any company whose stock is mentioned in this article.