The subject of Western Union (NYSE:WU) as a value opportunity or value trap has become a hotly debated topic across analyst reports, investment websites, and financial news in recent years. Each side of the argument seems to have its own merit and facts backing the claim, but which one is correct? One argument of Western Union bears is that the Consumer-to-Consumer payment industry, which accounted for 81% of Western Union revenue in 2012, is changing rapidly and the company will find itself following the path of brick and mortar movie rental stores. On the other hand, the bulls point to the strong underlying financials of the company and contend that the industry is misunderstood. Both seem to have valid points. A closer look at the company itself, as well as some of the apparent issues may provide some clarity.
Western Union - The Business
Western Union is a money transfer and payment services company operating across the globe with the majority of revenue generated from consumer-to-consumer transfers. With an international network of more than 510,000 agents in more than 200 countries, the company provides necessary payment services to a wide customer base. The company's target customer base is underserved consumers that do not have access to other forms of payment transfers. For this reason, the company serves a large number of migrants sending money to other parts of the world, and in 2012, 85% of the consumer-to-consumer transfers involved at least one non-U.S. location. No country outside of the U.S. accounted for more than 7%. A closer look at the financials supports the bull's case.
Western Union - The Bull Case
There is no denying that Western Union has its merits across some metrics. As a financial services company, it does appear undervalued on a relative basis and intrinsic basis. The company has also grown revenues, earnings per share, and dividends over the last ten years while maintaining strong profit margins.
*Data Sourced from Morningstar.com
A closer look at revenues shows a five year average annual growth rate of more than 3%, even accounting for the drop in 2008-2009 as a result of the recession and poor economic conditions for consumers. The longer ten year average revenue growth is much stronger at almost 7%.
As the company has grown its revenues, it has also maintained strong net income as well as five-year average profit margins in excess of 18%.
*Data Sourced from Morningstar.com
As revenues have increased, so has the company's dividend payout and share repurchase program, both of which will enhance shareholder value. Since 2007, the dividend has increased from $.04 per share to $.50 per share. And on October 30, 2012, the Board authorized $550 million of common stock repurchases. As of June 30, 2013, the company had repurchased $314.5 million of common stock with $79.2 million remaining under the current repurchase authorization.
With continued strength in operating income and free cash flow, the company should have no problem carrying out the reminder of the share repurchase program and continuing to increase dividends. As of the end of 2012, Free Cash Flow was $917 million and Free Cash Flow/Sales remained above 16%.
From its current price, the company also appears to be a great value. On a relative basis, Western Union is cheaper than its competitors and is trading below its five year average P/E.

*Data Sourced from Morningstar.com
As noted in the table above, the company's current P/E of 11.4 times earnings is well below the industry average of 16.8X earnings. Price/Sales and Price/Cash Flow show the same picture.
In addition, at the current price of just over $18/share, Western Union appears to be trading at about a 20% discount from intrinsic value based on a conservative EPS growth rates, dividend payouts, and average annual P/E ratio.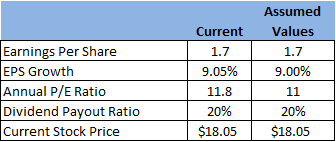 With all these current positive attributes, it's easy to see why the company appears to be a value opportunity rather than a value trap. However, there are clearly important issues as pointed out by the bears that have yet to be addressed.
The Bear Case
Much of the bear case against Western Union revolves around the fact that competition for money transfer services has become more technologically advanced and is outpacing that of Western Union's advancements. When the bulls point out that Western Union's customer base is made up of individuals that do not have internet access or other means of using technology driven money transfer systems, the bears respond with statistics on the growth of technology and continuing increase global access to internet and other technology.
Here's why the bear case makes sense.
85% of all Consumer-to-Consumer transfers through Western Union originate or end up in the U.S. Since the early 2000s, more and more Americans, even those with little means, have been gaining access to personal computers and the internet. Further, as smart phones become cheaper and availability increases, consumers will have access to online and mobile payment services through these devices. The convenience of online money transfers through PayPal and other service providers will overtake Western Unions brick-and-mortar sales model.
A recent Pew Internet report estimated that 85% of U.S. adults use the internet. And of the 91% of adults with cell phones, 56% are smartphones. In addition, internet usage in North America grew from 108 million users in 2000 to more than 273 million in 2012, a 153% increase. Further, a recent U.S. Census report indicated that internet access for Hispanics in the U.S., typically the lowest group with internet services, more than doubled from 2000-2011. It is clear that access to internet services, and therefore easier and cheaper money transfer services, is becoming more prevalent at a very fast pace in the U.S. This could ultimately have detrimental effects on Western Union's business if the company is not able to compete with market leader PayPal and close contenders in Google, banks, and other payment services companies.
But what about the recipients in other countries that do not have the same mobile and internet access opportunities as those in the U.S.? Western Union bulls argue that the slow pace of internet adoption and access in other countries will still require U.S. money senders and recipients to use Western Union since the counterparty may not have access to technology. The trends covering internet access in other countries may be slower than the U.S., but they are well on the way to catching up.
It is clear to see that while North America leads the way in internet penetration, the rest of the world is beginning to gain ground.
A closer look in the table above serves to confirm that, while the rest of the world is behind many of the more developed countries, growth in internet usage is continuing at a rapid pace.
As this trend continues, it may very well become more and more difficult for Western Union to compete with other providers that are already established and own significant market share.
So which is it, Value Opportunity or Value Trap?
The most likely answer is that both are correct. While the die-hard bulls may be underestimating the potential headwinds that could ultimately play out for Western Union, the staunch bears are overlooking the company's merit as a solid opportunity in the short run. This long term trend in technological advances and access to cheaper, easier money transfer methods doesn't change the fact the Western Union will remain profitable and pay a return to shareholders at least in the short run. But the solid performance of the company and potential return to shareholders through dividend growth and potential price appreciation doesn't change the fact that a storm is brewing on the horizon. Whether you are long or short on this opportunity, heed warning that your timing must be right.
Disclosure: I have no positions in any stocks mentioned, and no plans to initiate any positions within the next 72 hours. I wrote this article myself, and it expresses my own opinions. I am not receiving compensation for it (other than from Seeking Alpha). I have no business relationship with any company whose stock is mentioned in this article.