Procter & Gamble (NYSE:PG) is among the world's leading retail goods companies. The company has a diverse geographical revenue base that remains an important growth driver for the future. In my last article on PG, ''Waiting For The Best Opportunity When It Comes To Procter & Gamble,'' I made the case that investors should wait for a pullback before initiating a buy position. I believe now is a good time to take a buy position in the stock; the stock is down almost 6% in the last one month. Also, in this article, I will discuss the important takeaways from the presentation made by PG at the 'back to school' conference on September 4.
The company's presentation at the conference provided a clearer picture of the long-term plans of the new CEO, Mr Lafley. The company also provided details of FY2013's financial results, reiterated its FY2014 earnings guidance, and provided more details on the outlook. It also discussed key strategies and focus areas of future business operations.
For the full FY2013, PG experienced a decent organic sales growth of 3%, in line with the last four years' organic sales growth average of almost 3%. The company was able to increase its prices on an average of 1% in FY2013. Core EPS growth for the company for FY2013 came out to be 5% YoY. PG successfully achieved its COGS savings target of $1.2 billion, and exceeded the manufacturing productivity target by 2% in FY2013.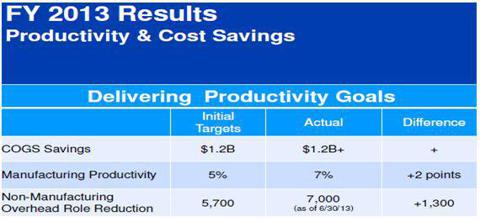 Source: Presentation Slides
Also, the company remains committed to working on product innovation, focusing on key brands and targeting important markets to drive future earnings growth. PG plans to introduce several new innovations in 'Tide' by February to target different income groups, ranging from new mid-tier Fresh line to super premium Tide Ultra. Moreover, the company plans to push hard in the Oral Care category to tap available growth opportunities.
Productivity and cost saving efforts were also a key focus area in the recent conference. The company indicated that it has been working to figure out the next round of productivity improvement initiatives beyond its ongoing program. It indicated that an efficient cost structure should be part of an organizational culture, rather than just taking periodic measures. To improve upon COGS, PG has been further localizing in developing markets, whereas for developed markets, the focus is on redesigning the supply chain. For FY2014, it is planning to save $1.4 billion in cost of goods, and achieving almost 6% manufacturing productivity improvement.
As the company has significant emerging market exposure, foreign currency movements remain a serious risk to it top and bottom line results. For FY2014, the company is expected to face 6%-7% and 2% FX headwinds for EPS and sales, respectively. The company's management reiterated its FY2014 core EPS growth range of 5%-7% and organic sales growth range of 3%-4%. Furthermore, the company plans to return $11.5-$13.5 billion to its shareholders through share repurchases and dividend payments in FY2014; approximately resulting in a total shareholder yield of 5%-6%, based on the current market capitalization of $210 billion.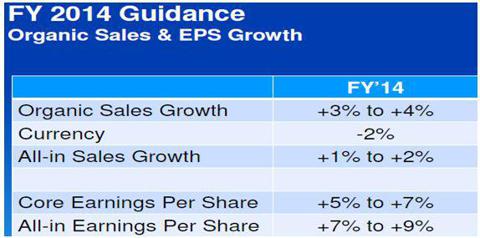 Source: Presentation Slides
Conclusion
PG seems to be on track to deliver healthy financial performance in the future, as it focuses on product innovation and productivity improvement. Also, its significant emerging market exposure and an impressive ongoing share repurchase program bode well for the company's long-term earnings potential.
I believe the recent pullback in the stock price offers investors a good entry point. The stock is down 8% since August 7, 2013. Based on my price target of $81, the stock offers a potential price appreciation of 5.5%, and total potential return of 8.5%, including its decent dividend yield of 3.1%. I calculated the price using PG's historical five-year average P/E of 17.3x and FY2015 EPS forecast of $4.68.
Disclosure: I have no positions in any stocks mentioned, and no plans to initiate any positions within the next 72 hours. I wrote this article myself, and it expresses my own opinions. I am not receiving compensation for it (other than from Seeking Alpha). I have no business relationship with any company whose stock is mentioned in this article.