This past week dry bulk shippers surged after about a 20% increase in the Baltic Dry Index.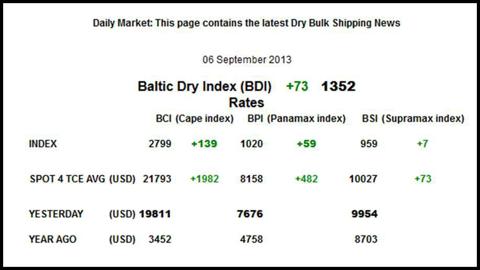 The increases have been universal across all the shippers. DryShips (NASDAQ:DRYS) is up $.70 this week, touching $3.00, and will likely continue to surge further this week. Genco Shipping & Trading Ltd. (NYSE:GNK) is up 55% from $2.70 to reaching a high of $4.30.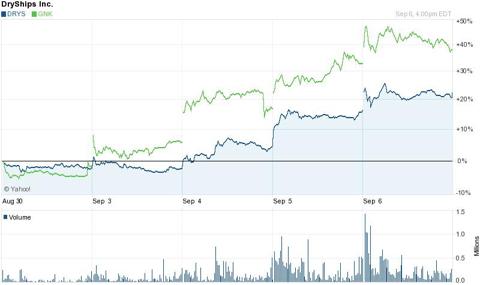 The surge in the Baltic Dry Index has primarily been tied to day rates for Capesize Ships and the increase in demand for Iron Ore. Australia's Port Hedland, which handles about a fifth of the global seaborne market for iron ore, handled 22.3 million tons in August, up 9 percent from 20.4 million tons in July, and 33 percent higher than in August 2012. The majority of the exports have been for Chinese ports, however shipments to South Korea also increased and shipments to Japan remain strong.
Although analysts have projected a slowdown in Chinese growth, China is continuing to import in order to replenish supply. Additionally, due to a supply surplus, the price of iron ore is expected to fall to the point where importing Australian ore will be cheaper than using domestic ore.
In the next few months US grain harvests will help to sustain these gains as grain exports sustain and increase the demand for dry bulk shippers.
In previous articles, I stated I believed the bottom was here with DRYS, but also believe the rest of the sector has also bottomed out. I expect to see a pullback in the sector, but will then trend higher.
Disclosure: I have no positions in any stocks mentioned, but may initiate a long position in DRYS over the next 72 hours. I wrote this article myself, and it expresses my own opinions. I am not receiving compensation for it (other than from Seeking Alpha). I have no business relationship with any company whose stock is mentioned in this article.