With China's economy appearing to gain strength now that the country is focused on growing once again and has implemented infrastructure programs our outlook for oil and the like is changing a bit. The longer than the country can keep up its fast growth, the longer we think that oil prices can remain in a bull market. Of course Syria will have its impact upon oil prices, being it bullish or bearish, but longer-term we believe China could provide a floor for prices. This would be especially true if the US can begin to create more jobs and have some inflation.
This has kept us from hedging our bullish positions in the shale oil plays and after our research this weekend, as well as the bullish news out of China, we believe that this is the proper stance to have right now.
Chart of the Day:
Coffee continues to form a base at its current levels and although it has been in bear market for some time until we see a break in the trend we are still hesitant to go all in here. We are optimistic but until there is a move higher we shall remain on the sideline and still bullish those names which use coffee.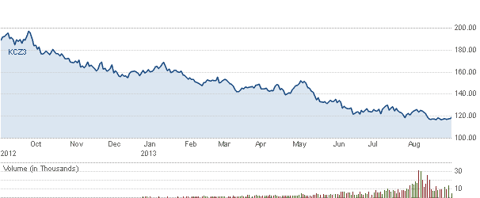 Click to enlarge
(Click to enlarge)
Source: CNBC
Commodity prices this morning are as follows:
Gold: $1389.70/ounce, up by $3.20/ounce
Silver: $23.73/ounce, down by $0.151/ounce
Oil: $109.86/barrel, down by $0.67/barrel
RBOB Gas: $2.8204/gallon, down by $0.0333/gallon
Natural Gas: $3.582/MMbtu, up by $0.052/MMbtu
Copper: $3.284/pound, up by $0.0225/pound
Platinum: $1491.80/ounce, down by $3.90/ounce
Bakken
In Friday's article (located here) we discussed the transaction that Oasis Petroleum (NYSE:OAS) completed to drastically scale up their operations in North Dakota's prolific Bakken shale oil play. We have had numerous emails sent to us, as well as some comments in much older articles, where readers believe that our optimistic outlook on these junior E&P names is misplaced. We would disagree and based on some of the research we did this weekend, which focused a good bit on the Bakken, we believe that we were possibly not bullish enough.
Readers may remember our bearishness as it pertained to Magnum Hunter Resources (MHR) due to their accounting issues. It was a big issue when we wrote about it with many readers and commenters getting upset that we took a short-term view of the accounting discrepancies. In our experience that is the only way to play the situation but we did say at the time that the bearishness had absolutely nothing to do with the company's properties and everything to do with their accounting. This ties into the Oasis news because Magnum Hunter announced that they did in fact participate in the sale of a portion of the acreage to Oasis. Although Magnum Hunter only came away from the deal with $32.5 million, it was a small deal on their part, the move does highlight the value of the rest of their portfolio - and it is our opinion that those holdings would be much more valuable.
The accounting issues caused a big sell-off, but the shares have most certainly outperformed in recent months as the company bounced back from the issue and has done a good job highlighting the value of its properties. More upside to come?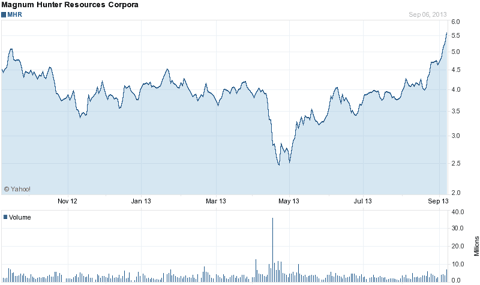 Click to enlarge
(Click to enlarge)
Source: Yahoo Finance
These transactions which continue to happen in the Bakken only strengthen the belief that there is hidden value on the balance sheets of many of these names, which is why we believe that names such as Kodiak Oil & Gas (NYSE:KOG) and Halcon Resources (NYSE:HK) continue to rise. Those two are potential buyout names for bigger fish and as more acreage in the play is consolidated it leaves less supply out there while creating more attractive mid-size players.
These names are not to be valued based on their production volumes or sales but rather by the potential value of their plays factoring in potential production volumes and potential reserves. We are trying to stress the word potential so as to not create any confusion. These are speculative names, but they are one of the few areas of the market where real internal growth is taking place. It is that internal growth which is why the rising debt loads do not bother us to the extent that it does analysts.
Potash
Potash names are quoted higher as there are rumors that a stake in Uralkali may be for sale. According to theflyonthewall.com (see summary here) there are conflicting reports from Forbes and Reuters regarding the potential sale of a 22% stake in Uralkali from one Russian billionaire (Suleiman Kerimov) to another (Vladimir Evtushenkov). Reuters says that Mr. Evtushenkov denies his interest, but right now it is quite obvious that the market is believing that there is fire where there is smoke as both Potash Corporation of Saskatchewan (NYSE:POT) and Mosaic (NYSE:MOS) are both higher and gaining steam.
This is a key story for the sector and has ramifications that affects each and every name out there. If a new cartel is not set up for the potash produced from the Urals then the next round of annual potash contracts signed could be signed at terms much less favorable in terms of pricing than those in force today. We are continuing to follow this story as it can impact other commodities too (such as the grains, for instance).
Disclosure: I am long HK. I wrote this article myself, and it expresses my own opinions. I am not receiving compensation for it (other than from Seeking Alpha). I have no business relationship with any company whose stock is mentioned in this article.