Encouraged by my recent articles on Canadian telecoms (BCE, Rogers, and TELUS), I have decided to further explore the telecommunications industry on a global level in pursuit of value plays. In general, telecoms caught my attention by their status of mature businesses and excellent cash flow generators. CAPEX is a big use of funds for these companies but their D&A expense usually neutralizes this effect. Telecoms tend to have stable margins and experience modest revenue growth (from what I noticed the growth does not usually exceed inflation levels in countries of operation). I obtained a list of international medium-to-large telecoms from TD Waterhouse and sorted it by P/E:
VimpelCom (NYSE:VIP) caught my attention by a relatively low (yet reasonable) P/E and a high dividend yield:
(Note: VimpelCom pays dividends twice a year, not quarterly)
The company has been consistently outperformed by the broader S&P 500 index despite solid fundamentals and value creation:
The company operates in 17 countries on 4 continents around the globe and serves 215M customers, covering a total population of over 750 million people, which puts the company on the 7th place in the world. The company delivers its service through ten brands divided among five business segments: Russia, Africa & Asia, Italy, Ukraine, and CIS. VimpelCom earned an EBITDA of ~$9.8B in the last twelve months on revenues of $23B. Almost three quarters of the EBITDA came from emerging markets; revenues have shown a similar picture with over 70% coming from emerging economies.
In its Q2 presentation, VimpelCom's management outlined goals and milestones of the company's new strategic focus: Increase Net Cash. It plans to achieve the goal in 10 steps:
The management, renewed with an introduction of Mikhail Slobodin, former TNK-BP executive, who joined VimpelCom last week, has drawn the following guidelines for the company's financial performance:
(Note: I used a figure of 5% to project revenues for the group for the next 4 years in the model)
The company has had significant financial debt obligations since the purchase of Canadian telecom assets from Egyptian billionaire Naguib Sawiris in 2011, which resulted in the effective operating leverage figure of 3.75X, and wants to trim them down by at least a third (using LTM EBITDA as the basis for calculation):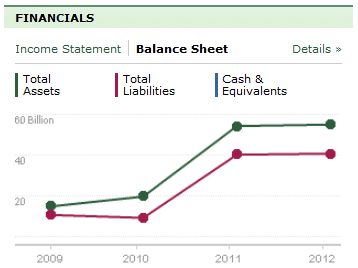 The Total Enterprise Value as of September 8, 2013 has the following distribution:
The significant debt load has resulted in a rather expensive cost of debt of over 8% (see details in the 'Debt Schedule' tab in the worksheet) compared to a relatively cheap 5.3% cost of equity. VimpelCom has fared well financially in the last several years since its IPO and has grown significantly through M&A:
Valuation
Before we proceed to the fundamental-technical approach I would like to reflect for a moment on the market's treatment of VimpelCom's common stock:
Current P/E of 7.8X is below the 5yr average of 9.0X and lower than the projected P/E of 8.6X (EPS growth is in place, the multiple's expansion is the result of an anticipated favorable market activity).
EBITDA growth has contributed to a slide in EV/EBITDA multiple with effective multiple being below the 3yr median.
Fundamental Analysis
The analysis consists of two parts: P/E sensitivity analysis and DCF modeling. I use analysts' EPS estimates consensus and apply current P/E levels, while appropriately discounting them by the Cost of Equity figure. The following EPS estimates were obtained through TD Waterhouse research center:
Analysts expect gradual rise in EPS resulted from operational optimizations and mobile Internet growth in Russia and Ukraine, where 3G networks are still under a load of problems (4G LTE already under construction in Moscow).
Consequently, the present value of VimpelCom's common stock is as follows:
The "Medium" values are in line with the current market price, although the expected multiple's expansion will contribute to the increase in fair value of the stock.
To save readers' time I post only the output of calculations performed in the downloadable workbook. The following DCF numbers were achieved using conservative growth rates and established margins:
The waterfall chart explains the "walk" to the fair value:
The distribution of the value drivers is given below:
Observations
- All three value drivers are roughly equally distributed, which should give investors a level of comfort
- "Company-controlled" drivers - Dividends and Free Cash Flows - represent approximately two-thirds of the total stock's fair value, while market-controlled Terminal Value in the minority
- Dividends represent about a half of projected Free Cash Flows, which means the company's finances offer a good dividend coverage
Technical Analysis
Technicals are analyzed by Recognia Inc. The output is presented below:
The last week's closing price of $10.94 is at the resistance level of $10.95. A breakout above the price is an indicator that the stock may substantially increase in price in the intermediate term. In that case, the closest price target range is $11.60 - $11.80 per share.
Summary
VimpelCom has room to expand both operationally (optimization, etc.) and externally (by growing its mobile internet business). The stock is trading about 15% above 52wk low and offers a compelling, yet largely unpredictable, dividend. Operating margins are rock-solid, while revenues grow steadily at a modest rate. The company is well diversified, offering exposure to emerging markets, which results in currency risks for investors.
Conclusion
I am uncertain whether VimpelCom is more a value play than a dividend candidate. I issue a "BUY" rating for the company's stock with a potential ~25% upside to fair value. Technicals are showing that there is an upside momentum in the medium term.
Analysts' Opinion

Disclosure: I have no positions in any stocks mentioned, but may initiate a long position in VIP over the next 72 hours. I wrote this article myself, and it expresses my own opinions. I am not receiving compensation for it (other than from Seeking Alpha). I have no business relationship with any company whose stock is mentioned in this article.