Increasing air traffic is pressuring airline companies to buy new airplanes. This is beneficial for one of the world's largest commercial airplane manufacturers, Boeing (BA). Boeing's 737 dominates its commercial planes' segment. The company is further developing this series for potential revenue generation.
Besides commercial planes, its defense, space and security segment derived significant revenue from its U.S. based services. However, these services received a setback after the U.S. government elected to cut spending on defense services. In order to diversify, Boeing has been focusing on its international defense business segment. Let's have a detailed look at these factors and their impact on the company as a whole.
Commercial airlines

Boeing's 737 airplanes are the most delivered commercial planes. In the second quarter of 2013, the company delivered 169 commercial planes, 68.6% of which were 737 planes. The company expects to generate significant revenue opportunities by developing the 737 series. By the end of July 2013, Boeing completed the design for the upgraded version of this plane, which is expected to start service in 2017. It is 13% more efficient than existing planes, such as the most fuel efficient planes like the Airbus A320.
Besides upgrading the series, Boeing hopes to develop the 737 with an increasing number of orders. Through July 2013, Boeing had a total 1,495 orders for one of the members of the 737 series, the 737 MAX. These orders will increase since WestJet said it will purchase 65 such airplanes on Aug. 29, 2013, for $6.3 billion. With the upgrade of the 737 series, we expect many such orders will come in the future.
United Technologies' (UTX) aerospace system segment has been successfully supplying various components for Boeing commercial airplanes 737, 747, 767 and 777. On Aug. 22, 2013, Boeing again selected it for supplying various components of Boeing's "737 MAX." We expect the above discussed upgrade plans and increasing orders of Boeing's major plane series will bring long term revenue stability for the 737's prime supplier, United Technologies' aerospace systems segment. This segment accounted for 20.5% of the company's total revenue in the second quarter of its fiscal year 2013. Developing this important revenue contributing segment is expected to fuel United Technologies' earnings, which in turn will significantly impact its stock price.
Boeing's commercial airplane segment contributed $24.31 billion, which is 59.72% of the company's total revenue, in the first half of 2013. Out of 306 commercial airplane deliveries in the first half, 71% of them were of the 737 airplane series. This 71% of commercial planes' revenue contribution in the first half was $20.81 billion, and the 737 series deliveries grew by 4.8% year over year. Assuming this growth rate to be constant, the 737 series is expected to contribute $21.8 billion in the first half of next year. We feel that the modification and increasing order tally of these planes will generate more revenue than Boeing's estimated $21.8 billion.
International contracts

Boeing's defense, space and security segment accounted for 37.5% of the company's total revenue in the second quarter of fiscal year 2013 and 80% of this segment's revenue came from the U.S. government. However, drawing huge revenue for its defense, space and security segment from the government is a loss for the company since the government reduced its spending on defense services. In March 2013, the U.S. government canceled $42.7 billion allocated for the defense budget for fiscal year 2013. Lockheed Martin (LMT) and Boeing are the largest defense contractors to the U.S. government, so they were most affected by this spending cut.
To lower the impact of decline in government spending, Boeing is focusing on enhancing its business from international defense customers. This focus is clearly reflected in the company's second quarter in which 37% of Boeing's defense, space and security segment's backlog represented orders from international customers. This is significantly higher than historical contribution of international customers.
One such international deal in defense is with the government of South Korea that is expected to buy Boeing's fighter plane, the F-15 Super Eagle. The official announcement regarding this deal is expected to come this month. South Korea's jets requirement was expected to be fulfilled by three potential bidders Lockheed, Boeing and European Aeronautic Defense and Space, or EADS. Lockheed was out of competition because during the bidding time it offered a price that was higher than the government's proposed price of $7.43 billion. EADS failed for the same reason as Lockheed. This left Boeing as the only contender.
Since Boeing is one of the largest global aircraft manufacturers, we feel it is well positioned to get more such international orders. With a decline in U.S. defense spending, international defense orders are expected to become more important for the company. Following the steps of Boeing, Lockheed is also focusing on offsetting headwinds from the U.S. government through its international defense contracts. On August 12, 2013, it received an order from South Korea for the country's Apache attack helicopters. Under this contract of $223 million, Lockheed will provide its electronics assembly system, M-TADS/PNVS, for Apache helicopters. This system is an electronic fire control system used by Apache pilots for targeting in night and adverse weather conditions.
In another international deal, Longbow LLC, a joint venture of Lockheed, received a $90.6 million contract from Saudi Arabia for Apache helicopters. As per this deal, Lockheed will provide Longbow LLC's fire control radars, named as "Longbow systems," for these helicopters.
One of the officials of Longbow LLC stated
"Saudi Arabia is emerging as one of the largest international users of the Longbow systems, which provides greater processing power and provision for significant growth while reducing weight and maintenance costs."

Lockheed's international business accounted for 17% of the company's total revenue last year, which was $7.99 billion, and with growth in its international segment, it expects to increase this revenue contribution to 20% over the next few years. We believe that increasing this revenue contribution by a few percentage points over the next few years is not enough to provide major revenue growth opportunities.
Compared to Boeing's international deals, those of Lockheed are quite small. To confront Boeing's international business, Lockheed requires more revenue generating deals. Though Lockheed is developing its international segment, we feel small deals as the ones mentioned above, will not significantly impact its earnings, resulting in no major impact on the earnings per share, or EPS, of Lockheed. As a result of no remarkable effect on the EPS, the stock price also won't show much change.
Valuation:
| | | | |
| --- | --- | --- | --- |
| Company/ Valuation Parameter | Trailing PE | Forward PE | PEG |
| Boeing | 18.96 | 14.28 | 1.47 |
| Lockheed | 13.71 | 12.75 | 2.21 |
Source: Finviz.com
On the basis of market capitalization, Boeing and Lockheed are the top industry players. When reviewing the valuation of these major players, Boeing's forward price earnings, or PE, ratio for next fiscal year is significantly lower than its trailing PE ratio, signifying that its stock is undervalued and its earnings are expected to grow in the future. The difference between Lockheed's forward PE ratio and trailing PE isn't significant compared to that of Boeing. So, its earnings aren't expected to grow much. Generally, a lower price to earnings growth, or PEG, is preferred, and Boeing's PEG is quite lower than Lockheed's, again making Boeing's stock attractive as compared to Lockheed's stock.
Conclusion: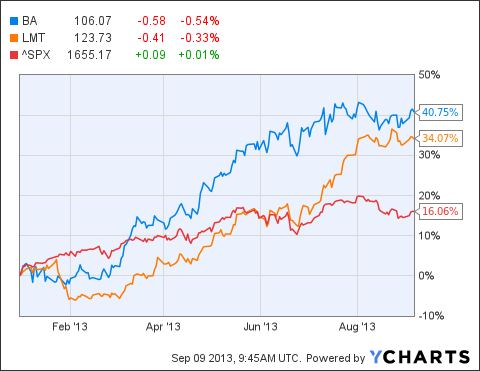 Boeing has outperformed the S&P 500 index over the last one year. Moreover, its strong fundamentals and valuation make its stock attractively priced. The company hopes to grow its commercial planes and international defense contracts for advancing in the future. Considering its growth factors, we advise investors to buy this stock.
Disclosure: I have no positions in any stocks mentioned, and no plans to initiate any positions within the next 72 hours. I wrote this article myself, and it expresses my own opinions. I am not receiving compensation for it (other than from Seeking Alpha). I have no business relationship with any company whose stock is mentioned in this article.
Additional disclosure: Fusion Research is a team of equity analysts. This article was written by Satya P, one of our research analysts. We did not receive compensation for this article (other than from Seeking Alpha), and we have no business relationship with any company whose stock is mentioned in this article.