The race is on:
For those who are not aware of it, there is currently a race on for the hearts and minds of earlier stage Congestive Heart Failure (CHF) patients and their advising Physicians.
These are the NYHA Class III CHF patients who have not yet reached the very late stages of heart failure where a donor heart transplantation or mechanical circulatory support (MCS) such as the Left Ventricular Assist Devices (LVADs) from Thoratec (NASDAQ:THOR) or HeartWare (NASDAQ:HTWR) are required to survive.
There is a very large prize for the winner/s of this race for approval for treatment of NYHA Class III CHF patients with MCS. In the U.S. alone, NYHA Class III CHF patients are estimated to number 1.4M compared to 0.05 to 0.1M for the late stage CHF patients currently eligible for LVAD implants (See here and here).
The implications for HeartWare:
HeartWare is still in the process of seeking to obtain Destination Therapy (DT) approval for its LVAD. This lack of DT approval is effectively blocking HeartWare from currently undertaking NYHA Class III trials. As explained in more detail below, this hold up might make it much more difficult for HeartWare to ever get approval for NYHA Class III patient treatment with the HVAD. That could seriously depress HeartWare's share price. There is an opportunity to hedge against this outcome for capital preservation purposes as described further below. But first some more background.
The state of play in the late stage NYHA Class IV CHF market:
There is a scarcity of donor hearts, so many of the late stage patients will have to opt for one of the Left Ventricular Assist Devices (LVADs) available from HeartWare and Thoratec while they wait for a donor heart to become available. LVADs for this purpose are termed Bridge To Transplant (BTT).
For late stage CHF patients who are not eligible for a heart transplant, or unlikely to receive one, there is the option of implanting a Thoratec LVAD (the HeartMate II) which has been approved for Destination Therapy (DT).
HeartWare's LVAD (the HVAD) is approved only for BTT. It is in an ongoing trial seeking DT classification with a primary endpoint of May 2014 and estimated completion date is not until May 2017 (See here).
The state of play in the NYHA Class III CHF market:
There is a general recognition by the National Heart, Lung and Blood Institute (NHLBI), the American Heart Association (AHA), and the International Society for Heart and Lung Transplantation (ISHLT) that there is a need to explore the extension of the use of MCS to earlier stage CHF patients for whom Optimal Medical Management (OMM) is not halting the progression of the disease. As these patients are not eligible for heart transplants it will require a DT classification to enter this market.
To this end, the NHLBI is co-sponsoring the Revive-It trial with Thoratec to gauge the safety and efficacy of the HeartMate II implanted in 50 NYHA Class IIIB CHF patients compared to a 50 patient comparator group on OMM. Thoratec replaced HeartWare in this trial after HeartWare failed to gain DT approval for Class IV CHF patients (See here).
This trial has a 2 year follow up period and enrolment is required to be staged. This is a protective measure for patients in case safety issues start to arise. Completion date is not until December 2016.
At the same time, Sunshine Heart (NASDAQ:SSH) has received approval for a 388 patient Pivotal Trial for its C-Pulse system in NYHA Class III CHF patients. Efficacy and safety outcomes for 194 patients implanted with C-Pulse will be compared to 194 patients on OMM. C-Pulse should only need to achieve similar results to those for its 20 patient feasibility trial to easily show superior efficacy in this trial. Primary completion date is scheduled for April 2016, with marketing approval scheduled for April 2017 (See here).
It would appear that if Sunshine Heart could accelerate enrolment completion by 5 to 6 months they could achieve marketing approval before Thoratec completed its trial.
And that is where a potential crunch arises for Thoratec, but even more so for HeartWare.
The Potential Crunch for HeartWare:
The two trials referred to above are for MCS devices compared to OMM because there are no pre-existing approved MCS devices for long term use for NYHA Class III CHF.
If Sunshine Heart's C-Pulse and Thoratec's HeartMate II are shown to have similar efficacy, safety, and quality of life improvements, then presumably both will be approved if they show better results than the comparator groups on OMM.
But there has to be a risk for Thoratec that with a more invasive implantation procedure, and the risk of device related stroke, it will not achieve the same safety level as Sunshine Heart's C-Pulse.
Now that might not matter, because approval might be based purely on results of the current trial comparing to OMM.
But HeartWare is unlikely to be that lucky. It is almost certain that any HeartWare trial will have either the Sunshine Heart C-Pulse system, or Thoratec's LVAD, or both, as a comparator arm for purposes of gaining approval to implant NYHA Class III patients. That might be a much more difficult test than with an OMM comparator arm.
Hedging HeartWare's Risk:
Presumably, most investors in HeartWare are attracted by the size of the potential market its LVADs address.
It is possible that Sunshine Heart could come to dominate in NYHA Class III, the largest segment in this market. As described above, it is even possible Sunshine Heart's C-Pulse System could effectively block HTWR out of this market.
On that basis, and with each company having a similar number of shares on issue, it is conceivable Sunshine Heart share price could increase seven fold to match or exceed the HeartWare share price.
At the same time, the HeartWare share price could fall if it finds itself excluded from the NYHA Class III CHF market segment.
If exploiting the CHF market potential is the aim of a HeartWare investor then it would be a very wise move to cover all of the bases.
Selling a small portion of a holding in HeartWare shares, say 5% to 15%, and using the proceeds to buy shares in Sunshine Heart could be a very simple and effective hedging strategy to preserve capital.
Table 1 below shows how this would work using an example of a holding of 1,000 shares in HTWR at share price current at 6 September 2013 of $76.45 to give a total market value of $76,450.
Table 1 - Conversion of a percentage of HTWR holding to SSH shares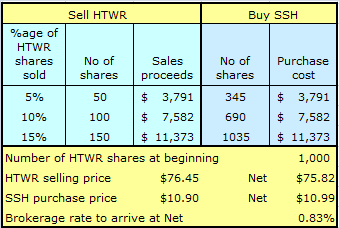 Table 2 below illustrates how a rising Sunshine Heart share price would offset the effect of a falling HeartWare share price so the combined market value would equal the above-mentioned initial market value of $76,450.
Table 2 - Required minimum share prices for HTWR to preserve initial invested capital at various projected share prices for SSH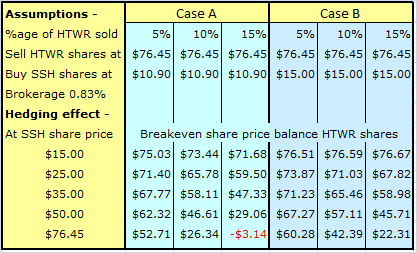 Summary and conclusions:
HeartWare share price has fallen by over 20% over the last 2 months so risking just 5% to 15% in an investment in Sunshine Heart to hedge against the effect of potential future HeartWare share price falls is a fairly modest step.
The proposed use of Sunshine Heart shares as a hedge is based on -
The more success Sunshine Heart has in NYHA Class III CHF therapy the more its share price will likely rise; and
Greater success for Sunshine Heart in Class III CHF therapy will increase the likelihood of greater difficulty for HeartWare in accessing this market. This will likely depress HTWR share price.
Hedging an investment in HeartWare by exchanging a small portion for shares in Sunshine Heart promises to be an effective strategy for preserving capital in a scenario of a rising Sunshine Heart share price and a falling HeartWare share price. Hedging can also be achieved by buying Sunshine Heart shares without disposing of any HeartWare shares.
The need to be nimble:
Non institutional shareholders hold around 275,000 shares in HeartWare. Putting the above strategy into place would require them to collectively buy between 50,000 and 290,000 shares in Sunshine Heart. With a 50 day average daily share turnover of over 200,000 that should be achievable without too much upward pressure on the share price provided they get in ahead of any institutional buying.
There are 147 institutional shareholders in HeartWare holding 98.33% of the issued shares.
Only 10 of these institutions already have shares in Sunshine Heart. The value of their combined holdings in Sunshine Heart is roughly 5% of the value of their combined HeartWare and Sunshine Heart shareholdings. So they already have a hedge in place.
The remainder of the institutions would have to acquire between 2.6M and 10.4M shares in Sunshine Heart to implement the above strategy.
So for the majority of these institutions, who are not quick enough to buy on market, the only way to achieve this hedging strategy might be to participate in a capital raising for Sunshine Heart.
Caution: As always, please do your own research before any buy or sell decisions. Use of information and research in the article above is at your own risk.
Investing in micro cap companies is not suitable for all investors and can be risky. It's important that investors thoroughly perform their own due diligence and analyze the potential risks. Due to illiquidity, share prices can fall despite strong fundamentals and possible inability to raise sufficient additional cash to continue to fund ongoing operations is always a serious concern. Fuller details of risks associated with Sunshine Heart as identified by the company may be found with their form 10-12B/A registration filing with the SEC and their other SEC filings.
Disclosure: I am long SSH. I wrote this article myself, and it expresses my own opinions. I am not receiving compensation for it. I have no business relationship with any company whose stock is mentioned in this article.