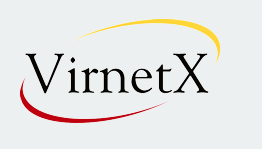 VirnetX
VirnetX (NYSEMKT:VHC) is an internet security corporation based in Zephyr Cove, Nevada that offers solutions in the area of internet security. The company is most noted for their $200 million settlement with Microsoft (NASDAQ:MSFT) in 2010 and their $368 million award against Apple (NASDAQ:AAPL) last November. Both are based upon patent infringement. Many of the patents originated from SAIC, a government defense contractor. VirnetX is involved in many of the areas that comprise the future of the technological ecosystem and landscape that include 4G LTE-Advanced. The company is currently litigating with companies such as Apple and has superior intellectual property and technology that is very valuable moving forward.
How Is VirnetX Included In The Future Of 4G?
In one of my recent articles I talked about the future of 4G communications, mainly 4G LTE-Advanced and VirnetX's inclusion in this new wave. One of the key points is that VirnetX has now identified and is developing 18 specifications in the 3GPP LTE, SAE project to which its patents and patent applications are or may become essential.
Recently the company reported that they received three new patents that further strengthened their patent portfolio for 4G LTE-Advanced Security. The release includes the fact that the new patents were included in VirnetX's essential patents declaration to the European Telecommunications Standards Institute (ETSI) and the Alliance for Telecommunications Industry Solutions (ATIS). Kendall Larson, President and CEO of VirnetX was quoted at the end of the press release with his statement:
"These new patents strengthen our patent portfolio covering LTE Advanced security," said Kendall Larsen, VirnetX CEO and President. "We believe a license to our portfolio of essential patents will be required for achieving full compliance with the 3GPP LTE Advanced standards including Release 10 and beyond."
The company has over 48 U.S. and International patents that apply to 4G communications, which demonstrates their presence in the future of secure communications.
How Does VirnetX Secure 4G Communications?
Some of VirnetX's main patents outline exactly how and where the company will be able to offer security.
· The 135 Patent discloses a method of transparently creating a virtual private network ("VPN") between a client computer and a target computer by generating from the client computer a Domain Name Service (DNS) request that also requests an IP address corresponding to a domain name associated with the target computer. The specification section of the 135 Patent also teaches Tunneled Agile Routing Protocol (TARP) technology.
· The 759 Patent discloses a method for establishing a VPN without users entering identification information and ensuring that a secure communications software module is stored on user equipment that is authorized for a secure communications link.
· The 180 Patent discloses a method of establishing a secure communication link between two computers and teaches a secure domain name system where the secure domain name has a top-level domain name that includes one of .scom, .snet, .sorg, .sedu, .smil or .sgov.
· The 211 and 504 Patents disclose a secure domain name system.
The more recent '888 Patent that has been accepted and includes an encryption process that looks as though it has the ability to thwart the government's way of targeting the computers at one end or the other and grabbing text before it is encrypted or after it is decrypted.
The '888 Patent:
VirnetX's newly approved patent, the '888 patent (8,521,888), demonstrates not only the strengthening of VirnetX's 4G LTE-A patent portfolio but the strength and hard work of the VirnetX team. The ending terms for the '888 patent were thoroughly discussed by VirnetX's team and the patent officer examiner. These simple changes shown below gave the claims the impetus to overcome the prior art rejections of Wesinger, Aventail and even Kiuchi.
Some of the simple changes are shown below that helped this patent overcome the prior art that held it back. To see the original claims of the '888 patent click here, to see the revised claims click here.
1. A method of transparently creating an encrypted communications channel between a client device and a target device, each device being configured to allow audio video communications between the client device and the target device over the encrypted communications channel once the encrypted communications channel is created, the method comprising:
(1) intercepting receiving from the client device a request to look up an internet protocol (IP) for a network address associated with the target device based on a domain name associated with the target device;
(2) determining whether the request transmitted in step (1) is requesting access to a device that accepts an encrypted channel connection with the client device; and
(3) in response to determining, in step (2), that the address request in step (2) is requesting access to a device that accepts an encrypted communications channel connection with the client device, providing provisioning information required to initiate the creation of the encrypted communications channel between the client device and the target device such that the encrypted communications channel supports secure audio/video communications transmitted between the two devices.
This admission of this new patent:
Demonstrates VirnetX's ability to distinguish its unique technology from that of the prior art.
Strengthens VirnetX's patent portfolio, specifically in the area of 4G LTE-Advanced
Portrays that the prior art did not have a foothold in this patent as simple changes were able to be made to show the unique nature of VirnetX's technology.
Keep in mind that the prior art references were examined thoroughly, including the recent IPRs and hundreds of other references and the '888 patent was still approved.
More On VirnetX's Secure Methods: In Relation To 4G LTE-Advanced:
VirnetX's technology offers a patented method for securing real time communications. Many of the requirements in the new 4G release require the usage of:
• Secure Domain Name Service Servers
• Secure Domain Names
• Virtual Private Networks (Secure Links Between Devices) based on Domain Name Service Lookups.
Some of VirnetX's technologies overlap, such as how the secure domain name portion not only applies to 4G LTE-Advanced, but is seen in Apple's use of secure domain names (Apple IDs).
Issues to Keep In Mind
· This article is meant to offer an overview of some of VirnetX's technology that will be utilized in 4G communications moving forward.
· It is not a "one size fits all" solution. The above patent claim ("888) applies to audio/video communications and would not apply to email communications. Although VirnetX technology can be applied to many areas, I will not comment unless it is detailed here.
· Should an OEM like Apple or an Android manufacturer create products that comply with 4G LTE-Advanced Release 10 that includes VirnetX technology without a license, they will face willful infringement since the technology is documented in the ETSI and ATIS.
A Real World Example Of Increased Security
Apple employs many of VirnetX's technologies that they are being sued for. Apple has not licensed with the company for use of its technology. At trial last November, Apple's expert witnesses stated that using relay servers to avoid infringement of VirnetX's patents with regards to FaceTime would take only a few weeks and cost a few million dollars.
In post-trial motions a few weeks ago, Apple stated that they had moved 100% of their FaceTime calls over to relay servers in response to their infringement of VirnetX's patents. Apple employs Apple IDs (secure domain names) and other forms of VirnetX technology to create fast and secure communications between users of FaceTime. With the spin into relay servers, Apple has reported over 500,000 complaints, a degradation of service quality and severe privacy issues such as opening up user information to a third party - Akamai (NASDAQ:AKAM). Even though this post-trial hearing was simply to decide on an on-going royalty rate for infringing devices, it demonstrates the value and the worth of VirnetX's secure communications technologies. Simply because if relay servers were the cheaper and better solution, Apple would have employed them in the first place.
Apple's use of VirnetX's patents demonstrate an example of a company that has employed VirnetX's secure communications technologies to encrypt their services, specifically FaceTime.
Apple Has Proved VirnetX's Technology Is The Secure Choice: VPN on Demand and FaceTime
After losing their lawsuit with VirnetX, Apple back-tracked changes to VPN on Demand that they had planned on implementing after uproar from its user base last April. There was even a white paper published soon after to explain the serious flaws on changing the nature of VPN on Demand on Apple's iOS. Apple's VPN on Demand allows data to flow through an IPsec virtual private network. Other than having to require the user to manually start the virtual private network, the user is in the driver's seat to turn off security features. This is an option they would not have had with an automated version (IPsec VPN). If Apple changed their VPN on Demand method then users would face:
Serious security issues, compromising enterprise level security for the user and the company.
Users having to manually start the virtual private network
For companies that send all of their data across a VPN for increased security, this compromises that as the user could simply turn off VPN on Demand whenever they like, canceling out all of the various security features attached to VPN on Demand.
This is very similar to the relay server approach with FaceTime that I wrote about earlier this month. In both instances, Apple has set forth changes to VPN on Demand and FaceTime following their loss to Apple at trial, with newer lawsuits also pending. The former Apple backtracked after the uproar from their user base with regards to VPN on Demand and the latter is currently under worse attack with over 500,000 complaints reported. The number of complaints has likely grown as this number is now outdated.
At the start of this article, Secure Socket Layer or SSL was mentioned. This is an alternative in some instances to IPsec VPN on Demand, one that has more security issues. (I, II).
Apple's Options: Waiting Is Not One Of Them
After giving up attempts to circumvent infringement on VPN on Demand, Apple has only two options with regards to their recent FaceTime relay server approach to avoid infringement of VirnetX's patents. Apple can either:
Wait, as Samsung and other companies jump to offer VirnetX's technology in applications they can develop to compete with FaceTime. They would offer everything Apple's FaceTime does prior to the switch that includes security and a huge increase in quality of service (QoS).
Hope they trick Judge Davis -- after stating it would cost a few million and take a few weeks to switch FaceTime over to relay servers it has been months and cost way more than just a few million. Moreover, the statement that 100% of the service is on relay servers is not backed up (it may be on sealed court documents), but the cost is $2.4 million per month now and will grow exponentially. All this user information is now opened up to a third party, Akamai, which backtracks on keeping user information a secret whether to the government or other parties. Akamai can also be a target for the government's intrusion circumventing Apple and their secure approach to get any info they want straight from Akamai. The cost of the servers will grow due to, but not limited to, an increase in the user base, needing backup servers to cover all FaceTime calls at down times, new security methods, and maintenance on all servers subject to Akamai's prices.
Keep in mind that even in the case that Apple does actually move all of their FaceTime services to relay servers and incur the problems stated above, they will eventually have to catch up and employ VirnetX's technology in the future for competitive, security and QoS reasons. In that case they will be liable for infringement whenever they use the service. A harder math equation to the same result: Apple should have settled from the beginning. Backtracking on FaceTime and iMessage proves the validity comprised within VirnetX's technology. If manual VPN on Demand or relay servers were the better and cheaper choice then Apple would have employed it from the start.
To leave this point with an open door, Apple's iMessage is supposedly unhackable, so users do not have to worry about anyone hacking into their iMessages. VirnetX is targeting Apple's iMessage, which uses much of the same technology such as secure domain names. This is asserted in the second lawsuit against Apple. Just imagine if Apple backtracked on iMessage. It goes down for a minute. I see it all over Twitter.
White Hat Article - A BackDoor Is Good
Forward thinkers have come to the conclusion that a world with advanced, encrypted internet ecosystems can provide a medium for terrorist groups to communicate without angst of the government catching them. This is where an approved back door comes in handy, not one that the government coerces out of companies that they can use at will. This also provides consumers with more security knowing that the government does not have a full access pass and needs grounds to gain access, much like a modern day warrant needs validity.
Kendall Larson stated at VirnetX's annual shareholders meeting that he is open to working with the government instead of giving them an all access pass to user information. This partnership would service both needs - a company providing the government with valid information and a consumer base that knows their information is not being read like an open book. This is a win-win situation as the government gets access at critical points relating to national security and Kendall Larson has stated he is open to working with them. We would not want the government having full access to the secure domain registry that VirnetX is developing but specific access under the right conditions is more than enough to protect the country and our countrymen's privacy.
How VirnetX's Technology Can Help Protect Consumers' Information
VirnetX's technology can help protect consumer's technology across many spectrums of the internet ecosystem by:
Offering technology that enormously increases security on the imminent advanced 4G LTE-Advanced networks that will be widespread.
Offering product solutions to help encrypt user information such as seen in VPN on Demand, FaceTime, iMessage1.
Offer the government a backdoor on specific and valid intentions to protect the consumer bases' information and the country's national security.
Cisco
It has been over two months since VirnetX and Cisco's (NASDAQ:CSCO) post-trial motions were heard. VirnetX asked the judge for a new trial with Cisco or a judgment as a matter of law (JMOL) on the '759 Patent. I wrote about this event here and here.
As outlined in my first link, VirnetX argued that Cisco:
Confused the jury;
Distorted bedrock facts;
Manipulated claim constructions;
Adulterated the Court's Preliminary Instructions about Prior Art
Invited the Jury to Disregard the Court's Claim Constructions and Grafted Extraneous Limitations onto the Claims:
Cisco's legal team took part in legal misconduct at trial.
Although Cisco is worth around $60-$200 million to VirnetX, it is a drop in the bucket when looking forward to the future of VirnetX. Moreover, the jury found VirnetX's patents not invalid, a huge victory for the company as their intellectual property is further validated.
Compensation Section
VirnetX settled with Microsoft in 2010 for $200 million and won $368 million, now worth $440 million (This increase is due to pre and post-judgment interest). VirnetX has also asserted new lawsuits:
Against Microsoft for applications that fell out of the original license, such as Skype.
Against Apple for newer products such as the iPhone 5, iPad mini and iPad 4.
Other companies understand the validity and technology comprised within VirnetX's patents and have settled with the company in line with their licensing rates.
These companies includes:
Most interestingly is the cross-licensing agreement VirnetX signed with Avaya. Within this agreement, VirnetX will likely be able to bolster their proprietary technology, such as Gabriel, using Avaya's patents and technology. VirnetX is also developing a secure domain registry that they will service and control, another platform for earnings in the future for the company that links in with their 4G LTE-A landscape.
Bellwether Royalty Rate
On August 15, 2013 VirnetX and Apple had a post-trial motion surrounding the on-going royalty rate. The decision on a royalty rate for Apple's older infringing products is now in the Judge's hands and he can rule at any time. VirnetX has argued a rate as high as 1.52%. Apple should not get a lower rate because it took the matter to court instead of settling in good faith like the other licensees.
The decision by the judge will be the bellwether royalty rate, an important decision because:
This is the rate that set the basis for all future licensees, coupled with previous royalty rates decided upon in settlements;
This rate may include a decision of not colorably different, meaning that all of Apple's newer models of devices use basically the same technology and infringe in the same way, so they should be included in the royalty rate as well;
If the decision of a royalty rate comes down, and the judge rules the devices are colorably different, it will be used as the basis in the next trial on newer devices.
This royalty rate can mean billions of dollars for VirnetX. Many have stated that the judge is taking a long time to rule on the Cisco and Apple decisions. I feel the Judge is very fair, thorough and intelligent as I outlined here.
The billions of dollars number is both simple and complex. The number is simple because:
Apple - the rate to the sales number of the infringing devices- add it all together and the number is quite large.
The number is complex because:
Depending on colorably different, and if VHC has another trial with Apple, the rate may only be applied to certain devices (i.e. iPhone 3G) in the interim and will not include newer devices such as the iPhone 5. This is not a problem as any future award against Apple' s newer products will backdate the infringement and VirnetX will be awarded the same amount of money.
The FaceTime work-around ploy by Apple may affect the royalty rate's size and duration (cut out part infringement while Apple has the relay servers on) and Apple will have to come back to the technology and the judge will not be smoke-screened. Apple will have to pay in the end.
These numbers do not include royalty payments for 4G LTE-Advanced devices. This will likely happen after the devices start rolling out. Samsung (OTC:SSNLF) has recently released a Galaxy S4 with a Snapdragon 800 processor that allows it to take part in 4G LTE-Advanced. These royalty payments will also be significant and will provide the company with hundreds of millions of dollars, as each 4G LTE-A device would be subject to a licensing fee.
I personally do not like to put a price target on shares of VirnetX as there are so many factors at play that need serious and dedicated research. Although I do believe the company will be successful and the share price will react very positively, whether it is a move back to $40 or way past it north of $100. I am eagerly awaiting the company's execution to be noticed and furthered coupled with possible dividends, share splits and stock price appreciation which will make for a very interesting chart, and story, in the future.
Inter-Partes Review
Back in early June of this year a company called New Bay Capital, LLC filed the USPTO for four separate inter partes reviews (IPR) of VirnetX's patents to invalidate them. The interesting part is the claims that New Bay Capital is targeting:
| | | |
| --- | --- | --- |
| VirnetX Patents: | New Bay's IPR Attempt Per Patent | Apple's Trial Results With VirnetX |
| 6,502,135 ('135 patent) | Claims: 1, 3, 7 ,8 | Apple Infringed Claims: 1,3,7,8 |
| 7,490,151 ('151 patent) | Claims: 1,13 | Apple Infringed Claims: 1,13 |
| 7,418,504 ('504 patent) | Claims: 1,2,5,16,21,27 | Apple Infringed Claims: 1,2,5,16,21,27 |
| 7,921,211 ('211 patent) | Claims: 36,37,47,51 | Apple Infringed Claims: 36,37,47,51 |
It seems very clear that New Bay Capital, LLC is only targeting the specific claims that Apple was found to be infringing upon at trial. New Bay Capital, LLC is the child of Eastern Shore Capital, LLC (New Bay's Parent). Together, both companies were formed 46 days prior to filing New Bay's IPRs.
The USPTO states that it costs around $193,000 for each party involved in one or more reviews and additional costs can be substantial. The cost is not insignificant. This is where it gets interesting - why would a company and one man, Joel Rothman, have a reason to attack VirnetX's patent claims, specifically the ones asserted against Apple? Let's see if the dots connect:
Company created 46 days ago;
Asserting only the patent claims Apple lost to at trial;
Extremely high level of technical knowledge needed to file these IPRs.
The company is asserting Kiuchi as prior art. Kiuchi was rejected in all the federal court trials and was overcome in many patents VirnetX had approved in 2013 including patents:
8,516,131
8,516,117
8,504,697
8,504,696
8,458,341
Further, in the recently approved '888 patent (8,521,888 ) VirnetX overcame:
The '888 patent was approved and strengthens VirnetX's 4G LTE-Advanced patent portfolio. It is hard to believe that New Bay Capital is the only party of interest here. The idea that they have some technology or business operation in the 46 days prior to filing these IPRs, which makes them challenge VirnetX's Patents, is hard to comprehend. If it is found that New Bay Capital is in any way not the real party of interest or in some way linked to Apple, then collateral estoppel (I) applies. This would be applied to the current ongoing litigation with Apple and would seriously compromise Apple's ability to assert invalidity of the patent claims they are faced with.
Short Squeeze
VirnetX has a significant short position comprised within their share base. Most recently, VirnetX has a 36.10% short interest of float.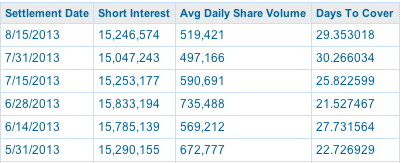 This offers a very serious short squeeze scenario that has been seen before, such as in Osiris Therapeutics (NASDAQ:OSIR) that occurred after it reported results from its Grafix Phase III clinical trial. (Shown Below, Source)
Conditions that can cause a short squeeze with VirnetX are, but are not limited to:
A surge in the price per share caused by any news item such as:

Settlement with a litigant or non-litigant;
Favorable royalty rate decision;
Favorable decision with Cisco;
A dividend or a company issuance of warrants to shareholders.

An equity stake by a company or hedge fund, such as Samsung to take part in VirnetX's earnings potential with its competitors.
Collateral Estoppel from the IPR cases.
There are many causes of a short squeeze and with VirnetX's nature of a news-driven entity, coupled with being the second most shorted stock on the AMEX exchange, I would not want to be short the stock going to bed at night if the Judge issues a decision.
Conclusion
This is a forward thinking article on the future of broad internet security even though the government's spying campaign is already in full swing. It is better to be involved in a company before they are fully developed than afterwards, just look at Microsoft and Apple. VirnetX's technology offers solutions to make the internet more secure, whether it be in the 4G LTE-Advanced landscape, services such as FaceTime and iMessage or even VPN on Demand. The current share price of VirnetX of around $19 per share offers a very attractive entry point as the future of the company is very secure and shareholders will undoubtedly be happily rewarded2.
1 The solutions employed in these products infringe upon VirnetX's technology, although they are Apple's products and services. They do offer a barrier to entry for VirnetX's technology (Gabriel), although a license for infringement is significant as Apple's services are already deep set in the market and come with a huge barrier to entry.
2 I did not include technical analysis in my article as VirnetX is currently a very news driven stock. As the company matures.
Disclosure: I am long VHC. I wrote this article myself, and it expresses my own opinions. I am not receiving compensation for it (other than from Seeking Alpha). I have no business relationship with any company whose stock is mentioned in this article. Always do your own research and contact a financial professional before executing any trades or investments. This article is solely meant to be informational and is my opinion only, if any corrections are noticed please PM me for changes as I welcome factually correct information.