Introduction
As it looks like the Syrian crises could lead to a wider conflict in the oil-rich Middle East and this could put a strain on supplies that results in a surge in oil prices. The USA's stance for military action in Syria is right now a major concern for oil companies globally.
My topic encapsulates the Middle Eastern and North African political crises and its impact on three oil companies: ConocoPhilips (NYSE:COP), Occidental Petroleum (NYSE:OXY), and Marathon Oil Corp (NYSE:MRO). The article analyzes which company will have geographical advantages and the disadvantages tied to the Middle Eastern and North African tensions.
Analysis
Let's have a look at the major oil exporting countries of the world and their respective contributions depicted in the chart below. To have a clear understanding, I have divided the regions into high risk, moderate risk and low risk regions. The assumption is that Middle East / North Africa are the high risk countries for oil companies, whereas Asia-Pacific is moderate risk region and North America and Europe are the low risk regions.
(click to enlarge)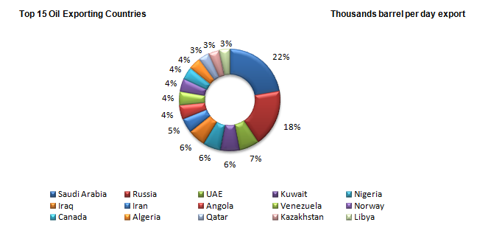 Source: eia.gov
ConocoPhilips, a U.S.-based oil exploration and production company, has 83% of its exploration and production regions located in the USA, Canada and Europe. These low-risk segments represent the largest business for today. The company benefits from large legacy acreage holdings and this can be seen as COP continues a strong geographical presence in North and Latin American regions and its expansion plans that include deepwater exploration in the Gulf of Mexico. Significant developments are under way in offshore Malaysia with four sanctioned projects expected to yield approximately 70 MBOED of net production by 2017. These projects provide a strong increase in higher-margin liquids and gas production.
The graph mentioned below depicts that COP holds 12% of its operations in the Middle East and Asia Pacific areas, with the Middle East region considered as being the highest risk amid the rising tension in these regions. The company's geographical presence in low risk regions should be considered in determining that COP doesn't expose itself to any major risk in the current situation and the company would benefit in case of an oil prices surge.

Source: Company's Annual report 2012
The company also exposes itself to a minimal risk in terms of supply as can be seen in the following graph. Hence, it can be predicted that the company would have a minimal risk on the current Middle East situation and might take advantage in case of increases in oil prices.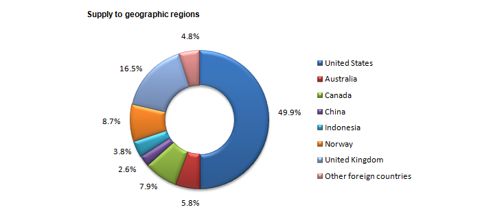 Source: Company's Annual report 2012
Occidental Petroleum
While this article's main focus is to assess the geopolitical risks hanging on the companies (COP, OXY and MRO) and to see if each company may have advantages or disadvantages with its presence in certain geographic risk areas, 54% of OXY's operation is located in the USA and, as I mentioned earlier, the region falls in a low risk category. However, almost 40% of its operations are in the Middle East / North African areas where the company might face threats of rising civil unrest situations.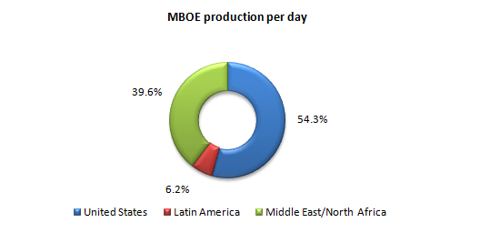 Source: Company's Annual report 2012
During the last three months, OXY's share price rebounded from $85.38 per share on August 21, and settled at $89.77 on September 4t. whereas on the last day closing, September 6, the stock closed at $89 -- down by 0.11%. OXY, having a considerable exposure in high-risk regions, might react negatively for the investors and analysts would rethink its value if war breaks out in high risk regions.
Marathon Oil Corp
MRO falls into the low-risk segment, having 82% of its operations in North American and European regions. The regions that fall under moderate risk pose no threat since the company exited from Libya in first quarter 2011. Libya held a 16% working interest in the Waha concessions due to civil war in the region. In the fourth quarter 2011, limited production resumed from the Waha concessions, but no deliveries of hydrocarbons have been made. Sales resumed in the first quarter 2012 of about 45 MBOED.
With the current geographical presence of MRO in low risk regions, the company will have the advantage of being able to sustain itself during the current volatility and protect itself from potential geopolitical threats. The company will also benefit if there is a surge in oil prices.
During the last three months, MRO's stock price hit a bottom low and closed at $32.61 at the end of the August 19 session and from there the stock rebounded to its peak level at $35.89 on September 5, generating a capital gain of 10% in last 17 days. I anticipate the next support level will be $37 if international oil prices increase.
Conclusion
With the above mentioned findings and geographical analysis, I conclude that the company having minimal or no exposure in high-risk regions (Middle East / North Africa) exposes the company to less risk and overall develops its investor confidence to make viable investment decisions.
I recommend my BEST BUY for the year 2013-2014, ConocoPhilips with the rationale behind my "BUY" call for COP being that the company exposes itself to minimal or no threats from growing uncertainties in the Middle East / North Africa) MENA regions. The situation like MRO experienced in Libya is an example that supports my BUY call. Moreover, COP's P/E ratio as well as dividend income are favorable to make a buy decision.
Disclosure: I have no positions in any stocks mentioned, and no plans to initiate any positions within the next 72 hours. I wrote this article myself, and it expresses my own opinions. I am not receiving compensation for it (other than from Seeking Alpha). I have no business relationship with any company whose stock is mentioned in this article.