Today, Immersion Corporation (NASDAQ:IMMR) announced that its haptic technology powers Samsung's latest gadget, the Samsung (OTC:SSNLF) GALAXY Gear (emphasis added):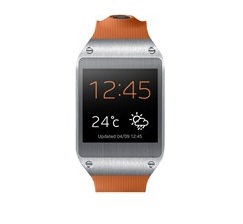 Image from Samsung
Immersion Corporation today announced the Samsung GALAXY Gear, a wearable companion device, incorporates Immersion's TouchSense® technology as part the user interface, providing tactile notifications and alerts to communicate information to its users.

"Tactile effects open a powerful communication channel between wearable devices and their users. With Immersion TouchSense software, OEMs can create distinctive, meaningful notifications that alert users to important information without disrupting their primary activities," explains Dennis Sheehan, Immersion's Sr. Vice President of Sales & Marketing.

The private, non-visual nature of tactile feedback creates a more natural user interface for wearable devices and we are excited by the new opportunities for Immersion in this innovative new market."

In a wearable device, tactile feedback is an ideal means for alerting and notifying users in a completely discreet and non-visual manner. Information about unread messages, appointments and location based notifications can be communicated via wearable technology because the tactile effects both inform users without requiring full attention and do so without socially disruptive audio alerts or visual distraction.
A question put at the conference call - an answer delivered right now
We have always believed that haptics could play an interesting role in the new "wearable computing" market, because of their alerting properties.
Wearable technologies are expected to have a huge future - and watches come as the most immediate thought.
Google (NASDAQ:GOOG) Glass, a device that brings rich text and notifications as well as other information straight to your eyes, also belongs to the same category.
A recent report by Juniper Research forecasts sales of smartwatches will reach one million this year, and will grow to 36 million by 2018.
During the last conference call, we asked management the direct question - we are glad we now received the best possible confirmation that we were touching an issue the company was seriously working on:
Paolo Gorgo - Nortia Research

Is there comments you can make about where Immersion's IP stands as far as wearable computing?

Victor Viegas - President and Chief Executive Officer

Yes we have been actively developing solutions in the wearable space. We see a number of different key market applications. One from a medical standpoint monitoring, body functions providing appropriate alerts and so on. So we see it as an extension of medical business and as you know for quite some time we have been active in developing solutions and generating IP. In addition there is also consumer uses for sports, health monitoring productivity and those also are areas that we've been actively involved.

So we have quite a bit of IP in the space. We have solutions that we're developing and dialog with companies who are building such devices. So we are feeling pretty comfortable that as wearables become a part of the common user interface on daily basis that haptics will have a meeting role and that Immersion will be able to monetize that opportunity.
Samsung GALAXY Gear gets mixed reactions
So far, Samsung GALAXY Gear got some mixed reactions from analysts and journalists, as you might expect from a new product category:
The GALAXY Gear, Samsung's latest foray into the smartwatch category, is now official and it's quite unlike anything you've seen before. Yes, it's a smartphone accessory that can pick up notifications, control music playback, and keep time with a rich variety of watch faces, but Samsung takes it a few steps further by integrating a 1.9-megapixel camera, a speaker, and two microphones - allowing you to shoot short 720p movies and even conduct phone calls with the GALAXY Gear.
Private social network Path, along with Highlight, Glympse and Evernote revealed that it will be among the first companies to have an app installed on the Samsung Gear:
Here's a statement from Path, courtesy of Ray Ho, senior Android engineer:

Like building for Google Glass, we had the privilege to build Path on Samsung's GALAXY Gear from the ground up. Starting with a blank slate is one of the best parts of product development. Working with the new form factor and screen dimensions proved challenging, but we think the conscious decisions we made about what features to include will set Path apart.
Ben Thompson is quite skeptical about Samsung's effort:
I jumped on the leaked prototype, with the same general sentiment: Samsung's watch will undoubtedly change drastically whenever Apple's (NASDAQ:AAPL) wearable is released. And, to be certain, we will mock them for copying.
Successful or not, Samsung GALAXY Gear has proven an important point for haptics
While we hope, as investors, that Samsung will be successful with its GALAXY Gear, opening a new royalty stream to Immersion, the fact that haptics is part of the very first serious attempt by an Android producer to enter the market is in our opinion already a great validation of the technology.
As we've often said in many of our articles, the real inflection point for haptics (and Immersion) is becoming a "must have" technology, rather than a "nice to have "tool.
Today's press release represents another step in this direction.
Disclosure: I am long IMMR. I wrote this article myself, and it expresses my own opinions. I am not receiving compensation for it (other than from Seeking Alpha). I have no business relationship with any company whose stock is mentioned in this article.