Onyx's (NASDAQ:ONXX) stock decline in the past few months puzzled its shareholders. Nothing that has come in the news in the past year has been bad. On the contrary, a string of promising results was incessantly coming from the clinical trials of the firm's cancer drug Nexavar on a variety of cancers.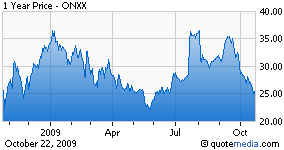 Now there are sufficient data to get an approval for other malignancies, including breast cancers. The drug was first approved for kidney cancer and then for liver cancer and, for a long while, there was no evidence that it would be approved for other cancers. Shareholders, though, did not lose hope. They were satisfied with the drug sales' growth with sales that were closing on the $1 billion revenues. How come then that at the moment the drug proved to be useful for breast cancer the stock faltered.
Investors first believed that the ONXX decline was a typical phenomenon that briefly occurs when publicly traded firms raise money. Onyx had indeed raised $300 million, but the stock decline was not brief and has not ceased. Taking a deeper look at what the critics were propagating, informed investors found out that, yes, the financing was, indeed, a trigger for the stock decline but not for the sell-off, which was caused by efforts spent towards not letting the stock recover. Negative analysts kept downgrading the firm for various reasons, mostly irrelevant and included hypothesizing that Onyx might spend the vast amount of money it raised uselessly, acquiring a worthless firm!
It was strange that the critics projected pessimism against Onyx' possible acquisition of a biotech firm that they, themselves, kept advocating. Stranger is the fact that, at the time, nobody had yet learned about any acquisition, as it was not announced. The analysts' previous take on Onyx was that, besides the cancer drug Nexavar, the firm's pipeline lacks mid- and late-phase trial. Their best suggestion was that the firm has to increase its value by adding more drugs to its pipeline through acquisition, which is exactly what the company did.
Onyx decided to acquire the private firm Proteolix, which has a breakthrough cancer drug carfilzomib in advanced-phase trials for multiple myeloma and in various phases of trials for other malignancies, in addition to having other very promising molecules in its pipeline. When the news reached the critics, their opinion changed; they began to see the acquisition only as money to be spent, which deserves a sell-off. The sell-off occurred, bringing wealth to short-sellers and more confusion to long-term positive investors. Following the official announcement of the acquisition, most comments revolved around the $575 million price tag for Proteolix, despite knowing in fact that Onyx will only pay if carfilzomib successfully reaches the stage of guaranteed approval. They cried about the money to spent, but never mentionioned the huge revenues the drug would generate when approved.
The Proteasome
Carfilzomib is a second-generation proteasome inhibitor. The proteasome controls the turnover of proteins in all cells, but cancer cells are more susceptible die when the proteasome is inhibited. The proteasome became one of the most exciting targets for cancer drugs a few years ago when Velcade® (bortezomib), the first proteasome inhibitor, was approved for multiple myeloma, and subsequently, for mantle cell lymphoma. While Velcade® has revolutionized the management of multiple myeloma and mantle cell lymphoma, the two cancers developed resistance to this drug, as they had to conventional drugs, leaving no choice except discovery of other potent therapeutics with improved efficacy, reduced toxicity, and capability to maintain their efficacy in the face of cancer resistance. Moreover, s cientists were confident that blocking proteasome activity would induce cell death in a wide variety of cancer cells. This expectation, though, did not materialize at the hands of Velcade. The drug is still approved for two cancers cited above only.
Proteolix' drug Carfilzomib seems to meet the criteria required for overcoming cancer resistance and for treating of a variety of cancers. Proteolix has also developed a selective modulator that inhibits the immunoproteasome, which is the predominant form found in immune cells. This drug is expected to be useful in reversing immune disorders, including inflammatory diseases, with fewer side effects than conventional treatments.
Carfilzomib, which will occupy an empty space in Onyx' pipeline, is a novel highly selective proteasome inhibitor. In scientific terms, the drug targets the unique N-terminal threonine active sites within the proteasome. Like Velcade, carfilzomib is a potent inhibitor of the proteasome chymotrypsin-like activity. Unlike Velcade®, the drug has minimal cross-reactivity with the other catalytic sites within the proteasome, or across other protease classes.
In preclinical, early- and mid-clinical studies, carfilzomib has demonstrated efficacy on myeloma cells resistant to Velcade®. It also demonstrated activity against solid tumors and lymphomas. Phase 1 clinical trial results demonstrate that Carfilzomib is effective in multiple myeloma patients who have relapsed or progressed following treatment, including Velcade®, immunomodulatory agents, and stem cell transplant. Important is that the drug has enabled late-stage cancer patients to continue to achieve durable anti-tumor responses.
Now, carfilzomib is undergoing evaluation as a single agent in two phase 2b clinical trials in patients with relapsed or refractory multiple myeloma and in a phase 2 clinical trial in patients with advanced solid tumors. The drug is also in phase 1 study for lymphoma and a phase 1b trial in combination with Revlimid® and dexamethasone in patients with relapsed multiple myeloma. Following the acquisition, Onyx will conduct a phase 3 study with carfilzomib + dexamethasone + Revlimid in patients with relapsed and refractory multiple myeloma. Onyx might seek regulatory approval by the end of 2010 as a third-line multiple myeloma treatment.
Having said all this, do we believe Onyx has made the right choice?
Our answer is, yes. Data from phase 2 studies presented twice at medical meetings demonstrated many advantages of carfilzomib over Velcade, Revlimid and other drugs used in treating multiple myeloma. The deal, which is expected to close in the fourth quarter of 2009, is now seen to hand Onyx a breakthrough drug in late-phase trials for multiple myeloma on patients who do not respond to other multiple myeloma drugs and patients with recurrences that resist all existing treatment regimens. The drug is also in various phase trials for several other cancers.
In addition, the acquisition will hand Onyx an oral proteasome inhibitor in research, which will be easier for patients to take, especially in long-term maintenance therapy, if requiredand and an immunoproteasome inhibitor for inflammatory and other immune diseases.
The market is large with a very high upside potential space for further growth. Multiple myeloma is the second most common hematologic cancer with 50,000 patients in the U.S. alone, and 20,000 new cases diagnosed annually. Globally 180,000 people suffer from multiple myeloma with over 80,000 new cases being discovered annually. Add these numbers to that of patients suffering from other cancers and inflammatory diseases, the market becomes huge.
Conclusion: The acquisition will definitely increase the value of ONXX. If approved, carfilzomib would join the club of the few new cancer drugs generating billions of dollars in annual revenues. The revenues from Nexavar have already reached $1 billion just from kidney and liver cancers. When the drug begins to be used for breast cancer, which is expected soon, these revenues could double. Adding all revenues together, we can confirm that ONXX is extremely undervalued. The fair value, we believe, should be around over $60, rather than $25, its current market price and is expected to grow with the upcoming good news from carfilzomib clinical trials and the thrilling announcement of its approval.
ONXX offers a unique investment opportunity. We accumulate on dips and at any prices below $45, which is our first, nearest target. We still believe that Onyx is target for acquisition by Bayer, or any other deep-pocketed pharmaceutical firm interested in collecting breakthrough blockbuster cancer drug. Onyx now has more than one.

Disclosure: No positions