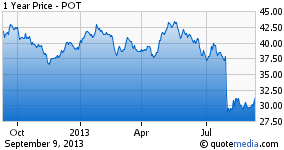 Russian President Putin took some time off today from punking our president around Syria and NSA exposer Edward Snowden to offer some stern words around the recent break up of the potash cartel saying the "Belarus potash dispute needs to be resolved." Fertilizer stocks are rallying sharply across the board today in midday trading on this latest "advice" from the Russian strongman and Judo practitioner.
This dispute has been ongoing since potash group Uralkali pulled out of an export venture with Belarus. The issue has gotten progressively nastier and has hit the stocks of Intrepid Potash (NYSE:IPI), Mosaic (NYSE:MOS) and other players in the space hard knocking 20% to 35% off their stocks since the announcement of Uralkali's withdrawal. Belarus has even arrested Uralkali's CEO, Vladislav Baumgertner and kept him in jail for nearly two weeks.
Investors who follow my daily columns on TheStreet know that my favorite play in the sector is Potash Corp. of Saskatchewan (NYSE:POT) and I went heavy into long dated bull option call spreads and the stock itself after the initial slaughter caused by the dissolution of this overseas potash cartel.
I did so for several reasons. First, I did not believe this arrangement would last. Producers rarely voluntarily and permanently withdraw from a cartel so they can receive significantly less per unit of their product sold. Second, although rare in this part of the civilized world; this sort of bare-knuckle negotiating tactic is par for the course for this region of the globe. Finally, shares of this stock are significantly undervalued. Let's take a look at the investment case for Potash Corp. of Saskatchewan, which I hold in my income portfolio due to its high yield in addition to my bull call spreads.
Company Overview:
Potash Corp. of Saskatchewan produces and sells fertilizers and related industrial and feed products primarily in the United States and Canada. The company controls some ~20% of potash capacity worldwide and is also the third largest nitrogen fertilizer producer.
Valuation & Investment Case:
One of the primary attractions of this stock is its juicy dividend yield of 4.6%. Its payout ratio based on last year's earnings is just over 50% and I would expect the company to maintain this dividend unless potash prices plummet, which I don't expect. The dividend puts a nice floor under the stock as well.
Second, the decline in the stock is overdone. JPMorgan recently postulated that even a $50/ton drop in potash prices would only cut 40 cents a share from Potash's earnings power as it is a low cost producer.
Finally, the stock is cheap. POT is trading near the bottom of its five-year valuation range based on P/S, P/CF and P/B. The stock was trading for $44 a share earlier in the year and at $40 before the cartel breakup. Any movement towards resolution should substantially boost the shares, which are trading just above $31 a share, closer to their "pre-crisis" levels. BUY.
Disclosure: I am long POT. I wrote this article myself, and it expresses my own opinions. I am not receiving compensation for it (other than from Seeking Alpha). I have no business relationship with any company whose stock is mentioned in this article.