In this article, I will feature one gold exploration and royalty company that saw intensive insider buying in July. Intensive insider buying can be defined by the following three criteria:
The stock is purchased by three or more insiders within one month.

The stock is sold by no insiders in the month of intensive purchasing.

At least two purchasers increase their holdings by more than 10%.
Solitario Exploration & Royalty (NYSEMKT:XPL) is a gold, silver, platinum-palladium, and base metal exploration and royalty company actively exploring in the United States, Brazil, Mexico, and Peru. Solitario's four main projects are Mt. Hamilton gold project, Bongará zinc project, Pachuca Norte silver/gold project and Pedra Branca platinum/palladium project.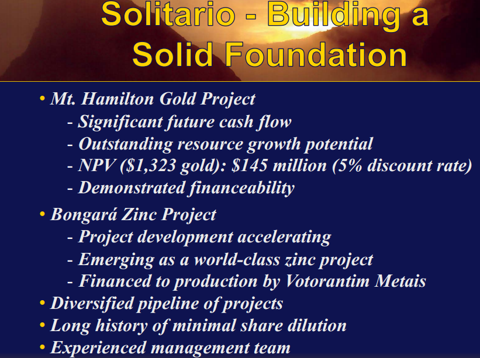 Mt. Hamilton gold project - Nevada USA
The Mt. Hamilton gold project in eastern Nevada, is a development-stage project with operating cash costs of $575/oz and an 8-year mine life averaging 54,000 ounces per year. Capital costs to place the project into production are estimated at $72 million. The project has a NPV of $145 million at 5% discount rate and $1,323 gold price.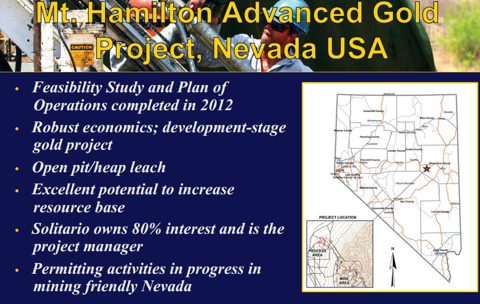 Resource upgrade
In the second half of 2012, 42 reverse circulation drill holes and 11 core holes were completed totaling 20,584 feet of drilling. The 53-hole drilling campaign was designed to upgrade the newly defined Seligman inferred resources to measured and indicated categories.
Solitario is now incorporating the information gathered in the 2012 drilling program to update resource estimates for both the Centennial and Seligman deposit. Metallurgical testing at an independent laboratory is under way with results expected in the third quarter of 2013. Solitario believes there is a strong potential to increase the production rate by 15-20% and extend the mine life from approximately eight years to 10 years, without the addition of significant new capital costs.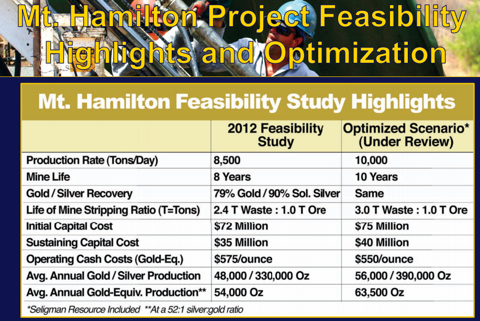 Permitting underway
In November of 2012, Solitario filed a plan of operations with the United States Forest Service to mine and process both the Centennial and Seligman deposits. In March 2013, the plan of operations was deemed complete and the process to obtain both federal and state permits is ongoing. It is difficult to estimate the time frame required to obtain all permits needed to initiate project construction, but Solitario is hopeful that such approvals will be forthcoming by mid-2014.
Wheeler Ridge exploration program
The Wheeler Ridge area located immediately south of the Centennial ore deposit represents a significant new gold exploration target that is essentially untested by drilling.
Based on favorable soil geochemistry and geology observed at Wheeler Ridge, Solitario initiated an Environmental Assessment study to allow for drill testing the Wheeler Ridge zone. The permitting process to allow for drill testing the Wheeler Ridge zone is nearing completion. Solitario hopes to have approval to drill at Wheeler Ridge by mid-year 2013. Upon approval, Solitario is planning an initial 15-hole program to drill test this large anomaly.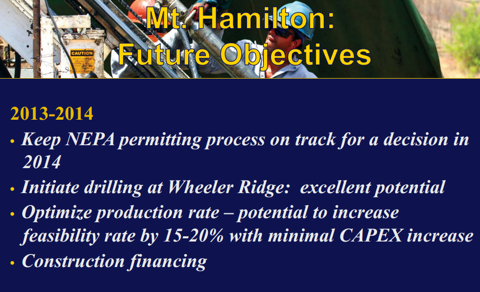 Bongará zinc project - Peru
Solitario's second most important asset is its high-grade Bongará zinc project in Peru that is joint ventured with Votorantim Metais, the fifth largest zinc producer in the world. Nearly $60 million has been spent on the property to date where recent drilling results identified some of the highest grade intercepts in the history of the project.
On August 20, 2013, Solitario reported further drilling results on its Bongará zinc project in Peru. Included in these results are core holes V-465, that intersected 10.7 meters grading 45.60% zinc, 5.25% lead and 106.71 gpt silver and hole V-433 that intersected 5.0 meters grading 38.22% zinc, 3.89% lead and 60.76 gpt silver.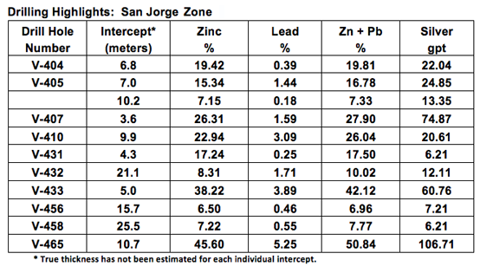 Most zinc commodity experts are forecasting a strong zinc market 12-24 months out based on significant zinc mine closures and a modest increase in zinc demand. Bongará is currently one of only a handful of new zinc projects that is moving into feasibility and expected development over the next several years.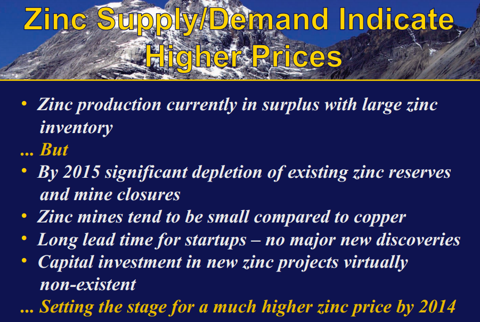 Completion of a pre-feasibility study is anticipated in mid-2014, followed by a feasibility study in mid-2015 on this development-stage property. Solitario's 30% interest is fully funded through the start of production by its partner, Votorantim, making it a dilution-free project to Solitario and its shareholders.
Pachuca Norte silver/gold project - Mexico
Solitario's Pachuca Norte project (formerly called Pachuca Real) is encompassed in the famed Pachuca silver-gold mining district where approximately 1.4 billion ounces of silver and over 7.0 million ounces of gold were produced, making it one of the largest historic silver-gold districts in the world.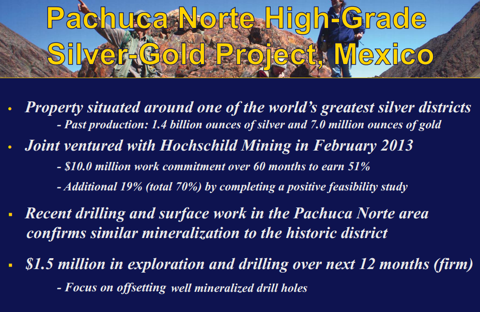 In March 2013 Solitario signed a binding letter agreement with Hochschild Mining (OTCPK:HCHDF) on this property in central Mexico. Hochschild Mining is a leading Latin American precious metals company with a primary focus on the exploration, mining, processing and sale of silver and gold. Hochschild has almost 50 years' experience in mining precious metals.
Pedra Branca platinum/palladium project - Brazil
The Pedra Branca PGM project consists of 57 exploration concessions totaling approximately 70,000 hectares (173,000 acres) in Ceará State, northeastern Brazil. This is an advanced exploration project with $12.0 million in past expenditures with 318 drill holes of core drilling completed on 25 prospects located throughout the project area. Drilling has intersected significant mineralization on 13 of the prospects.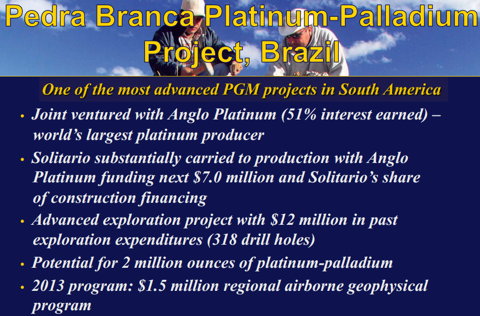 The property is owned through Solitario's jointly held Brazilian subsidiary, Pedra Branca do Mineração [PBM]. Anglo Platinum, the largest platinum producer in the world, has funded approximately $12.0 million for exploration since signing the initial letter of agreement in January 2003 and has now earned a 51% interest in PBM.
Insiders are buying
There was intensive insider buying in Solitario in July:
Here is a table of Solitario's insider-trading activity by calendar month.
| | | |
| --- | --- | --- |
| Month | Insider buying / shares | Insider selling / shares |
| July 2013 | 606,665 | 0 |
| June 2013 | 0 | 0 |
| May 2013 | 0 | 0 |
| April 2013 | 0 | 0 |
| March 2013 | 0 | 0 |
| February 2013 | 0 | 0 |
| January 2013 | 0 | 0 |
There have been 606,665 shares purchased and there have been zero shares sold by the insiders this year.
Financials
Solitario reported the second-quarter financial results on August 9, with the following highlights:
| | |
| --- | --- |
| Revenue | $0 |
| Net loss | $0.4 million |
| Cash and investments | $7.8 million |
| Debt | $5.7 million |
On July 26, Solitario closed a private placement of 2,451,892 shares at a price of $0.84 per share for total proceeds of $2,059,589.
Outlook
Solitario anticipates its existing cash balance, any additional proceeds from short-term borrowing, proceeds from the sale of Kinross (NYSE:KGC) and any additional proceeds from the RMB loan will provide adequate funds for its operations for the next year. As of August 6, 2013, Solitario owned 600,000 shares of Kinross.
Conclusion
There were five different insiders buying Solitario and there were no insiders selling Solitario in July. Four out of these five insiders increased their holdings by more than 10%. Solitario has an insider ownership of 11.7%.
Solitario's two main upcoming catalysts are the Mt. Hamilton permitting decision anticipated in mid-2014 and the Bongará zinc project's pre-feasibility study, which is also anticipated in mid-2014.
Disclosure: I am long XPL. I wrote this article myself, and it expresses my own opinions. I am not receiving compensation for it (other than from Seeking Alpha). I have no business relationship with any company whose stock is mentioned in this article.