After mostly pleasing the Street throughout much of CEO Meg Whitman's tenure, tech hardware giant Hewlett-Packard (NYSE:HPQ) missed top-line estimates and provided a bleak outlook for fiscal year 2014. During its third quarter of fiscal 2013, revenue declined 8.2% year-over-year to $27.2 billion, while adjusted earnings per share fell 14% year-over-year to $0.86, right in-line with consensus estimates. Free cash flow for the quarter equaled $1.8 billion, or 6.6% of total revenue.
Printing
Revenue declines in the 'Printing' division weren't too drastic during the third quarter, falling only 4% year-over-year to $5.8 billion, and the company was able to maintain segment margins at 15.6%. This drove operating profit of $908 million. Though the printing business' top-line continues to decline, we're impressed with HP's ability to continue to extract profits from the business. The segment may eventually become less important to the broader company, but for now, it can be a dependable source of cash to be invested elsewhere (a key asset).
Personal Systems
Click to enlarge
Image Source: HPQ 3Q FY13 Slides
Although the company's 'Personal Systems' segment remains the most visible segment at HP, revenue and earnings continue to decline. Total sales fell 11% year-over-year to $7.7 billion driven by a 10% decline in desktop revenue, a 16% decline in notebook revenue, and an 8% decline in total unit sales. The segment's operating margin was poor at just 3% of revenue, but its margins were still stronger than competitor Dell (NASDAQ:DELL), which saw its operating margins fall to just 2.2% during its most recent quarter.
Dell and HP are clearly taking a different look at the PC business, with Dell opting to sacrifice margin for revenue (only down 5% year-over-year), while HP looks to maintain profitability. All things considered, we tend to prefer a higher margin; however, the PC business is in such bad shape that HP might simply be delaying the inevitable margin decline. Thus, it may make sense to sacrifice margin for the sake of maintaining a user base that can be leveraged into something more profitable in the future.
Management clearly disagrees, as Whitman noted on the conference call:
"Looking forward, we are focused on driving profitable growth in personal systems. It's going to take time to get margins to our desired levels against the back drop of a changing marketplace but we are confident that our differentiated approach from competitors including our focus on beyond the box innovation will pay off over the long term."
Driving profitable growth sounds great, but HP may lose a substantial amount of customers.
Enterprise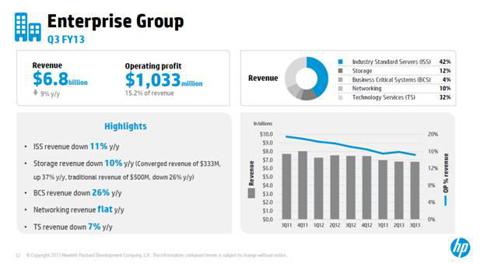 Click to enlarge
Image Source: HPQ 3Q FY13 Slides
The third quarter was once again weak for HP's enterprise business. 'Enterprise Group' revenue declined 9% year-over-year, to $6.8 billion, while Enterprise Services revenue also slipped 9% year-over-year to $5.8 billion. The Enterprise Services segment is allowing less-profitable contracts to run off, so the decline isn't a surprise. Though management noted that performance was weak across the sector, Whitman pointed out that HP's execution was particularly bad. Group General Manager Dave Donatelli acted as the scapegoat, being reassigned to "special projects" as Chief Operating Officer Bill Veghte will assume the position.
Without question, HP lost market share during the quarter since Dell experienced increases in networking revenue and grew its enterprise revenue 8% year-over-year. Again, competitors are sacrificing margin for market share, leaving HP's sales in decline. This couldn't be more evident by comparing Dell's Enterprise operating margin (4.1%) to HP's operating margin (15.2%).
We're interested to see the segment's strategy heading into the fourth quarter and fiscal year 2014. Whitman continues to emphasize the importance of margins, but that may prove difficult if revenue losses mount.
Software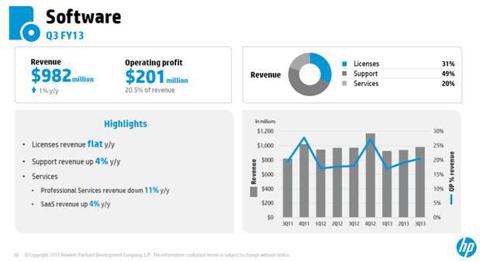 Click to enlarge
Image Source: HPQ 3Q FY13 Slides
Software performed reasonably well during the third quarter, as revenue increased 1% year-over-year to $982 million, while operating profit rose 12% year-over-year to $201 million.
For the past several years, we've seen virtually all hardware makers claim that software would be the savior, and HP is clearly making progress on this front, though not quickly enough to compensate for declines in other segments.
Still, we were pleased to see modest margin expansion and HP carve out a profitable business in a highly-competitive space.
Guidance
Looking ahead, management provided an outlook for full-year earnings per share of $3.53-$3.57 on a non-GAAP basis, roughly in-line with consensus estimates. Yet, investors weren't concerned with 2013 guidance, but rather Whitman's commentary on fiscal year 2014:
"As you know, I stated in May that I believe that company level revenue growth was still possible in fiscal 2014, particularly given the challenges I just highlighted in enterprise group and personal systems as well as the fact that 2013 revenue from key accounts in enterprise services is running off more slowly than anticipated. We now expect that total company year-over-year revenue growth in fiscal 2014 is unlikely."
Although the Street was already forecasting revenue to fall in 2014, Whitman dashed any hopes that the company would stop shrinking. Though we weren't anticipating growth in fiscal year 2014, we think many investors were hoping for it; hence, the extremely negative share performance.
Valuentum's Take
Turnarounds are never simple, and HP is certainly no exception. The market has mostly applauded her efforts, but the disappointing outlook for revenue in fiscal year 2014 reveals the difficulty and uncertainty around turnaround stories. Still, free cash flow was relatively strong during the quarter and remains at a healthy $6.5 billion (7.8% of total revenue).

Click to enlarge
Image Source: HPQ 16-page Report
We're sticking with our $30 per share fair value estimate at this time (see rating history above), but the risk/reward of this turnaround simply isn't compelling enough for us to add the stock to either of our actively managed portfolios.
Disclosure: I have no positions in any stocks mentioned, and no plans to initiate any positions within the next 72 hours. I wrote this article myself, and it expresses my own opinions. I am not receiving compensation for it (other than from Seeking Alpha). I have no business relationship with any company whose stock is mentioned in this article.