Investors still interested in adding defensive names to portfolios should consider Family Dollar (NYSE:FDO) which combines a reasonable valuation and easy to meet expectations with catalysts likely to drive accelerating earnings growth over the next 18 months. After 3 years of margin declines, Family Dollar is beginning to see margin stabilization as the company fully laps the increase in consumable SKUs and resulting sales mix shift which negatively impacted gross margins. Margins will also benefit from initiatives to control shrink, improved inventory sourcing, increase private label penetration and efforts to control costs. Street expectations for low single-digit SSS growth and no margin expansion leave room for upward revisions as margin growth materializes.
Dollar Stores' Value Proposition
The value proposition the dollar channel has historically offered is very unique - the price point on a per unit basis is typically higher than at a discount store like Wal-Mart (NYSE:WMT) but the dollar stores bundle together fewer units or sell a smaller package size so the consumer's cash outlay is less than it would be buying the bigger package size or more units at a discount store. This value proposition caters to the consumer who does not have a credit card and lives paycheck to paycheck. Since the credit bubble burst in 2008 the dollar channel, and Family Dollar in particular, has benefited as increasing portion of the population operates on limited incomes and little or no available revolving consumer credit. The dollar channel was able to capture consumers who previously were either aspirational consumers, shopped in the larger basket grocery channel or the Wal-Mart/club channel. Family Dollar has made efforts to improve the shopping experience in stores through changing layouts, increasing hours, modifying staffing plans and changing the assortment in an attempt to hold on to these trade down customers as the economy improves.
In addition to catering to the trade down customer, Family Dollar also maintained relevance with its core customer by expanding the acceptance of governmental assistance programs, added consumables to compete for fill-in grocery trips and increased private label offerings within the stores. With governmental spending on social welfare programs like food stamps at or near all-time highs, Family Dollar's strength with its core customers has been a key driver of growth.
While the economy has shown some signs of a recovery (though it is debatable if the recovery has reached the core dollar channel customer) Family Dollar has been able to maintain many of the trade down customers it began capturing in 2008. Additionally, in an economic recovery, Family Dollar should see a margin benefit as their core customer is able to increase discretionary spending in higher margin categories.
Margin Stabilization
Family Dollar's expansion into consumables (increasing from 65% of sales in FY10 to 73% in the most recent quarter) has been the major driver of margin compression driving Gross Margins from 35.7% in FY10 to 34.0% in the most recent 12 months. Increases in shrink (theft) and merchandise markdowns from poor merchandise purchasing and inventory management have also been drags on Gross Margin. While Family Dollar has been able to leverage SG&A to offset some of the compression, Operating Margins have still declined from a near-term peak of 7.5% in FY11 to 6.5% today.
Family Dollar appears on the precipice of a turning point in margins as a number of different drivers are likely to contribute to margin stabilization and expansion over the coming year. Pressure from increasing their consumable mix is ending, the company has instituted new measures to combat shrink, global sourcing initiatives and private label expansion are showing tangible benefits, new stores in California will add scale and the comp leverage point for SG&A has been improving from the historical rang of 3% - 4% to the lower end (or even below 3% in the most recent quarter) of the range.
Increasing consumable assortments has been a boon for both Family Dollar and Dollar General's (NYSE:DG) traffic and same store sales but the consumables category is significantly lower margin than other categories for both companies. Family Dollar has now lapped the introduction of consumables (as evidenced by their conference call and presentation commentary and slowing inventory per store growth) and should see the mix shift towards consumables, and the resulting margin erosion slow dramatically.
The expansion into tobacco in particular has hurt gross margins. Family Dollar is now lapping the introduction of tobacco and both Family Dollar and Dollar General have gone to great lengths to explain that while tobacco is low margin, money spent on tobacco in the dollar channel is not taking away from other purchases in the dollar channel, instead it is a shift from tobacco purchases in other channels (primarily convenience) into the dollar channel. On their most recent conference call, Family Dollar put some numbers around tobacco stating that 60% of transactions involving tobacco also have other items in the basket at company margins. While the introduction of tobacco certainly impacted gross margins negatively, it appears it has been positive for gross margin dollars.
In addition to the consumable mix shift, increasing shrink has negatively impacted Family Dollar's gross margin. Historically a majority of shrink has been out the back door not the front - meaning employees are responsible for a majority of theft. Family Dollar has begun to get more proactive limiting shrink primarily in three ways. First by changing inventory tagging programs to make store managers more accountable for shrink. Second by improving camera systems in stores. And third, by stabilizing workforce turnover. Additionally, the slowing of inventory growth should also slow down the rate of growth of shrink.
Over the last 4+ years Family Dollar has invested in building global infrastructure to source an increasing percentage of the products directly. The investment in its global sourcing network is a long-term investment and should provide a small margin tailwind over a long period of time rather than a one-time step up. Family Dollar has also been negotiating with major national brands in categories where consumers have low brand loyalty (batteries is one example) to have a single supplier and receive a discount in return improving their inventory markups. In Batteries for example, Family Dollar managed to improve merchandise markups in the category by 1,000 basis points by using Duracell, a Procter & Gamble (NYSE:PG) brand, as their exclusive national battery brand. Private label expansion, particularly in consumables will also help expand gross margins.
California has long been an opportunity for Family Dollar but until recently, managing the labor requirements in the state, the cost of real estate and distance had precluded the company from opening stores in the state. While still in the early innings of growth in California (just 9 stores in the LA area and just 2 in the San Francisco/Oakland area compared to 30+ in a mature market like Atlanta) margins should improve as they open more stores in close proximity to each other and gain distribution synergies. More specifically, until the 11th distribution center was opened in St. George, UT (less than 400 miles from LA) Family Dollar's California stores were being supplied by trucks leaving a distribution center in Odessa, TX (more than 1,000 miles from LA). I would expect store openings in California to accelerate now that supplying the market is easier and cheaper.
Finally, recently Family Dollar has shown that they are able to leverage SG&A at a lower comp than the 3% - 4% SSS growth they previously needed to leverage expenses. This is despite the fact the company now classifies income earned on non-merchandise transactions (primarily fees on cash back and debit card transactions) below the operating income line when they previously had been used to offset SG&A expenses.
Underperforming Relative to Dollar General
Dollar General and Family Dollar both have very similar business models, geographic reach, inventory assortment and customer demographics but there remains a significant gap in sales productivity (measured on a per selling square foot basis). Part of the reason for the gap is that Dollar General, since it was taken private as an LBO and levered up significantly, was forced to move ahead with a number of key sales driving initiatives. Dollar General was first to extend store hours, raise shelf heights and expand into some consumable categories and Family Dollar has since followed Dollar General's lead (while also introducing some original sales growth initiatives).
The gap in sales productivity explains a significant portion of the 330 basis point difference in adjusted operating margins between the two companies. If Family Dollar is able to close just ½ of the sales productivity gap margins could expand by more than 100bps and EPS could be boosted by more than $1.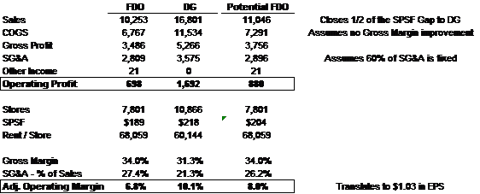 Click to enlarge
Management Changes
While Howard Levine has done an admirable job of guiding FDO from a 3,000 door chain when he took over for his father in 1998 to the nearly 8,000 store behemoth it is today, the hiring of Mike Bloom in September 2011 as President and COO helped usher in a new era for the company. Bloom has overhauled management since being hired by bringing in Mary Winston as CFO (April 2012), Jocelyn Wong as SVP of Marketing (October 2012) and most recently Jason Reiser as SVP of Merchandising (July 2013).
Since being hired, Bloom has taken an increasingly active role as a second face of the company. Over the last two years, Family Dollar has increased the rate of store openings and renovations, added 1,000 SKUs (mostly consumables) and launched an aggressive fee development program allowing FDO to use its strong balance sheet to pay for the development of new stores. Bloom recently has also taken over as acting chief merchant.
Bloom's comments have also made clear that Family Dollar's management focus has evolved. Management is now increasingly focused on controlling expenses, improving inventory productivity, stabilizing gross margins (through private label expansion and negotiations with national brands) and capitalizing on operational efficiencies.
It has also become increasingly clear that Levine does not envision himself in the CEO role forever. In the last 3 years, Levine has also begun bringing up the idea of succession planning. On the most recent conference call Levine stated, "What I'm really looking for is to start looking at succession. One of the things that I think myself and our board particularly looks at is making sure that we have a good bench." If Levine is ready to step back from the company, it could put the company in play either as an LBO target (a standstill with Trian expired in July) or as a strategic target for Dollar General or Wal-Mart. Dollar General would benefit from their ability to eliminate some store overlap and the ability to leverage distribution and purchasing. Wal-Mart could enter into the fill-in trip category and increase their percentage of consumer wallet share.
Cash Flow and Store Growth
Family Dollar and the dollar channel in general has shown an ability to grow square footage 5% - 7% per year with double digit returns on new stores. Recently, Family Dollar has become more aggressive by financing the construction of new stores with its own balance sheet. The Fee Development Program allows Family Dollar to use its balance sheet to fund construction of new stores and pay developers a fee to build out new stores. Family Dollar owns the stores through construction and the company does not have to directly or indirectly pay the high interest rates associated with construction loans. FDO then (typically bi-annually) will sell the stores in a sale-leaseback recouping a significant portion of the cash expended on construction and often generating a gain which is then amortized over the 15-year life of the leases.
Family Dollar's decision to move to a Fee Development model for many of their new stores has made free cash flow generation look very poor on the traditional metric for measuring free cash flow (cash from operations - capital expenditures). By the traditional metric for free cash flow, Family Dollar has burned $370mm in cash. The poor cash generation has been driven primarily by a significant increase in capital expenditures and an increase in inventories (related to the consumable expansion) and. Adjusting free cash flow for the sale-leasebacks that FDO has executed, free cash flow looks significantly better down only $25mm - more than fully accounted for by the increase in consumable inventories.
Next year adjusted free cash flow is poised to expand as Family Dollar has fully lapped the consumable inventory expansion potentially opening the door for a significantly larger buyback or dividend increase while retaining the ability to grow square footage in the mid-single digit range.
Valuation
Family Dollar trades at 17x forward EPS, a premium to its historical average and a slight premium to both Dollar General and the S&P 500. Current estimates assume moderate low single-digit SSS growth, no margin expansion, no benefit from further buybacks and fail to take into account gains from sale leaseback transactions driving some earnings growth.
While it is difficult to argue that 17x forward earnings is cheap when some big cap blue chip tech stocks trade for less than 12x ex-cash, in the context of other defensive names (PG at 18x and KO, PEP and KRFT at 17x) Family Dollar's valuation appears inline. Family Dollar's valuation looks even more compelling relative to other defensive stocks once one considers the company specific margin opportunities which could drive earnings growth well ahead of many other defensive stocks. Family Dollar shareholders could also benefit from M&A. Street LBO models suggest that a private equity buyer could play anywhere from $80 - $100 for Family Dollar and Dollar General could likely pay a similar price.
Conclusion
Family Dollar is a very good option for adding defensive exposure to an equity portfolio. Like most defensive stocks, Family Dollar is likely to underperform if the market moves up sharply in the near term but company specific factors make it one of the most compelling defensive ideas and a stock that should be able to keep up with cyclical stocks even in a gradually improving economy.
The potential for margin growth and a closing of the sales gap with Dollar General should help Family Dollar drive accelerating earnings growth and estimate increases over the next 18 months. Additionally, the opportunity exists for significant near-term upside if a long speculated LBO or strategic transaction occurs.
Risks
Risks to owning Family Dollar stock include (but are not limited to):
Slowing SSS growth
Consumer trade-up out of the dollar channel negatively impacting consumer traffic
Continued growth of low-margin consumables driving mix shift toward lower margin categories
Closing of credit markets which would impact Family Dollar's ability to finance new stores and execute sale leaseback transactions
An unwillingness by management to seek or execute a sale of the company
Disclosure: I am long FDO. I wrote this article myself, and it expresses my own opinions. I am not receiving compensation for it (other than from Seeking Alpha). I have no business relationship with any company whose stock is mentioned in this article.