Many investors are puzzled when trying to classify Sherrit International (SHERF.PK) business. Also trading under symbol "S" on the TSX. Some investors take the view that the company is purely a coal company. In fact that is how many investment sites classify it.
Others take the view that it is a nickel and cobalt producer. Throw in the fact that SHERF also dabbles in power generation, the oil and gas industry, the production of ammonia, sulfuric acid, sulfates, and the licensing of its patented mining technologies, and the reader could see where the confusion stems from.
The fact is that SHERF is a diversified Canadian natural resources company with a global presence. SHERF happens to be the largest thermal coal producer in Canada, and the largest independent energy producer in Cuba (as well as one of Cuba's largest FDI's). Furthermore SHERF maintains a 40% interest in the Ambatovy nickel mine in Madagascar, which has the potential of being the worlds largest lateritic nickel mine. Yet with all of these facets to its business and the "largest this and largest that" its market cap is just $1.2B and registers a P/B of only 0.3. Moreover its revenue's consistently exceeds 1.5B with a P/S of 0.7.
Therein lies the value opportunity.
Approximate fundamentals for a quick review:
Yield: 4.3 to 4.4%
Forward P/E: 6.7
Liabilities to Equity Ratio: 0.78
Current Ratio: 3.76
Price to Sales: 0.74
Price to Book: 0.30
Price to Cash Flow: 2.79
In my opinion the P/B and P/S scream value as well as the positive potential in the forward P/E.
A look a the technicals:
1 Month Chart
Volume over same period showing a sell-off, but equal buying interest. SHERF held the $3.70 to $3.90 CAD price channel since end of July 2013 (see 3 month below). If SHERF breaks the $4.10 and $4.30 resistances it could be a clear sign of a new bull trend.

MACD as of today showing a weak bullish signal.

3 Month Chart (for broader overview)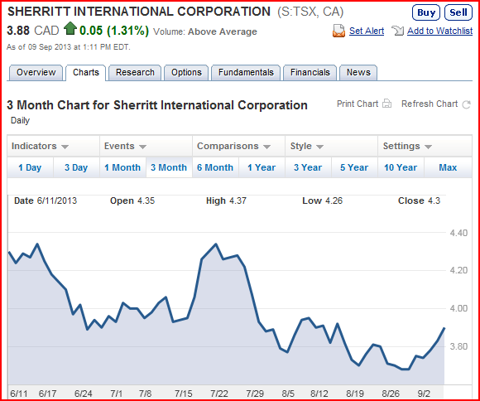 The opportunity that I see is that the market is discounting SHERF too much for the Ambatovy mine, which is now operational and has its export permit. Furthermore there was most likely some discounting due to the political uncertainty in Madagascar, which now appears to be on the postive mend. However that said there was a recent bombing in relation to those elections. A positive catalyst for SHERPF would be the results of the elections slated for this October. Conservative investors my want to stay on the sidelines until the results of those election are firm and they indeed happen as planned as they have been delayed in the past. An alternative could be to look at going long calls options on the Montreal exchange. However additional considerations would be investing near the bottom and when the economy is still in a trough. After all Australian billionaire Clive Palmer is betting big on Nickel's recovery.
The geographic position of SHERF's Madagascar mine bodes well for access to the emerging markets of India and China. Nickel is used in the manufacturing of stainless steel and would tend to be on the forefront of any economic recovery. I remember a sales representative at an appliance store telling me one day that the higher the nickel content in a stainless steel fridge the less finger print smudges you get. Also consider that many coal power plants in Canada remain at this time, and that the trend of economic reform appear to the case in Cuba, which could lead to more opportunity for the company. SHERF's diversity adds a some hedge feelings in that the company is not just a coal company, or just a nickel company. The very fact that oil prices have risen as of late could also help SHERF's bottom line.
An additional challenge is that SHERF stock price is below the $5 mark, which can prohibit some mutual funds and pension funds from investing. I have a theory that once the company hit sub $5 it contributed to its weakness and sell-off, and that has some potential of reversing once its over $5 again. For example SHERF already has some sort of partnership with the Ontario Teacher's Pension Plan for a clean coal project in Canada. Historically since 1996 SHERF flirts with this $5 level and has interesting movements when this specific level is hit.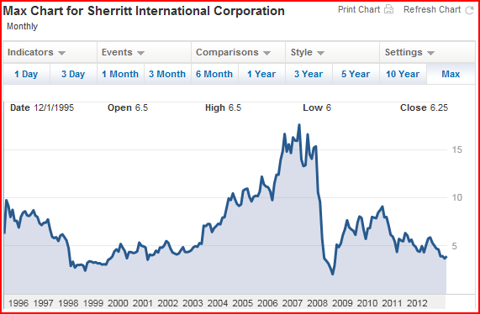 In conclusion some of the best investments are made before everyone else goes long. The current yield appears to be sustainable, and offers decent payment for waiting. SHER may very well be the opportunity that some value investors continually search for.
Charts courtesy of RBC Direct Investing
Disclosure: I am long SHERF.PK. I wrote this article myself, and it expresses my own opinions. I am not receiving compensation for it (other than from Seeking Alpha). I have no business relationship with any company whose stock is mentioned in this article.
Additional disclosure: Long SHERF.PK Calls, Short SHERF Puts, (Long a portion of SHERF Puts as a hedge / Bull put spread)