For the past year I have been amazingly bullish on Yelp (NYSE:YELP), both the company and the stock. I've held this view for several reasons, but mostly due to the untapped potential of what Yelp has the opportunity to become and what I felt would be an awakening of the market to that potential. Remember, the market does not integrate new information as it goes, it's often a situation where the market doesn't care until it cares. This is the inefficiency that can be taken advantage of.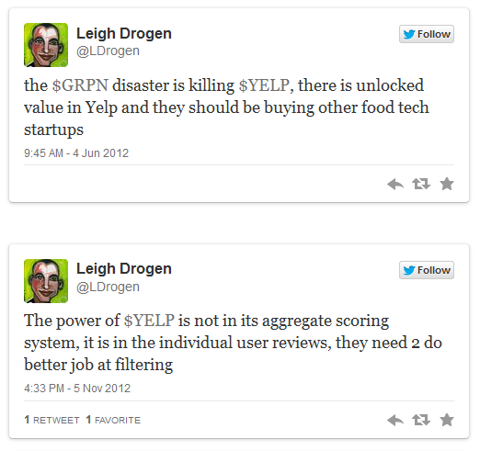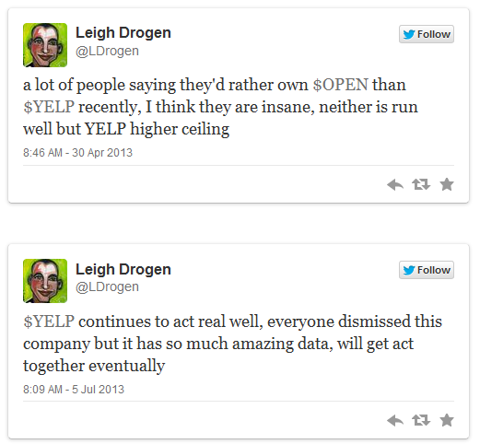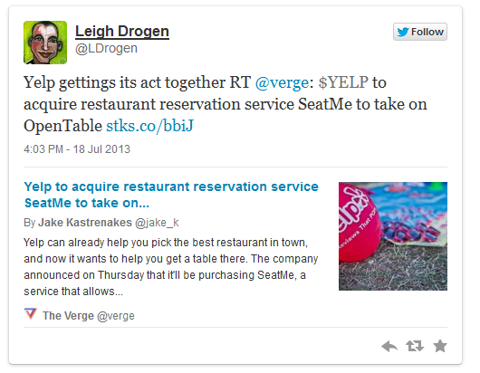 Yelp's run from $20 to $60 a share is evidence that this has taken place, while Yelp still doesn't turn a non-GAAP profit on a quarterly basis. Their revenue growth rate continues to hover in the high 60% range, neither accelerating or decelerating. In my opinion a large portion of the run has come from changing opinions regarding Yelp's ability to continue to grow at that rate versus previous sentiment that it was already decelerating to a large extent and its ability to monetize was not that large compared to their social media peers Facebook (NASDAQ:FB) and LinkedIn (NYSE:LNKD). As you can see in the chart below, the company continues to crush both Wall Street and Estimize consensus estimates for revenue quarter after quarter.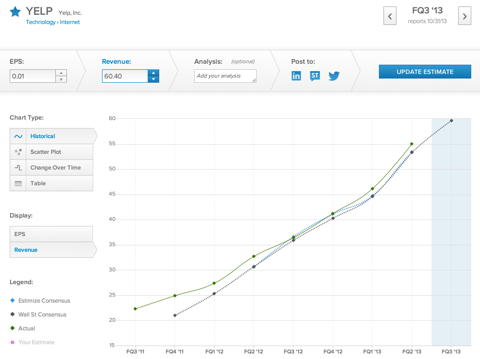 The other monkey off its back seems to be the changing sentiment around how much a threat Google (NASDAQ:GOOG) is to the company in restaurant search. Google bought Zagat (horrible purchase), but hasn't really done much with it. The real threat was from the Yelp like recommendations right in the search page, specifically on mobile, but it seems that they've really failed to gain much traction with it, or at least Yelp isn't seeing any harm from it.
I believe deeply in the theory of unbundling, that as an industry matures each piece of it gets broken out into its own service, its own business. What is taking place over at Craigslist is the perfect example. I think the industry has matured enough that if the average person wants to search for a restaurant they go to Yelp, they won't just settle for Google, just as if you are searching for a place to crash in another city, you go to Airbnb, not Craigslist short term sublets.
But Yelp has a problem. As it acquires more and more content from its users, very valuable content, it is running into relevancy issues. The signal to noise ratio is getting bad, and it's hard to trust what I see there anymore given the rampant self promotion that takes place. Yelp is trying to fight this through legal battles, which is completely the wrong way to do it.
The right way to scale is to use data science in order to provide relevancy and trust. This can be accomplished through using a system of weightings and measurements that are not difficult to build. I implore Yelp to move in this direction before people abandon the platform due to too much noise. Below are a few ways that you can increase the signal.
The more reviews you've posted the higher influence you should have overall in the rating of the restaurant
Your reviews within a specific category (Brazilian steak houses) should count more if you have reviewed others in that category
Reviews within your specific neighborhood where you have left a lot of reviews should count more
Underweight people who are persistently negative or persistently positive - there is a huge selection bias for what people review, you want to overweight people who review things across the spectrum of great to horrible, not just when it's at both ends
There may be a discrepancy between reviews from different age groups for the same restaurant - this should be highly relevant to a recommendations system
Now let's talk for a second about a recommendation system, because Yelp is awful, I mean just awful for this, it's just a sea of data with nothing pointing you in the right direction. Some things Yelp can do to change this and cement itself as the go to place for any time I need to figure out where to eat.
If I have reviewed a specific Brazilian steak house positively, find other restaurants that steak enthusiasts who have reviewed the same restaurant as I did and give me those recommendations.
Is there a place in my neighborhood that I haven't reviewed yet that everyone is raving about (trending algo?), give it to me.
There are a million other things you can build here, that's just a slice in the 10 minutes I took to think about it.
Yelp has a lot of upside potential but in order to take the next step for the company and the stock it needs to wrap its head around the data science aspect. I think a lot of the misunderstanding that was present in the stock a year ago has been removed and it's starting to be priced more fairly for its growth and potential growth. This is a pivotal time for the company.
Full Disclosure: Nothing on this site should ever be considered to be advice, research or an invitation to buy or sell any securities.