From Russia With Love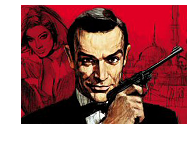 Saturday we noted "the financial markets remain indecisive and confused". Monday, the bulls got a boost from their comrades in Russia. From The Wall Street Journal:
Syria said it welcomed a Russian proposal that it hand over chemical weapons to be destroyed, without saying whether it would comply, as opponents of a military strike against Syria leapt at the chance for another delay to possible U.S. attack. The White House said it would take a "hard look" at the proposal from the Russian government to get Syrian President Bashar al-Assad to turn over his chemical-weapons stockpiles but said it didn't have confidence that Mr. Assad would do so.
Risk-On Regaining Some Mojo
Our market model uses numerous risk-on vs. risk-off ratios to monitor the market's tolerance for risk. The stock (NYSEARCA:SPY) vs. bond (NYSEARCA:AGG) ratio below is used to compare the demand for growth assets relative to a more defensive basket of fixed income instruments. When the ratio is rising, acceptance of risk is outpacing risk aversion, which typically corresponds to bullish periods for the stock market. The Russian proposal helped push the ratio back in the favor of equities. Notice how the present day, above point D, looks similar to rally "kick-off" points A, B, and C. The chart below becomes more meaningful if it can carry the "look" into Friday's close.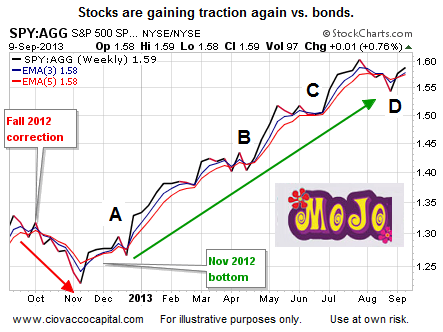 China Helps Bulls Pile On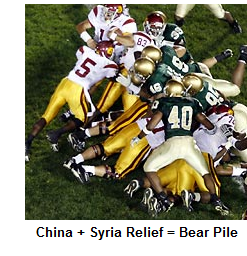 To stay in line with our rules, we added to the equity side again Monday, taking a small position in China on the heels of better than expected Chinese trade data. From the New York Times:
China's trade surplus rose in August to its highest level this year, while inflation remained under control, government data released on Sunday and Monday showed, in further signs that the Chinese economy and possibly the global economy are faring a little better as the summer ends.
As shown in the chart below, the China ETF (NYSEARCA:FXI) has turned the tables on the S&P 500 ETF , which also tends to align with a risk-on market profile.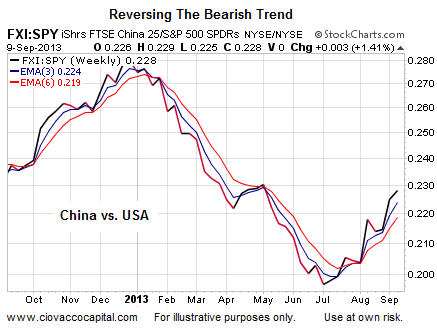 Investment Implications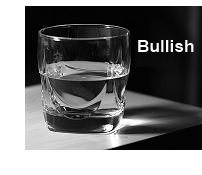 Last weekend's video presented a series of glass-half-full arguments. Based on last week's observable improvements in the market's tolerance for risk, we headed into this week with a heavier weight to equities. Monday's take-some-pressure-off news related to Syria helped spark a 16 point rally in the S&P 500. We still hold positions in small caps (NYSEARCA:IWM) and technology (NASDAQ:QQQ). As shown below, the NASDAQ has formed a chart pattern that produced gains off the mid-April market low.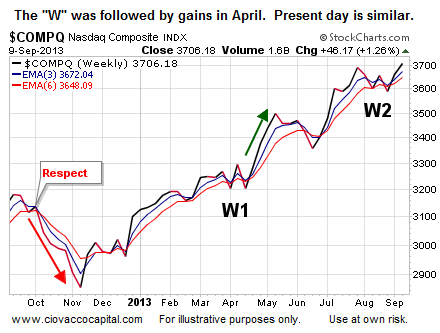 The market's pricing mechanism responded favorably to Monday's economic and geopolitical developments, allowing us to maintain a bullish bias. The million dollar question is has the market priced in Fed tapering? There's always a reason to remain flexible and open minded. The Fed meets next week.
Disclosure: I am long SPY, QQQ, IWM, FXI. I wrote this article myself, and it expresses my own opinions. I am not receiving compensation for it. I have no business relationship with any company whose stock is mentioned in this article.