Dry Shipping Sector Poised for Increase After Sluggish Growth.
Shipping rates represents one of the key drivers that analysts and investors look at, since they reflect supply and demand realities. When shipping rates rise, as they have recently according to the Baltic Dry Index, this signals increased economic activity from Europe and from China in 2014, signifying that shipping stocks may increase in value.
On September 6, 2013, the Baltic Dry Index for Capesize, Panamax, and Supramax vessels rose by 139, 59, and 7, respectively to 2,799 for Capesize, 1,020 for Panamax, and 959 Supramax, according to DryShips Inc. (DRYS $2.88 +$0.12)'s website, which measures these figures daily.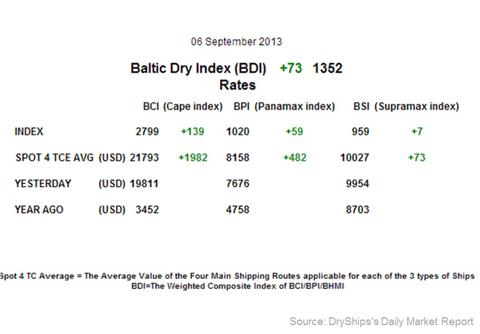 Click to enlarge
While charter rates and capacity for Panamax and Supramax vessels have yet to reach new highs this year, the Index for Capesize vessels, which are primarily used to haul raw materials and commodities from countries like the Americas and Australia to China have now officially reached highs for the year.
The stock in the sector that stands out for not only being undervalued but also for having key developments was the aforementioned DryShips (DRYS $3.09 ), which recently secured a $1.3 billion credit facility through its Ocean Rig (ORIG $18.65 ) subsidiary, of which DryShips owns 78 million shares. Ocean Rig also announced that Lukoil exercised its options for an additional two-well program under a previously announced Contract Award for one of Ocean Rig's semi-submersible drilling rigs. The revised contract is for a firm six-well program and the rig is now expected to be available for deployment by December 2014, at the earliest. By expanding its drill-rig support vessel portfolio and diversifying its revenue by adding drilling rig services vessels to its portfolio of dry bulk and tanker vessels, DryShips looks to be one of the standouts in the sector.
Technical Analysis by Harry Boxer (thetechtrader.com)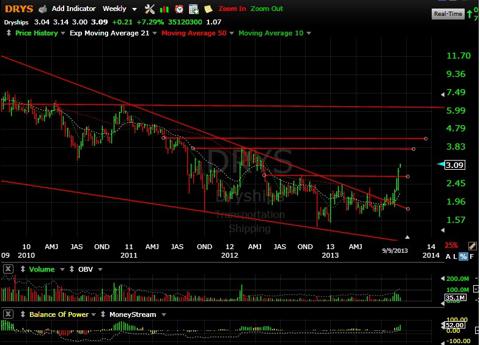 Click to enlarge
DRYSHIPS (NASDAQ:DRYS) DRYS has also surged along with the rest of the shippers and has broken out across its 5 year declining tops line and its most recent important resistance level near $2.75 on a price /volume thrust (its biggest volume cluster in 18 months).

We believe a possible new uptrend has begun, but would note additional overhead resistance near $3.85 then $4.35 .If those levels are taken out with strong volume then our targets are $6-$6.25 then $7.75-$8 zone.

Currently support appears to be near that $2.70-$2.75 level and a retest of that area may be used as an ideal entry point for an intermediate to longer term move.
While some companies in the sector may experience some issues regarding liquidity, few can say that they have had the year that Navios Maritime (NM $7.19 ) has been having for 2013. With over $125 million in revenue for Q2 of 2013 and boasting over $277 million in cash, the company has also buttressed itself with the acquisition of three convoys to support its burgeoning iron ore transportation line for $49 million, which also complements ten vessels that were acquired in April from HSH Nordbank and through a $100 million multi-round capital raise back in February.
Navios is important because it not only shows that a fixed charters' strategy has helped its profitability, but also more importantly that these companies are also helped by a slowdown in vessel construction, as many vessels which have been acquired recently in transactions are used vessels. These developments reveal that subsequent booking rates for vessels in the future will go up and hence, so will shipping company profitability.
Technical Analysis by Harry Boxer (thetechtrader.com)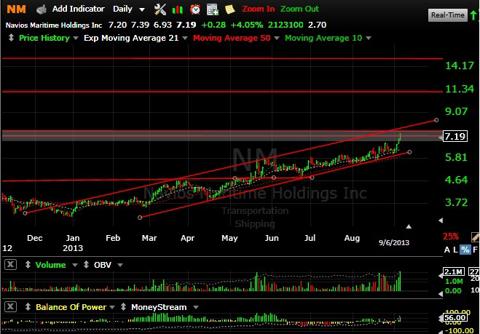 Click to enlarge
NAVIOS MARITIME (NYSE:NM) Navios has been in a picture perfect rising channel since the early part of this year when is began its ascent. Since then it has surged more than 100%, from near $3.25 to Friday's new 3 ½ year high at $7.29. The stock is currently extended in the short term and nearing resistance around 7.50 . We may soon get a pullback retest in this group as many are extended and near resistance but our view is that pullbacks will likely represent buying opportunities. Projected targets between $11-$15 . Support near $6.70 & $6.25
Extended charters have also been a catalyst in Diana Shipping (DSX $12.83 ). The company recently signed new time charters with Rio Tinto (RIO $48.11 -$0.11) and EDF Trading. With both charters expecting to generate over $11 million during the minimum duration period of their respective charters. Diana Shipping also took delivery of a Panamax dry bulk carrier, the "M/V Artemis" last month that will be used for the Rio Tinto charter. Diana's Panamax vessels have been the backbone of their Q2 revenue, especially with two large charters signed with Cargill over the summer.
Diana has been expanding and diversifying its fleet with secondhand, but relatively young vessels and through new constructions. With ship values and charter rates bumping along the bottom, Diana's strategy makes sense. Once the industry has recovered, expect Diana to benefit from having a younger, well serviced fleet.
Technical Analysis by Harry Boxer (thetechtrader.com)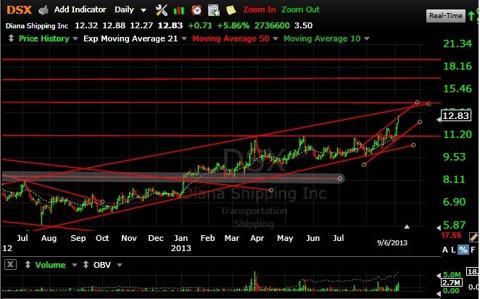 Click to enlarge
DIANA SHIPPING (NYSE:DSX) DSX, has been rising in an up channel similar to NM but at a less accelerated pace. Since early January it has run from $7.44 to $12.88 about 65-70%. It too may be short term extended and nearing resistance. Any pullbacks to support near $11.75-$11.80 & $11-$11.10 may be used as possible entry points ,should the shippers back off to retest /consolidate. Targets $14-$17, $19 on the high end.
Fleet expansion and charter diversification are just as important to Genco Shipping & Trading (GNK $3.94 ). The company has benefited from announcing that although Q2 earnings were slow, there is potential on the horizon for a pickup in the dry shipping industry. It also said that although dry dockings will take place for some of their fleet in 2014 this will be offset through vessel acquisitions, increasing Genco's fleet tonnage over 5% overall and that the dry dockings will not tie up vessels significantly.
In turn these announcements led to an upgrade on Genco's shares from Global Hunter Securities, raising their outlook from "Sell" to "Neutral". In their commentary Global Hunter Securities stressed that liquidity issues that the company faced had been cleared up, which had been a major headache for the company. Global Hunter noted that "However, as a result of the company's amendment to its credit facilities, we believe liquidity issues through 2013 have been alleviated and believe it's prudent to upgrade GNK to a Neutral rating."
Technical Analysis by Harry Boxer (thetechtrader.com)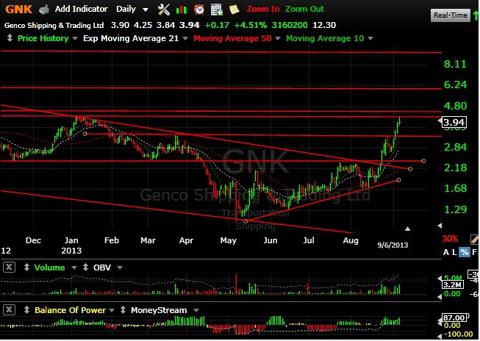 Click to enlarge
GENCO SHIPPING (NYSE:GNK) Genco has been even more explosive than the rest lately having surged sharply from near $1.75 to $4.25 on Friday, a 140% move in less than 4 weeks! It now finds itself at KEY resistance at the $4.25-$4.40 zone , so again a pullback retest would be a welcome event and also a potential buying opportunity on our opinion. Support near $3.00-$3.50 ,with projected price targets at $6-$6.15 then $8-$8.25 once the $4.40 level is taken out with strong volume.
Energy vessels in particular should do well as China and other countries in Asia increase energy imports while the U.S. looks to become a net exporter of energy.
Please note that any investment in this sector is highly speculative, not to mention subject to many random events. Please remember to perform the necessary due diligence to ensure that these stocks are proper for any given investment objectives.
THE FOCUSED STOCK TRADER (Legal Disclaimer)
The Focused Stock Trader is not registered as an investment adviser nor a broker/dealer with either the U. S. Securities & Exchange Commission or any state securities regulatory authority.
Users of this website are advised that all information presented on this website is solely for informational purposes, is not intended to be
used as a personalized investment recommendation, and is not attuned to any specific portfolio or to any user's particular investment needs or objectives.
Furthermore, such information is not to be construed as an offer to sell or the solicitation of an offer to buy, nor is it to be construed as a recommendation to buy, hold or sell (short or otherwise) any security. All users of this website must determine for themselves what specific investments to make or not make and are urged to consult with their own independent financial advisors with respect to any investment
decision.
All opinions, analyses and information included on this website are based on sources believed to be reliable and written in good faith, but should be independently verified, and no representation or warranty of any kind, express or implied, is made, including but not limited to any representation or warranty concerning accuracy, completeness, correctness, timeliness or appropriateness.
In addition, we undertake no responsibility to notify such opinions, analyses or information or to keep such opinions, analyses or information current.
Owners, employees and writers of and for The Focused Stock Trader, a division of TFST Publishing, LLC. may have long or short positions or buy and sell securities that may be discussed on this website.
For any questions or comments, please email info@thefocusedstocktrader.com
Harris Shapiro
Editor in Chief
The Focused Stock Trader
Disclosure: I have no positions in any stocks mentioned, but may initiate a long position in DRYS, DSX, NM over the next 72 hours. I wrote this article myself, and it expresses my own opinions. I am not receiving compensation for it. I have no business relationship with any company whose stock is mentioned in this article.
Additional disclosure: I was assisted by Anthony Orbanic