International Business Machines' (NYSE:IBM) stock is down around 14% on the bourse, declining from $215 in March 2013 to around $185 now. My colleagues on SA are bullish on the stock, and I have no reason to disagree with them. Additionally, according to the recent 13F filings, 768 funds have increased their existing positions on IBM or initiated a bet on this stock. However, more funds made an exit from this stock or reduced their bet on IBM. It appears that the investors have overlooked IBM in recent times, which is actually not right given that it has consistent and better profit margins, strong fundamentals with new acquisitions, and seemingly incompetent peers in the current scenario. Let's look at these factors and why stock price of $183 does not validate its real value.
Aggressive acquisitions
IBM believes that cloud computing will drive its future revenue and build its cloud computing portfolio, the company acquired four companies in the last three years by spending hoards of money. IBM announced a deal last month to acquire Israeli data-security company Trusteer for around $800 million. This deal will strengthen SmartCloud services of IBM, as Trusteer has a strong client base including the seven biggest banks in the U.S., and nine banks in United Kingdom. This company develops software to prevent fraud in the online banking transactions. With this acquisition, IBM will also set up a cyber security lab in Israel for fraud detection and security solutions for mobile platforms. Trusteer reported revenue of $40 million in the last fiscal year, and this acquisition will give a boost to the business services segment of IBM. Considering the dominance of IBM in the business services and technology market, and acquisitions, it is expected that the company's revenue will get a boost in the upcoming years from this segment.
On the other hand, IBM's competitor Accenture (NYSE:ACN) recorded lower revenue in the third quarter and lowered its expected revenue for this fiscal year, as its clients are lowering their spending on consulting. Recently, Accenture announced plans to acquire German company PRION. PRION is one of the leading consulting and system integration companies, and has expertise in Siemens (SI) products lifecycle management, or PLM. By acquiring this company, Accenture's product offerings will increase and it will able to cater to its clients faster and more efficiently. Moreover, Accenture analyzed the market conditions and concluded that companies spend 25% of their revenue to create innovating products and new product developments. However, due to lack of time-consistency, companies end-up delaying product launches and innovation. Through this acquisition, Accenture will gain expertise in PLM and hence I assume its revenue will increase because of the growing PLM market. The PLM market has grown by 11.2% in the last year to around $33 billion. Moreover, PRION will give additional clients to Accenture as it has clients spread across the transportation, engineering, aerospace, and defense fields. This acquisition will give a lease of life to Accenture, which is suffering from revenue pressure in the past few years.
Lowering the cost
In the first quarter of this year, IBM's revenue fell 5% year over year, and there was a 1% decline in net income to $3 billion, year over year. The company spent $803 million last year for workforce restructuring and is expected to spend $1 billion this year for the same purpose. It has 434,246 employees worldwide and will decrease the number of employees to stay competitive and cost efficient. IBM is expected to decrease the headcount by around 7,000 this year, with the highest job reductions expected in North America and Australia. IBM will rebalance its businesses in the weak markets, which will help the company focus on cloud computing, and other high-end businesses as per its 2015 plans. With these job cuts and restructuring efforts, I assume the company will its improve profitability in the future.
Its peer Hewlett-Packard (NYSE:HPQ) generated around $14 billion by selling desktops in the last fiscal year. The company gained from selling desktops and its flagship product "HP Pavilion", which are more popular in comparison with its other offerings in the past years. However, its over-dependency on Windows and lack of innovation is pulling the revenue back. Overall sales of PCs are also declining, as consumers prefer tablets and other advanced machines. According to IDC, it is expected that tablets will overtake PC sales, and hence, HP's PC business will further plunge. The decline in sales, lack of innovation, and constant move of consumers towards tablets will decrease the revenue of HP's PC segment to around $12.5 billion in this year, down by 12%, year over year. Effects of declining PC sales and change in customer preference will also halt the revenue of IBM as it sells its operating system to original equipment manufacturers. However, IBM does not compete in customer PC operating system, but decline in profits in this segment is certain due to lack of participation from businesses to purchase these products. With the lower sales, I assume revenue of IBM in the operating system segment will remain flat at around $4.49 billion in this year.
Valuations:

Source: Finviz
In the IT space, IBM is attractively valued compared to its peers. The company has in-line PE of 13.02 and has the lowest PEG ratio of 1.31. Moreover, IBM has annual EPS growth rate of 15% in the last five years, which again is the highest among its peers. In the next five years, EPS growth of IBM is expected to remain at par with its competitors Accenture and Microsoft, while HP is nowhere in the picture. IBM leads in two factors here, while in other two factors, it is at par with its competitors. To remain more competitive, it acquired a few companies in cloud computing and will decrease headcounts, by which its valuation will look more attractive.
Consistent profit margin

Source: YCharts
IBM has a record of consistent profit margin in the past five years, which is higher than its peers in the same industry. The company's quarterly profit margin in the last five years remained at around 12.94%, while Accenture and HP have quarterly profit margin of around 10.5% and 5.11% in the same duration. Looking at the strong profit margin of IBM, I can say that the company has no threat of lower profitability in the near term, and its past performance supports my views.
Historical stock price performance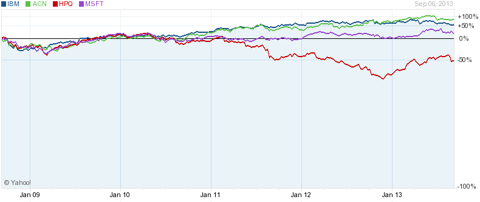 Source: Finviz
Although, Accenture leads the list in outperformance, IBM has outperformed HP and Microsoft in the last five years. Moreover, IBM's new acquisition in the cloud business and takeover strategy will give upside movement to the stock. Considering these factors, I think investors should shift from the declining HP business to either IBM or Accenture, which will continue its outperformance in the future. Considering lucrative valuations, fundamentals, and past performance, one would definitely initiate a "long" on this stock to gain the benefits of 16%-18% in short term. Moreover, in one of the recent articles on SA, volatility in IBM's stock was pointed as a risk, which is not correct when you look at the broader picture. Stock of IBM is the least volatile given the Beta metrics, as Beta of IBM stands at 0.70. Stocks of its competitors trade at higher Beta than this, as Accenture has a Beta of 0.91, HP has 1.20, and the Beta of Microsoft is 0.94. Therefore, considering the volatility of its peers, IBM is a sound stock, and is the least volatile and one cannot consider this as a risk factor for investment.
Street's expectations and recommendation
While making investment decisions, investors cannot neglect market perspective and expectations of the Street. In my previous article, I discussed how the stock price of Anadarko Petroleum would approach the $100-mark from $92, and it has appreciated 3%-4% since then, and trades at around $94. Analysts' mean target price for IBM hovers at around $217.8, which is around 16% more from the current price levels. Considering these factors, which are strong and in favor of IBM, I strongly advise investors to take long positions on the stock at current levels, and hold it for significant upside.
Disclosure: I have no positions in any stocks mentioned, and no plans to initiate any positions within the next 72 hours. I wrote this article myself, and it expresses my own opinions. I am not receiving compensation for it (other than from Seeking Alpha). I have no business relationship with any company whose stock is mentioned in this article.