Although BlackBerry is losing steam (NASDAQ: BBRY) in the eyes of Wall Street investors, it is seemingly (and rapidly) gaining the attention of news media, naysayers, and even potential buyers.
On August 13, BlackBerry's Board of Directors released a report stating that a special committee was formed to explore "strategic alternatives" for the former mobile giant. Timothy Dattels, Chairman of the New Special Committee of the Board, said:
"During the past year, management and the Board have been focused on launching the BlackBerry 10 platform and BES 10, establishing a strong financial position, and evaluating the best approach to delivering long-term value for customers and shareholders….Given the importance and strength of our technology, and the evolving industry and competitive landscape, we believe that now is the right time to explore strategic alternatives."
If BlackBerry doesn't see its BBM operating system, Z10, and Q10 sales rapidly increase, it is in trouble. In fact, it already reached the tipping point.
BlackBerry's potential abysmal future
Mark Suster, an entrepreneur turned venture capitalist, says lower prices and more networks are driving mobile growth. In fact, nearly 70% of literate adults will have a smartphone in 4 years. BlackBerry just cannot compete.
Consider India. Sunil Lalvani, BlackBerry's managing director over the country, stated that BlackBerry is losing market share to Nokia (NASDAQ: NOK) and Microsoft (NASDAQ: MSFT) in India. Why? The BlackBerry 10 platform is catered toward higher end clients; it does not sell a unit below $100.
Additionally, some reports forecast that Nokia's Lumia 928 is selling nearly twice as frequently as the BlackBerry Z10 on Verizon's network in America. And, analyst Mike Walkley of global investment bank Canaccord Genuity, reports that Lumia sales were "decent" on AT&T's network while its lower tiered phone presence grew in emerging markets. Walkley compares Nokia's results to "very soft" BlackBerry sales.
To be fair, BlackBerry is growing in some regions, notably Africa. According to StatCounter, it boasts just over 40% of South Africa's operating system market as of the end of August 2013.
Regardless, Suster is likely pleased that Nokia is offering older, lower priced phones in emerging markets, securing additional market share. And what is BlackBerry focused on doing according to Dattels? The BlackBerry 10 and long-term value. Given the failure of the first initiative, it seems like management will now begin focusing on the second with more intensity.
Here is a translation for Dattels quotation: We're on a path to becoming insignificant…even obsolete, and we need help.
Is a savior imminent?
Given the recent announcement that Microsoft will acquire Nokia's handset unit leads me to think that a Microsoft BlackBerry deal is improbable. While the tech giant may want parts of BlackBerry, like its patents or secured network assets, a piece by piece sale would prove difficult. And, managers and investors would have to consider if such a move would even prove fruitful for Microsoft given its bucket list: find a new CEO, restructure the company, complete the Nokia sale, and remain competitive against industry giants like Google, Apple, and Amazon.
So, I think internationally. Chinese Lenovo and Huawei come to mind. Although rumors are floating that Lenovo is interested in purchasing the troubled BlackBerry, I don't see this coming to fruition (at least in the near future) for two main reasons. First, the Canadian government would have to sign off on the deal-possible but unlikely. Second, Prem Watsa, a former BlackBerry board member and the Chairman and CEO of Fairfax Financial which is BlackBerry's largest shareholder, would likely have to agree to the deal, perhaps even needing to sign off on it. And, most of his plans take a minimum of 2 years to complete.
Then there's Huawei which said it is not interested in acquiring BlackBerry.
Last, I think private equity or venture capital. As per a Wall Street Journal article, Bain Capital comes to mind. But, as Fortune's Dan Primack rationalizes, Bain has no prior history investing in technology firms. Plus, it has worked alongside Huawei; Huawei could easily explain BlackBerry's potential and existing problems to Bain.
Given BlackBerry's situation, I don't foresee any private equity firms becoming a white knight, unless a particular firm has another deal or unique opportunity already positioned within the mobile market. Again, probably unlikely.
Where to go from here
Given the press, potential buyers interested in BlackBerry know that it is open to recommendations. It is becoming desperate and wants to be rescued. As seen in the below image, any news of a buyer (the stock price increases), let alone a deal in itself, is great news for current BlackBerry investors.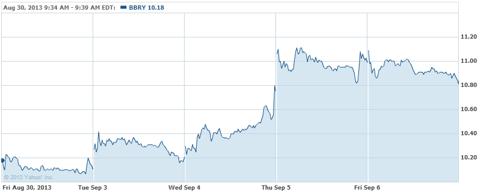 Click to enlarge
Plus, as further described here, BlackBerry does not need to be dominant in the mobile industry to generate value for investors. It can reduce its size, re-focus its strategy, and re-define analyst expectations for its share price. And, considering that BlackBerry's book value per share is over $18 and that its cash per share is $5.48, BlackBerry is a good investment for current holders who are inclined to risky investments with potential for greater reward.
But, I am not willing to embrace such a strategy and subsequent risk.
Disclosure: I have no positions in any stocks mentioned, and no plans to initiate any positions within the next 72 hours. I wrote this article myself, and it expresses my own opinions. I am not receiving compensation for it (other than from Seeking Alpha). I have no business relationship with any company whose stock is mentioned in this article.
Additional disclosure: Article by Brendan Marasco.