The Market Vectors Gold Miners ETF (NYSEARCA:GDX), the largest gold miner exchange traded fund, will begin tracking an updated indexing methodology late September.
Van Eck Global will continue to use the NYSE Arca Gold Miners Index as the underlying benchmark index for GDX, according to a press release.
On September 20, the NYSE Arca Gold Miners Index will be opened to companies that trade outside of the U.S., but the index will also begin excluding miners with market values below $750 million.
"By moving to allow for the inclusion of non-U.S. listed companies, we believe the Index will better capture the global nature of the gold mining industry," Brandon Rakszawski, product manager with Market Vectors, said in the press release. "Additionally, by increasing the minimum market cap for inclusion in the Index, the overall liquidity of GDX holdings may be improved."
Market Vectors has previously shifted some of its ETFs to in-house indexes, but it appears the changes to GDX's underlying index come at the behest of NYSE Euronext. The move to the $750 million market cap requirement for the NYSE Arca Gold Miners Index could be a way of avoiding duplicate holdings across multiple indexes, notably between GDX and Market Vectors Junior Gold Miners ETF (NYSEARCA:GDXJ) - both ETFs have some overlapping holdings such as Golden Star Resources (NYSEMKT:GSS) and Coeur d'Alene Mining (NYSE:CDE).
GDX has $6.4 billion in assets under management. Gold miners have been among the worst performing ETF asset classes so far this year. GDX is down 38.8% year-to-date but rallied 11.0% over the past month. The ETF has a 0.52% expense ratio.
GDX currently tracks 30 components. Top holdings include Goldcorp (NYSE:GG) 14.3%, Barrick Gold (NYSE:ABX) 10.5% and Newmont Mining (NYSE:NEM) 9.3%.
Market Vectors Gold Miners ETF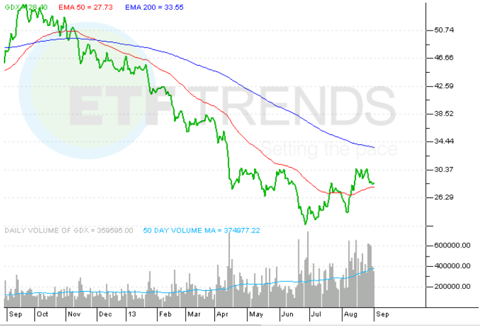 Max Chen contributed to this article.
Disclosure: I have no positions in any stocks mentioned, and no plans to initiate any positions within the next 72 hours. I wrote this article myself, and it expresses my own opinions. I am not receiving compensation for it. I have no business relationship with any company whose stock is mentioned in this article.