A month ago I wrote Energy Recovery Inc: Shares Could Double On Patented Desalination Product Line. On Monday, the stock was up 13%. The move was apparently due to a press release announcing the company will participate in a contract for a huge desalination plant in Saudi Arabia. Another positive catalyst was reported by Forbes last week: a large short position. As of 08/15/2013, Forbes reported a total short interest of 3,029,698 shares. With an average daily trading volume of just 152,811 shares, the "days to cover" ratio is almost 20 days. Meantime, insiders have been buying. Combined with the new Saudi contract news, and expectations of a second half revenue wave, Energy Recovery (NASDAQ:ERII) appears to be set up for a classic short squeeze. As of Monday's close, shares were up 31% in the month since my first article.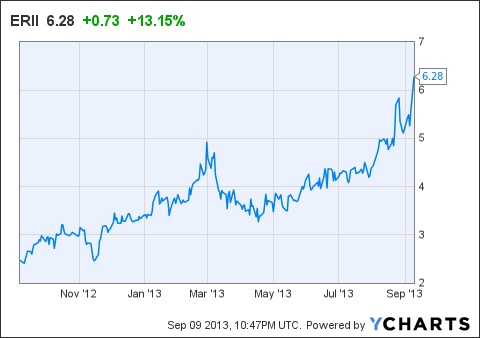 The Patented PX Product Line
While the company has lost $0.20/share over the last 12 months, it is a turnaround story based on the company's patent-protected PX line of isobaric pressure exchangers. These are critical devices for reducing energy costs and emissions from sea water reverse osmosis ("SWRO") plants. ERII's PX energy recovery devices have only one moving part and are made of a high purity aluminum oxide ceramic that's corrosion-proof, three times harder than steel, and provide unmatched durability in salt water environments.

The simplicity and modularity of designs allow for optimum scalability, quick startup, and no required maintenance within its 25-year lifespan. ERII's PX devices have national patent coverage granted by the U.S. Patent Office and international coverage through the Patent Cooperation Treaty (PCT) administered by the World Intellectual Property Organization. You can watch a YouTube video of how these devices work here.
The Saudi Arabia Plant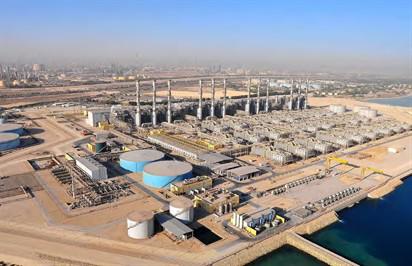 The contract is part of a new desalination plant in Al Jubail, a city in the Eastern Province of Saudi Arabia. The new plant will be called SWRO-4 and will effectively double the capacity of the city's five existing desal plants by delivering 100,000 cubic meters per day of potable water. The plant is expected to come into operation at the end of 2014.
Summary & Conclusion
Worldwide demand for SWRO plants is very strong. Pollution in China, population and industrial growth in the arid regions of the Middle East and North Africa, and the effects of global warming in highly populated regions like Florida and California are fundamental growth drivers for this market. ERII's PX product line is the preferred energy recovery device for new plant designs as well as retrofit activities to save power and emissions. While these long-term fundamentals are bullish for the Energy Recovery, the stock could also benefit by a classic short squeeze as the short sellers need to buy shares to cover on bullish news. The contract announcement is just the sort of news the shorts are worried about. Although ERII is a risky investment (please read my first article on the company) I reiterate my rating: ERII is a speculative BUY.
Disclosure: I am long ERII. I wrote this article myself, and it expresses my own opinions. I am not receiving compensation for it (other than from Seeking Alpha). I have no business relationship with any company whose stock is mentioned in this article.
Additional disclosure: I am an engineer, not a CFA. The information and data presented in this article was obtained from company documents and/or sources believed to be reliable, but has not been independently verified. Therefore, the author cannot guarantee its accuracy. Please do your own research and contact a qualified investment advisor. I am not responsible for investment decisions you make. Thanks for reading and good luck!