First I want to make a confession. I have intimate knowledge of some of the products that Activision Blizzard, Inc (NASDAQ:ATVI) makes. After leaving the local chess club halfway through my teens, I started playing modern worldwide chess: the fast paced strategy wargame Starcraft.
I'm 31 years old now, at the time I was team captain (organizing instead of contending as my skill level admittedly fell just short of making the team) of a strong Dutch line-up facing off every Saturday against some of the best teams in the world through the World Gaming Tour competition - the strongest non-Korean competition at the time.
I grew up when the franchises of games that are still going strong today, were first published. Think of Doom, Starcraft, Warcraft, Civilization and Sim City. I will make an effort to let some of my familiarity with the products show while at the same time fighting my bias to root for the game developers that had such an impact in my life.
In particular I want to discuss some of the opportunities I see for Activision Blizzard (ATVI going forward) that may not be immediately obvious and discuss how their strengths are underestimated and weakness overplayed.
Weak criticism of ATVI
First of all the criticism that World of Warcraft is nearing the end of the great run it had is correct. I don't want to try to downplay that weakness. I see no promising ways for the company to stop the earnings decline of their cash cow. This is a valid criticism but also something that anyone with ATVI stock is likely to know about.
Another argument that is sometimes made when ATVI is discussed in the investment community is the advance of mobile and social gaming and their lack of titles in this space. The basis behind this criticism is that these games compete for attention of the consumer and this time is taken away from playing ATVI games.
This criticism sounds reasonable enough but here is why this is not as threatening as it appears.
The games ATVI creates offer certain experiences that are different from the experience of a mobile game. Exactly what experience buyers are looking for and how they find value in the titles can differ. For example there are gamers who enjoy playing through a story and seeing the story they create to the end. They are creating their own Hollywood blockbuster.
Other gamers enjoy the intellectual challenges the games provide. ATVI brings out deep games that are, like poker, easy to play but hard to master.
The combination of the visually attractive game with the underlying intellectual game together create an experience that is sometimes called an e-sport. The original Starcraft became a very big hit in Korea and professional teams were battling on a weekly basis. The biggest teams being sponsored by local Telecom companies and tech companies like Intel (NASDAQ:INTC) for example. To get an idea what those early days of e-sports looked like, view this footage of a Korean crowd showing up for an important Starcraft event.
Still not convinced of a concept like e-sports? Take a look at the lines one of the biggest online bookmakers offers on Starcraft and Dota. I have to admit: as far as I know they are the only bookmaker offering e-sports lines so far.
My point being that the experiences offered by the rich and deep games that ATVI makes are not comparable to the experience of a mobile game. Although mobile games can be infinitely intellectually challenging - after all you can play chess on mobile - the total experience is still very far away from the experience of a console or PC game. The mobile device only allows for limited amount of player input and the small screen makes it impossible for the player to take in the same amount of data within seconds.
Yet, I have to admit that even though I hope to have shown the difference in experience of playing or watching a mobile game versus a console or PC game, it is true that simpler games do compete for attention.
This is not that big of a problem because the consumers need for deep and rich experiences has been proven in the past with the blockbuster game sales when there were many other things competing for their time as well.
Then I want to add that there is no need for ATVI to have the consumer playing their games at the exclusion of all other activity. Their games just have to be so good that the consumer is convinced to shell out the dollars for the game purchase, the game expansion packs or increasingly to stay subscribed to the game for the month. If the consumer spends a lot of time within the game that is certainly favorable but its not crucial.
How does Data Apply to Gaming
One of the key competitive advantages major e-companies are trying to secure is that of access to consumer data. If a company has access to an amount and quality of data about their clients that is hard to acquire for incumbents in its market, it is digging a moat around its business. This concept is often applied to companies like Google Inc.(NASDAQ:GOOG), Facebook Inc, (NASDAQ:FB) or Amazon.com Inc, (NASDAQ:AMZN). But not every investor realizes what data means for large gaming companies.
ATVI tries to move gaming towards their servers. The Diablo III game for example is only playable when accessing the internet. The Diablo II title was still playable from your hard disk. With every minute you spend in game, ATVI is acquiring data about your gaming preferences.
A practical example of how this data could be applied would be that ATVI is able to register exactly what type of content provides you with just the right level of difficulty. A game that is perfect for you in difficulty will be challenging but not so challenging that you would be discouraged. With data like that ATVI can make better and better games that are very hard to match in quality by new entrants into the market.
Power of the Brand
Analysts and investors are usually aware that the brands of big gaming companies like ATVI or Nintendo Co Ltd ADR (OTCPK:NTDOY), I suspect this power is still underestimated.
One example about branding in the media space - I think it was given by a famous investor like Warren Buffet but I'm not sure it was him, please comment if you remember - is about a mom or dad of young kids going into the video store. There is a rack full of movies for children. They go for the high priced Disney movie surprisingly often...
How does this work?
The Disney brand puts a stamp of quality on the content. The content of a 2 hour movie is not easily examined in a timely fashion by the parent but the Disney brand basically ensures the mom or dad buyer, that the content will be up to their standards.
This works the same way with game titles. I will buy a new Starcraft title sight unseen - reviews unread. For myself but in a few years for my kids as well.
New Revenue Streams
Around this time last year I bought the Diablo III game and played it through. The Diablo franchise is one of my least favorite Blizzard titles. However I noticed one interesting development - The Real Money Auction Hall. On the in-game Real Money Auction Hall it's possible to exchange digital goods - found in the game - with other players. ATVI charges a commission on the exchange. I don't expect this RMAH to generate a lot of profit for ATVI with Diablo. But it is the mark of a larger trend:
Increasingly consumers are willing to pay for digital goods. Around World of Warcraft there is / has been a thriving black market for these goods and other services related to the game. Estimated to be in the hundreds of millions of dollars. With the development of the RMAH, ATVI is taking steps to create a secure trading environment for players but at the same time secures a revenue stream for itself with very attractive returns on invested capital.
Direct Sales Channels
Then there is the expansion of the direct sales channel. This is a trend that is also observed with console games. Console companies are creating online environments to make it possible for the consumer to buy directly from them, without going to a physical store to buy a game or digital content.
This development can also be observed in PC games. For example Blizzard offers the Battlenet environment where I bought the last few titles as downloadable content. I never went to a physical store or even an e-store. I charged my credit card on Bnet and the game became downloadable. In the future, companies are likely to offer and sell more content through these channels. Good for margins.
Valuation of Blizzard / Activision
Its outside the scope of this article to value ATVI's stock to the cent. My main goal with this article is to provide you with insight of someone who is actually using their products to your existing knowledge of their finances.
If you have your own ideas about the value of ATVI's stock I hope to have inspired you to do additional research or perhaps take a second look at a particular number.
Perhaps you don't have any ideas about the valuation of ATVI's stock and in that case I want to provide you with some context. The thesis of this article is that ATVI's weakness to mobile gaming's advance is overblown, that ATVI has innovative new possibilities for revenue and that increased access to data will fortify its competitive advantage.
If we take the current stock price of $17 and compare that to traditional competitors like Nintendo and Electronic Arts Inc. (NASDAQ:EA) on Enterprise value / EBITDA we see that ATVI is attractively valued compared to these two.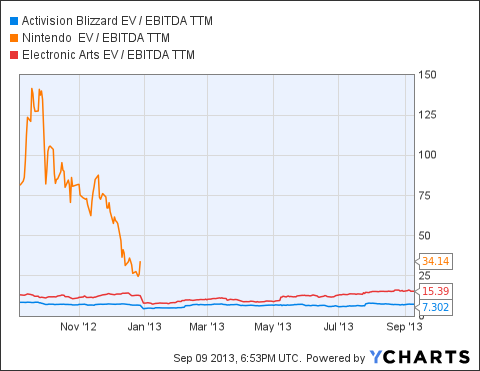 ATVI EV / EBITDA TTM data by YCharts
Non-traditional competitors of Gaming Companies
I realize these companies are different but since there are some similarities as well let's compare ATVI to a few other companies on the metric used above as well. Walt Disney Co (NYSE:DIS) and Hasbro Inc (NASDAQ:HAS) for example. Again, as you can see in the graph below, the company appears attractively valued.
I didn't go out of my way to select these companies to compare against. The traditional competitors are obvious choices and these non-traditional companies were the first two that I thought of because they serve a similar market with a different approach. All manage portfolio's of intellectual property rights and exploit these as well as they can.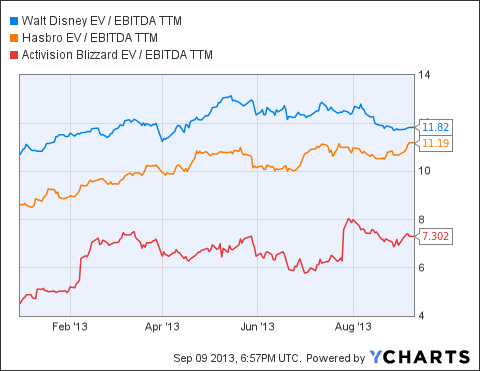 DIS EV / EBITDA TTM data by YCharts
Although these comparisons make me think there is something to the story of Blizzard Activision, I want to add a few additional numbers. Let's take some numbers that value investors like to look at when evaluating the attractiveness of a company.
Price / Book Value is reasonable for a business with such a capital light business model. If this really is an attractive number depends on how exactly the company arrived at its book value.
Return on equity stands at 12% but has been lower in the past. With a non-existing long term debt position this is a very attractive return.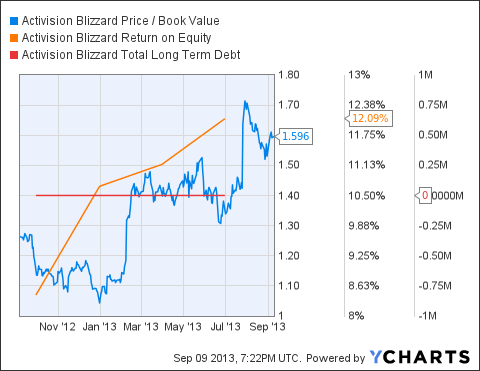 ATVI Price / Book Value data by YCharts
The company is certainly not dirt cheap but I think these numbers give some perspective to the $17/share price tag. If not perhaps Peter Lynch his trick from his book One Up On Wall Street will help you. In it, he writes how comparing the annual growth rate of a company's earnings (in %) to the P/E number of its stock can help. If the growth rate is a substantial higher number, that's a good sign.
Morningstar put together a table with ATVI's earnings growth numbers. Annualized over the past year the growth rate of EPS is 24% while the current P/E of the stock is 14.
Activision Blizzard looks like a good buy at $17. To make sure this exploration of its positioning, competitiveness and innovation is not missing anything crucial I am going to look into the company's financials in a second article. Please follow me on Seeking Alpha if you don't want to miss it.
As always your feedback is very much appreciated and every time I've written for Seeking Alpha I have learned something from the tremendous knowledge of its readers: through your comments and messages. Thank you for reading and responding.
Disclosure: I have no positions in any stocks mentioned, and no plans to initiate any positions within the next 72 hours. I wrote this article myself, and it expresses my own opinions. I am not receiving compensation for it (other than from Seeking Alpha). I have no business relationship with any company whose stock is mentioned in this article.