Chipotle Mexican Grill's (NYSE:CMG) stock has significantly outperformed the market and its competitors, year to date. Its shares are up 40.67% compared to the S&P 500, which is up 18.01%, whereas Panera Bread Company (NASDAQ:PNRA) and Jack in the Box (NASDAQ:JACK) are up 5.96% and 36.93%, respectively. The growth was a result of the rollout of catering services, a rapidly growing number of restaurants, new products, and increasing marketing spend.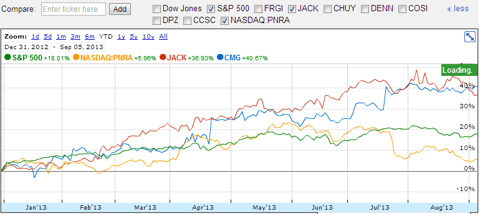 Click to enlarge
Rollout of catering services across the system will drive same-store sales
Chipotle first introduced catering services in January in Denver and then further expanded it to another 144 units in Las Vegas, Philadelphia, Nashville, etc., in April. Now, the company has more than 200 stores with catering services, which allow a group of 20-200 customers to customize their meal. The company is planning to rollout catering services in all its restaurants by the end of 2013.
Currently, the company's catering service is generating a very small part of its sales, i.e., 1%, as compared to its competitors, Panera Bread Company and Qdoba (a subsidiary of Jack in the Box) which are generating more than 7% of sales from their catering services. In the long term, Chipotle will generate additional sales after rolling out catering services across the system. Catering service at Chipotle is different from both of its competitors because the customers have to pick up the products from restaurants and order should be given 24 hours in advance whereas Panera Bread offers ready-to eat catering and other spontaneous purchase options.
Unit expansion will generate additional revenue by broadening customer base
The company appears to be progressing very well on its unit expansion plans. As per its guidance, the company is targeting 12%-13% growth, i.e., 165-180 new restaurants opening during 2013. The company recently reported its second quarter 2013 results; it opened 44 new stores in this quarter, bringing the total to 92 stores in the first half of 2013 and 1502 total number of stores.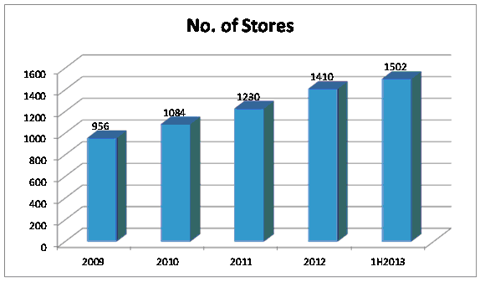 Click to enlarge
International: Out of the total 1502 restaurants, 1490 are located in the United States, five in Canada, six in London, and one in Paris
ShopHouse: The Company has one ShopHouse restaurant in Los Angeles and is planning to open two more, one each in Los Angeles and Washington, DC. In addition, it has signed leases for an additional four locations, which are expected to open in 2014.
| | |
| --- | --- |
| Company | Year to date new restaurants opening |
| Chipotle Mexican Grill | 92 |
| Panera Bread Company | 59 |
| Jack in the Box | 58 |
Looking forward, it is not difficult for the company to achieve targeted unit growth with growth of ShopHouse and international Chipolte locations.
Increased marketing spend will help increase traffic
Chipotle is expecting its 2013 marketing spend to be 1.7% of sales, compared to 1.3% in 2012. The company always has been using non-traditional channels of advertising, such as short animated movies, participation in cultivating festivals, etc. The company also is moving toward more traditional marketing channels marketing, such as radio, print, etc., than it had in the past. Initial marketing campaigns were more focused on brand-building but now the company is looking to driving traffic through these promotions. This campaign is planned for 26 markets, representing 900 stores or 60% of total Chipotle locations.
Others highlight:
The company launched a new product, "Sofitras." for testing in 7 restaurants in February. After the satisfying performance of the product, the company expanded it to 100 additional stores.
Conclusion
Chipotle has achieved significant unit expansion and is expanding rapidly. It is at half way by opening 92 stores in the first half of 2013. The company is expecting to open a total of 165-180 stores and if it continues to grow at this speed it will exceed this target. Another initiative is the catering service, which the company is expected to rollout across the system by the end of 2013. Until now, it has been executed in more than 200 stores. Catering services will generate additional demand and improve same-store sales. In addition to these initiatives, the company has invested in marketing and is trying to drive traffic to the store.
Looking forward, this will result in increasing the number of customers and improving same-store sales. I see a bullish trend, so I recommend buying.
Disclosure: I have no positions in any stocks mentioned, and no plans to initiate any positions within the next 72 hours.
Business relationship disclosure: GS Analytics is a financial research firm providing customized research services to US hedge funds. This article was written by Tanmay M, one of our Research Analysts. We did not receive compensation for this article (other than from Seeking Alpha), and we have no business relationship with any company whose stock is mentioned in this article.