More good news out of China overnight caused all of Asia to rally for the second consecutive day. Those speculators who yesterday were trying to guess where Asia would open today by betting on the various ETFs did well, although that is a risky proposition to undertake blindly.
The big news helping Europe today is that Syria has indicated that they want to take Russia's deal to put their chemical weapons under international surveillance. It is a move, which even if the US wants to ignore should avert any military action in Syria, and once again shows Russians are better at chess than Americans. Look for Putin to throw his weight behind this proposal and possibly put it to the UN Security Council for approval, a move that forces the US into a corner because it certainly could not use its veto and then unilaterally attack Syria without angering the world.
Chart of the Day:
The banks could be looking to break out here as the Nasdaq Banking Index broke back above the 2,300 level during yesterday's session. There are some underlying issues in the industry right now, especially with big names cutting headcount in important areas, but we might be entering a rate environment that banks can live comfortably in.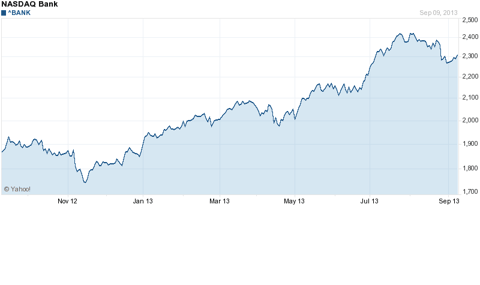 Click to enlarge
Source: Yahoo Finance
We have economic news today and it is as follows:
JOLTS - Job Openings (10:00 a.m. ET): Est: N/A
Asian markets finished sharply higher today:
All Ordinaries -- up 0.38%
Shanghai Composite -- up 1.15%
Nikkei 225 -- up 1.54%
NZSE 50 -- up 0.30%
Seoul Composite -- up 0.98%
In Europe, markets are higher this morning:
CAC 40 -- up 1.38%
DAX -- up 1.77%
FTSE 100 -- up 0.79%
OSE -- up 0.34%
Financials
We ran across a few articles this morning (see MarketWatch's article here) discussing Bank of America's (NYSE:BAC) plan to cut up to 2,100 jobs in its mortgage segment due to slowing demand for mortgage refinances. BofA is following Wells Fargo (NYSE:WFC) in reducing headcount due to slowing demand but we wonder exactly where these jobs are in the mortgage departments because as we look at the job openings at some of our local banks in the region they are actually still hiring or recently hired mortgage personnel.
BB&T (NYSE:BBT) revamped their mortgage department during the downturn in order to lower costs and shovel costs off onto their commission employees. More work than ever in the mortgage origination process is now down by those individuals and many positions that were previously back office jobs no longer exist at the bank. We have not heard of BB&T lowering headcount and due to their size in the southeastern US we have to wonder if this is due to their structure and being nimble or if cuts are coming down the pipe. We are watching BB&T right now for this as it will tell us a little bit more about what Bank of America and Wells Fargo are seeing and anticipating on a national level.
Brokerages
E-Trade hit a new 52-week high yesterday and the story has been great here over the past year as the company continues to repair its business. The run has been big and after yesterday's jump we would look for a pullback before buying. No need to chase.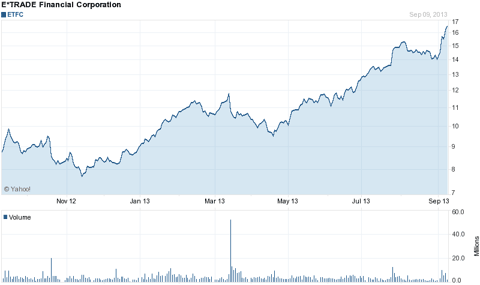 Click to enlarge
Source: Yahoo Finance
Our call to go long the online brokerages before they took off was a good one. Not one of those calls of a lifetime, but certainly a strong call, which paid off almost instantly and has continued to show gains. At the time we made our initial call, we wanted to stick to the blue chip and high quality names within the sector, which meant that E-Trade (NASDAQ:ETFC) was not one of the names we marked as a must buy at the time. As the business climate has continued to improve, it seems that all boats are rising with the rising tide so to speak. E-Trade shares hit $16.51/share yesterday, starting the week the same way it ended last week...up. We continue to like the discount brokerage business as we think the stock market will continue trending higher and shall see more and more capital come off of the sidelines. We would wait for a bit of a pullback in E-Trade shares if readers are looking to invest there as the shares have risen strongly lately.
Entertainment
A new breakout is taking place in LVS shares, and so long as the bullish Chinese economic data keeps pace, we should see a continued run.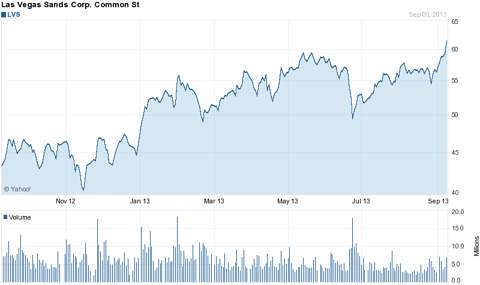 Click to enlarge
Source: Yahoo Finance
Shares in long-time favorite Las Vegas Sands (NYSE:LVS) hit a fresh 52-week high after a lot of bullish news yesterday. Chinese economic data continues to improve, but more importantly Sterne Agee wrote in a report that channel checks indicated that gaming revenue for the month was up over 25% from last year. China is key to the growth of the Macau players' revenues and the recent upgrades to infrastructure as well as the planned tourist draws shall continue to turn Macau into more of a Vegas-type venue where families can go for vacations and further drive revenue growth. We continue to like the story here based on China, but there are other potential 'kickers' that the company has to offer which could also drive growth, namely improvements in their US operations, continued growth at other Asian properties and growth in Europe.
Disclosure: I have no positions in any stocks mentioned, and no plans to initiate any positions within the next 72 hours. I wrote this article myself, and it expresses my own opinions. I am not receiving compensation for it (other than from Seeking Alpha). I have no business relationship with any company whose stock is mentioned in this article.