Spherix, Inc (NASDAQ:SPEX) is a newly formed Patent Assertion Entity (PAE) trying to monetize its recently acquired intellectual property assets. I previously covered the company in an article that can be located here, which specifically described the unattractive share structure and overview of the company.
On July 17, Spherix announced their intention to acquire patents from Rockstar Consortium, the winning bidder of the Nortel auction back in 2011. Rockstar Consortium is comprised of Apple, Microsoft, Sony, Blackberry, Ericsson and EMC. The acquisition finally closed on August 21, 2013 in a heavily redacted SEC filing. The agreement stipulated a $2M up front cash payment along with $1,000,000 worth of Spherix common stock (176,991) shares. These shares were just registered with the SEC on September 5, 2013 and have a lockup provision. There is also a redacted portion of the agreement where Rockstar would be compensated on the back end of any monetization of the Rockstar patents.
Last week Spherix filed patent litigation lawsuits against VTech Communications and Uniden, two makers of home cordless telephones. The lawsuits allege that Vtech sold $2.6B worth of cordless phones for the infringed period. With the lawsuits filed, we now know which patents were bought by Spherix from Rockstar, which can be confirmed by the patent assignment.
Patent #5581599 Cordless Telephone Terminal
Patent #5752195 Cordless Telephone Terminal
Patent #5892814 Flexible, Tapeless, Personalized Auto-Attendant Telephone
Patent #6614899 Method and Apparatus for Providing Advanced Services in an Intelligent Endpoint
Patent #6965614 Method and System for Communications Between Different Types of Devices
I was disappointed in the patents that were purchased as I thought they would be more mobile focused in order to target the Android platform, aka Samsung. VTech and Uniden, while nice targets, will not bring the same appeal/damages as a large player from the Android platform. The patents are for older technologies with the earliest filing date being from 1993. The patents were invented by a high quality source in Nortel and I can see the value in the patents, but not enough to justify the fully diluted value of Spherix.
On the North South portfolio, litigation was initiated on August 5, 2013 against T-Mobile USA, under patent #5719584 System and Method for Determining the Geolocation of a Transmitter, in the Middle District of Florida. North South also raised two million dollars for monetization efforts and further acquisitions.
With the monetization timeline to play out through the court system, it should take 12-36 months until a Markman hearing is held and a jury trial has finished. This is a long time for money to be locked into an investment without any tangible results on financial statements. The appeals process would then start with a further timeline of 12-18 months, if not longer. Without options available to hedge risk I find the investment even more unattractive. There could also be laches issues that I am sure Vringo (VRNG) shareholders would love to explain to Spherix shareholders.
The Rockstar patents along with the North South merger set to close in the near term, Spherix has two acquired patent portfolios to monetize. The fully diluted valuation of Spherix is roughly $190M, which I believe to be very rich for a new PAE on the scene. I believe Spherix will likely trade down to a $60M-$80M fully diluted valuation once the North South merger is completed and the Series D convertible notes are eventually converted / sold into the float. This would be at a premium to newly formed PAE's such as MGT, OTCQB:WDDD, and OTCQB:BCYP, which trade between $20M-$40M. I would be able to warm up to the investment if we trade to my $60M-$80M target and the Series D convertible notes have been fully converted. I feel a huge overhang of shares being made available when the merger completes and the North South holders look to exit from their position.
Shares have been extremely volatile with a recent low of $6 and a high of $27. The share price has retraced back to $11. This has all developed over a short time span within the past 45 days: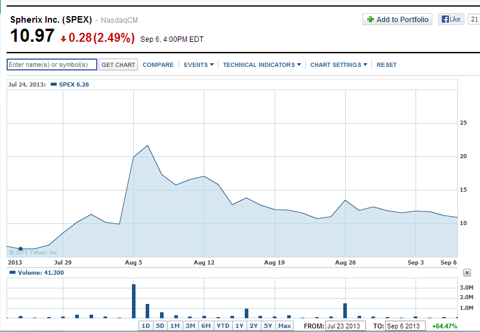 I also find it very intriguing that Apple (NASDAQ:AAPL) being very vocal in their critique of patent trolls that do not produce any products and target Apple with software patents, through their ownership of Rockstar, have done exactly what they have criticized in the past. I am curious how their facilitation and ownership of a new PAE, will impact their voice on the "patent wars" and influence on government administrations.
My advice to investors is to sit this one out and wait for the Series D convertible shares to be absorbed into the float. I don't see an immediate monetization of either portfolio, which would justify the current $190M fully diluted value of the company. I do expect shares to be volatile on the upside and downside as traders try to take advantage of the low float. I would normally short an investment with the above fundamentals, but without options to hedge risk, tight float, lack of liquidity, and stock being extremely difficult to borrow I have chosen to eventually invest on the long side if/when the fully diluted value is at more attractive levels.
Disclosure: I have no positions in any stocks mentioned, and no plans to initiate any positions within the next 72 hours. I wrote this article myself, and it expresses my own opinions. I am not receiving compensation for it (other than from Seeking Alpha). I have no business relationship with any company whose stock is mentioned in this article.