Many traders found it baffling when the yen dropped after news confirmed that Tokyo would be the host city for the 2020 Olympics. After all, conventional wisdom teaches that "positive news should reflect positively on the local currency."
The answer lies in the way the markets interpret the news. You see, Japan is currently undergoing a period of deflation. Deflation is essentially a decrease in the general price level of goods and services. At first glance, deflation may sound like a good thing.
However, as more and more prices are cut, consumers become smarter and start to hold on to their cash expecting further price reductions. Businesses temporarily stop investing too. The problem compounds when a particular country counts consumer spending as a majority of its Gross Democratic Product (GDP). In case of Japan, consumer spending takes up about 60% of its GDP.
This vicious cycle perpetuates itself until the economy begins to have its life sucked out of it. With the further slow down in the economy, more businesses will have to layoff more people, substantially increasing unemployment and affecting the general economy once more. In a nutshell, that's the situation facing Japan now.
The Olympics will spur construction and help overcome deflation. The first step comes in the form of higher employment. The mere announcement of the news caused Japan's benchmark index, the Topix, to reach a one-month high. As more money moved into the stock market, the yen was sold off, causing it to drop. On the currency chart, USD/JPY opened with a 48 pip gap upwards, signifying the yen's weakness against the U.S. dollar.
Other Asian indexes followed suit, with the MSCI Asia Pacific Index climbing 0.8 percent and South Korea's Kospi climbing 0.7 percent.
Elsewhere, in the US employment figures came in lower than expected. Friday's Nonfarm Payrolls (NYSE:NFP) added 169,000 workers last month, which trailed the 180,000 median forecast in a Bloomberg survey of 96 economists. Unemployment fell to 7.3 percent, the lowest since December 2008, as workers left the labor force. Although the reported figures were not in line with market expectations, the Fed is still expected to taper stimulus soon.
Traders worldwide will be closely watching the next meeting amongst the Federal Reserve policy makers, which takes place September 17-18, to see if they will temper plans to reduce an USD85 billion monthly pace of bond purchases that have bolstered global markets.
An important clue is seen in the rise Treasury yields lately - with the 10-year yields crossing 3 percent for the first time last week in over two years.
Top News This Week
Australia: Employment Change. Thursday, 12th Sept 9.30am.
I expect figures to come in above 9,500 (previous figure was -10,200).
USA: Core Retail Sales m/m. Friday, 13th Sept 8.30pm.
I expect figures to come in at 0.3% (previous figure was 0.5%).
Trade Call
Short USD/CAD at 1.0383
Oil prices have been steadily increasing from $104/barrel to $110/barrel since the start of September. The main cause for the rise in oil prices is the impending air strike on Syria by the US.
On the H1 chart, USD/CAD has broken a key support level at 1.0474.
We will go short once prices fall to 1.0383, which is the lowest closing price a few candles back. I expect the strong downward momentum to carry it lower, especially once the US announces the air strike on Syria. We will have a stop loss 40 pips above the entry price, which is five pips above the previous high of 1.0418. We will have two targets on this trade, exiting the first position at 1.0343 and the second position at 1.0303.
Entry Price = 1.0383
Stop Loss = 1.0423
1st Profit = 1.0343
2nd Profit = 1.0303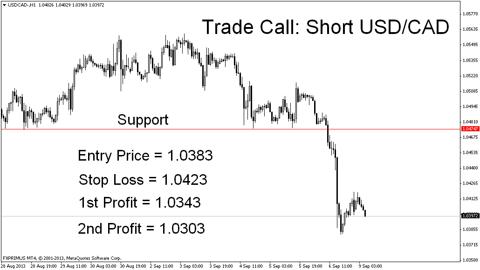 Click to enlarge
Disclosure: I have no positions in any stocks mentioned, and no plans to initiate any positions within the next 72 hours. I wrote this article myself, and it expresses my own opinions. I am not receiving compensation for it. I have no business relationship with any company whose stock is mentioned in this article.