With the news that France is preparing to put before the UN Security Council a resolution where the world will oversee Syria's stockpiles of chemical weapons it seems that the US will not be attacking Syria. In our other article this morning we speculated that Russia would be the one to put the resolution forward, however it does appear even likelier that this move is accepted with one of the saber rattlers, France, now seeing this as palatable.
With the news, commodities are down but we believe that they will only recover after this pullback and view it as a buying opportunity. We would stay clear of those with exposure to gasoline as those prices continue to fall and actually crossed below the $2.80/gallon level today, just as we predicted would happen not long ago. It is now heating oil production season and with the summer driving season over we shall continue to see weakness in RBOB prices.
Chart of the Day: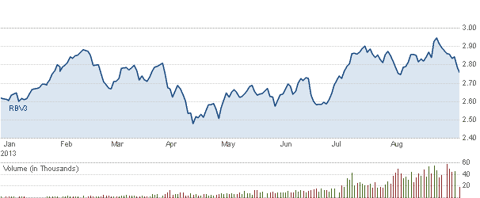 Source: CNBC
Commodity prices this morning are as follows:
Gold: $1361.20/ounce, down by $25.50/ounce
Silver: $22.92/ounce, down by $0.797/ounce
Oil: $106.98/barrel, down by $2.54/barrel
RBOB Gas: $2.7521/gallon, down by $0.0503/gallon
Natural Gas: $3.569/MMbtu, down by $0.036/MMbtu
Copper: $3.2755/pound, down by $0.0025/pound
Platinum: $1473.60/ounce, down by $9.40/ounce
Rare Earths
It seems Russia has become the center of the commodities world in recent weeks as big news piece after big news piece comes out of the country and its surrounding areas. The latest piece we ran across (see article here) pertains to rare earths and Russia's plan to spend $1 billion to increase their production. Our long-time readers will remember our initial bullishness on the sector and the money made in various trades. We have since been bearish of the sector as Molycorp (MCP), Rare Element Resources (NYSEMKT:REE) and other led the sector lower during the financial crisis.
Molycorp probably has the most upside based off of the Russian news as far as stocks with exposure to rare earths and traded in the US are concerned.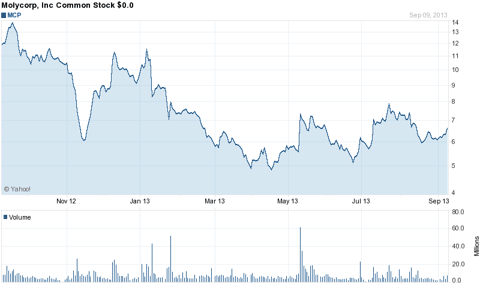 Source: Yahoo Finance
This move however can be seen in both a bullish and bearish light. The plan is to produce heavy rare earth elements (also known as HREEs) from the warehouses stockpiled with REE ore and create more supply. The move both helps and hurts Molycorp as it will lead to lower prices for the REEs, but help its manufacturing business as there will be greater supply, enabling increase production, and cheaper input costs, thus helping margins. The other names focused solely on mining might see a bit of a negative out of this as this is capital their projects will not be seeing and potential customers might be swayed to support these projects over theirs.
Oil & Natural Gas
We continue to see strength build in the oil and natural gas names, which has to be quite annoying to read day after day for those readers who have not purchased any of the names we have discussed in our daily updates. The one name that is picking up steam right now and appears poised to take out its 52-week high is Cheniere Energy (NYSEMKT:LNG). We took a look at the stock last week as it broke above $30/share, but with yesterday's move back above $31/share it appears all but certain that new highs await, even with the pullback that should take place on the news that a resolution might be reached in regards to Syria.
Coal
Three month highs for both ANR and CLF, however investors have really flocked to Cliffs with its exposure to both iron-ore and coal.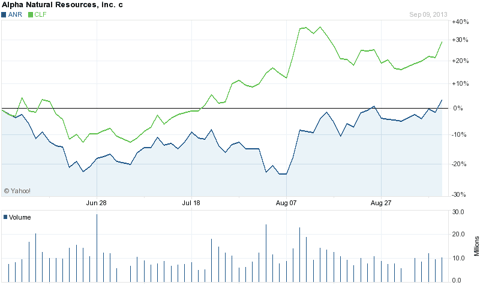 Source: Yahoo Finance
With the uptick in the Chinese economy we have seen commodities rally, with coal being a big beneficiary of the change in sentiment. Names such as Cliffs Natural Resources (NYSE:CLF), which also benefits from its iron-ore exposure, and Alpha Natural Resources (ANR) have seen some of the biggest gains but one also has to understand that these two also have pretty volatile histories. We are not sold on the rebound in coal just yet, and think most of the recent buying has been speculators playing the China story. We would continue to wait until true long-term buyers are moving in due to solid fundamentals because each time we have seen a speculative rally that capital has been quick to exit at the first sign of trouble...hardly the type of fellow investors we would like.
Disclosure: I have no positions in any stocks mentioned, and no plans to initiate any positions within the next 72 hours. I wrote this article myself, and it expresses my own opinions. I am not receiving compensation for it (other than from Seeking Alpha). I have no business relationship with any company whose stock is mentioned in this article.