Halcon Resources Looks Playable: Increasing Production, Oil Prices
Amid fervent concerns of share dilution, the price of Halcon Resources (NYSE: HK) dropped nearly 30% between August 6th and August 20th. Up ~7% from the recent low, it seems the storm is clearing.
Several key metrics suggest this domestic oil and gas (O&G) exploration and production (E&P) company is currently priced at an attractive valuation. Indeed, the shares are skimming above 52-week share price lows, while tremendous production increases and magnified oil prices all suggest eminent momentum.
In this article I will present a bullish case for Halcon Resources. I will begin with an overview of the company and my investment thesis. Support for the thesis will be given in a comparable company analysis that focuses on several key metrics. Afterwards, Halcon's geographic positioning will be recapped, followed by a brief technical analysis. I will end by discussing potential equity movement catalysts and respond to common variant views.
Company Overview
Halcon Resources is a small-cap O&G E&P company that has drilling rights on ~650,000 acres domestically. The company holds significant acreage in established continental U.S. oil and gas formations and also entertains several exploratory plays. Halcon Resources represents an attractive investment option for investors seeking exposure to small-cap domestic oil plays amid a swirling international oil market.
Halcon Resources: Bullish Investment Thesis
The rampant accusations of valuation richer than sweet cream are, in my opinion, products of convenience rather than fact. I resist the urge to be hypocritical and claim the equity is oversold, but I encourage the intelligent investor to realize that valuation is a product of cherry-picking information. Assembling a hierarchy of sorts is a necessary evil in company valuation, and in my hierarchy HK is attractively priced.
With near best-in-class production growth rates, booming oil prices, and significantly improving operating margins, I expect pleasant earnings surprises (are they still surprises?) for 3Q13, and therefore into FY13. This will be the case for the O&G sector at large--but these "surprises" will be generously valued into beaten up equities such as HK.
An ill-founded bear run in mid-August sent the stock to new lows--just after an excellent 2nd quarter. This combination provides the entry point: market scare tactics trumping improving fundamentals.
The wild-cards in the deck will make the rest of '13 a dynamic time for this beta-rich sector, and the alphas will begin to prove themselves. Later in the article I will recap the likely catalysts for the movements I anticipate.
Management
Management is important in every industry, and in highly leveraged E&P companies, management is of even greater significance. Halcon Resources is the latest project by oil tycoon Floyd Wilson. CEO Floyd Wilson has seen some success flipping domestic energy companies, and his involvement is generally viewed as a positive because of his historic results.
In 1970 Mr. Wilson began his career as a completions engineer for an energy company. Afterwards he started a private energy venture that later formed the Hugoton Energy Corporation, where he served as CEO. After a 1994 IPO HEC was merged into Chesapeake Energy Corporation. The story continues shortly thereafter with Mr. Wilson serving as CEO at another domestic energy company: 3TEC. It was bought four years later. Then, Floyd Wilson led Petrohawk for 5 years before selling out to BHP Billiton for a sizeable profit to Petrohawk shareholders (an all cash offer of $38.75/share).
Halcon Resources makes attempt number four, and it is no secret that Floyd Wilson intends to sell out again. It has been said that an exit strategy is likely to materialize at 75,000-100,000 BOE/day (currently HK is around 35,000 BOE/D at 88% oil). See this news article for further details.
Comparable Comp
Here I will compare Halcon Resources to two other well-known small to mid-sized E&P companies, Kodiak Oil and Gas (NYSE:KOG) and SandRidge Energy (NYSE:SD). This article focuses on 2Q13:2Q12 results and YTD13:YTD12, and Halcon Resources will be shown to be competitive through key calculations.
I believe BOE/day production and its associated dynamic to be a premier metric for valuing and predicting E&P companies. However, let's begin with a broad view of ownership:
|   | HK | KOG | SD |
| --- | --- | --- | --- |
| Market Cap | 1.85B | 2.89B | 2.67B |
| Insider Share Purchases (Last three months ending 8/15/13) | ~7,900,000 | 0 | ~302,000 |
| Insider Ownership | ~55% | ~2% | ~32% |
| Institutional Ownership | ~28% | ~74% | ~61% |
| Short Interest (% of float) | ~17.40% | ~15.40% | ~13.30% |
Note how insiders at HK have significantly increased their positions in the last three months. Here's the kicker: less than 100,000 of those shares were purchased under $5.00! Clearly the insiders held favorable opinions before the dilution shock-wave occurred. KOG indicates no recent activity, which is not surprising when one realizes that a mere 2% is insider owned. HK with its over 50% insider stake and low-side institutional ownership suggests a company that is confident in its direction and isn't concerned with Wall Street projections.
The relatively high short interest in HK is interesting, and I will revisit that later in the article.
Next are operating revenues and expenses. HK had the largest percentage increase in operating revenue in both 2Q13 YoY and YTD13 YoY, the latter being a respectable ~802%. Revenue is nice, but income is better. I like to use a figure I call "growth efficiency", which is simply the ratio of delta revenue and delta expense, both represented as percentages. As my chart shows, HK had the strongest growth efficiency for YTD13 YoY.
|   |   | HK | KOG | SD |
| --- | --- | --- | --- | --- |
| Total Revenue | 2Q13 | 214,343 | 143,478 | 512,987 |
|   | 2Q12 | 23,341 | 85,768 | 478,434 |
|   | YTD13 | 405,197 | 338,528 | 1,024,677 |
|   | YTD12 | 50,258 | 165,704 | 860,069 |
|   | YoY YTD Delta (%) | 802% | 204% | 119% |
| Total Operating Expense | 2Q13 | 185,502 | 110,266 | 426,529 |
|   | 2Q12 | 30,561 | 59,531 | (283,979) |
|   | YTD13 | 341,325 | 213,944 | 1,297,745 |
|   | YTD12 | 67,263 | 111,024 | 249,312 |
|   | YoY YTD Delta (%) | 507% | 193% | 521% |
| YoY Growth Efficiency | Rev Delta (%)/ Exp Delta (%) | 1.580 | 1.057 | 0.228 |
Growth efficiency is, like most metrics, an imperfect measurement. Therefore I find it instructive to compare growth efficiency with operating margin:
|   |   | HK | KOH | SD |
| --- | --- | --- | --- | --- |
| Operations Income (Rev-Exp) | 2Q13 | 31,841 | 63,212 | 86,458 |
|   | 2Q12 | (7,220) | 26,237 | 762,413 |
|   | YTD13 | 63,872 | 124,584 | (273,068) |
|   | YTD12 | (17,005) | 54,680 | 610,757 |
| Operating Margin (I/R*100) | YTD13 | 15.76% | 36.80% | (26.65)% |
|   | YTD12 | (33.84)% | 33.00% | 71.01% |
Kodiak Oil and Gas certainly has the most mature (and in this snapshot, stable) operating margin which is especially impressive considering the YoY income growth. Notice that Halcon Resources has the most improved margin, which is also impressive considering their significant acquisitions and D&C budget. I expect HK's operating margin to continue to improve throughout '13 and to begin to see a plateau in late '14.
Undoubtedly HK is the most leveraged of these three companies, as is shown in the next chart. However, the company also has the highest estimated value of oil and gas properties and associated equipment, giving the company a strong asset base and a Price/Book ratio of less than one! Comparatively, SandRidge has a P/B of 1.41 and Kodiak is at 2.56.
|   |   | HK | KOG | SD |
| --- | --- | --- | --- | --- |
| Cash | YTD13 | 3,061 | 14,072 | 1,094,341 |
|   | YTD12 | 2,506 | 24,060 | 309,766 |
| O&G Properties | 2Q13 | 5,390,453 | 2,605,700 | 5,375,806 |
| Long-Term Debt | 2Q13 | 2,713,947 | 1,446,305 | 3,194,660 |
|   | FY12 | 2,034,498 | 1,100,622 | 4,301,083 |
| Average BOE/Day | 2Q13 | 29,165 | 25,704 | 91,500 |
|   | 2Q12 | 3,912 | 15,565 | 90,200 |
Of significant interest is the average BOE/day figures included in the table: in 2Q YoY production, Halcon had a tremendous ~746% increase, eclipsing not only KOG's BOE/day growth rate, but also its 2Q13 BOE/day average production for the quarter. Looking ahead, I see this gap widening in the short-run, primarily because HK seems to prioritize growth over solvency, unlike Kodiak.
Oil Production and Holdings
Halcon claims 108.8 MMBOE of proved reserves with only 47% developed and a favorable Oil/NGL ratio of 85%. Furthermore, they anticipate a resource potential greater than 1 billion BOE.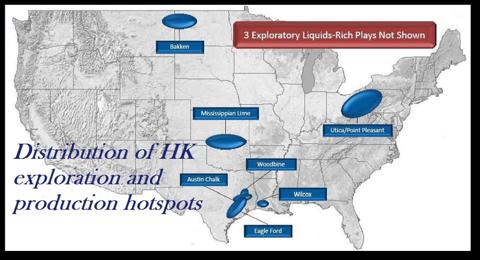 (Modified image: original sourced from HK public presentation materials)
Eagle Ford
Halcon holds drilling rights on a combined ~270,000 acres in and near the Eagle Ford play. Why is this relevant? Well, Forbes suggests that the Eagle Ford will soon eclipse the fabled East Texas Field as the most voluminous known oil and gas formation in the continental United States. Consider also that Texas plays supply ~30% of domestic oil production--see this Forbes article. Halcon's primary holding resides in the oil rich Northeast quadrant, which is favorable in the short to mid-term due to an over-supplied natural gas market.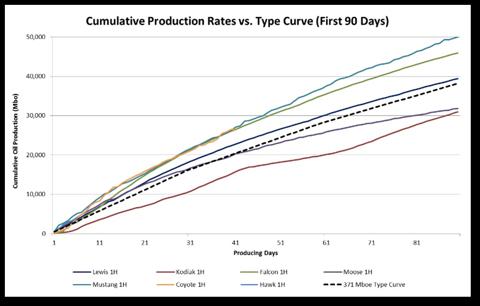 (Modified image: original sourced from HK public presentation materials)
In the company's New East Texas Eagle Ford ("El Halcon", ~50,000 acres) only three rigs have been operated in FY2013 thus far, and a FY2013 D&C budget of ~$100 million supports their expectation to spud 15-20 operated wells by 1Q14. The adolescent "El Halcon" gave 494 BOE/d in 4Q12 and if 2Q13 is any indicator we can expect exponential improvement this year. Cumulative production rates are also favorable and have good to strong r-correlation with the 371 MBOE Type Curve, as shown in the below image.
Wilcox
Halcon holds approximately 110,000 operable acres in the Wilcox formation in Louisiana. This large acquisition is younger than "El Halcon". The company hopes to have one operable rig by mid-year and 4 wells drilled in the same time frame. There is the obvious potential to up the ante if favorable results are had. With that in mind, an extensive 3D seismic analysis is underway with other 800 square miles being mapped. Halcon will look for multi-well pad setups and horizontal drilling in this structural play, with the proceeds from this area intended to be used to fund operations in richer plays.
Bakken/Three Forks
Now let's talk about the Bakken/Three Forks play where Halcon holds ~130,000 acres. 4Q12 production averaged to 12,710 BOE/d here. Lease expirations taper from 12% to 7%, 2% and 1% sequentially and respectively from 2013 to 2016+. The 2013 expirations were largely exploratory and are therefore not significant losses. Approximately 100,000 acres are "HBP"-which means "held by production". Basically it extends the lessee's rights to operate until a minimum threshold of productivity is passed (i.e. the company stops exploring or the wells go dry). Generally this is a favorable arrangement for the lessee.
Halcon will continue to develop this mature play and has a ~$475 million D&C budget for 2013. Best practices are also being adopted to reduce CapEx. By how much CapEx will be reduced remains to be seen, but at the minimum it seems safe to expect continued growth and tapering operating margins which, while not extreme, will certainly be favorable.
Here is some compelling evidence why I think the Bakken is just heating up for Halcon, even though it is their most mature play: The average initial flow rate on the two most recent Three Forks wells were 20% higher than the average initial flow rate for all previously drilled Three Forks wells. Additionally, the most recent Middle Bakken well was 37% higher (same metric) than all previous drills in the area. Therefore, I feel safe to expect decent production increases in 4Q13 through FY14 from the Bakken play, and therefore am not concerned with well-taper (which shouldn't hit its stride for several years, anyways).
Also, Halcon's disadvantageous pumping contract has finally expired, which will allow them to greatly improve their local operating margin. All said, the Bakken is still producing-and faster.
Woodbine
Halcon is strongly invested in the Woodbine formation with approximately 220,000 acres on lease and a mere 3% HBP. 4Q12 production here was mediocre at 2,807 BOE/d and 100% operation. However, Halcon sees hope in four counties and has begun a 330 square mile 3D seismic graph and plans to spud 60-65 gross operated wells in 2013, funded by a ~$390 million 2013 D&C budget. Time will tell here.
Utica/Point Pleasant
Utica/Point Pleasant has Halcon 140,000 acres deep with ~60,000 acres HBP and no significant non-HBP lease expirations before the 2016-2020 timeframe. This is another young play for the company and production began in April of this year. There will be some hit and miss as drilling commences (10 sites planned by mid-year). Halcon shoots for six well tests by end of FY13. This area is most vulnerable to unfavorable legislation, so one must hope that the coal mining of the nearby states has Pennsylvania smiling upon Halcon.
Technical Analysis
With Halcon Resources skipping around 52-week lows, now is an attractive entry point for the investor with an appetite for smart risk. Common metrics of technical analysis are also indicating buy, and while technical analysis may not give sufficient reason to invest, it aids in the timing of purchases to give a modern "margin of safety". See below: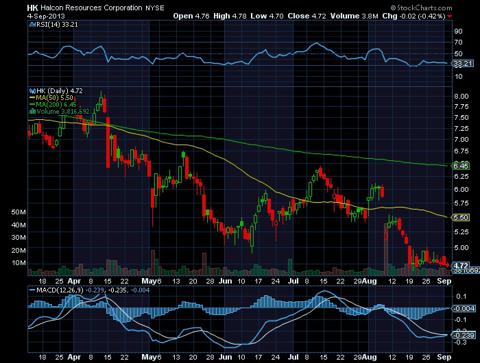 (Chart courtesy of StockCharts.com)
The relative strength index suggests a positive correction is likely for this oversold equity as it hovers at ~30. The 50 day moving average hangs below the 200 day moving average and the stock price hangs further down yet, indicating similar conditions. Lastly, the moving average convergence divergence on the common interval (12,26,9) indicates eminent crossover. That makes Halcon Resources three for three in terms of technical analysis and purchase timing.
Catalysts
Positive Catalysts:
Increasing oil prices -- watch for a strong third and fourth quarter following record 28 month oil price highs.
Floyd Wilson to present at Barclays CEO Energy-Power Conference on 09/12/13 -- likely will provide favorable insights into future expectations. Also, keep an eye out for analyst price target alterations related to this conference.
Short Squeeze -- as of August 15,2013 there is a 17.40% short interest as a percentage of float. Considering the equity seems to be bouncing off near 52-week lows and oil prices have increased dramatically since the second quarter was reported, I don't think a squeeze is unrealistic in this situation. I will try to update with the new September value once it is made available.
Increased site development (rigs, wells, et cetera)
Maturing acreage mapping
CapEx Tightening
Production Growth
Negative Catalysts:
Decreasing oil prices -- how the international turmoil will play out is uncertain.
Debt terms
Stalled production growth
Large short interest -- worth considering the opposing motivations.
Neutral Catalysts:
Share Dilution: HK is commonly criticized for share dilution, which, while a legitimate concern, seems to ignore the business model of a company interested in fast growth and large (i.e. costly) expansion. I expect more share dilution. However, I expect more oil production as well, and optimistically would like to see the gap tightening by mid '14.
Select Variant View Criticisms and Responses
Floyd Wilson is nothing great. He sold Petrohawk at the peak of the mid 2000 market. Getting a profit was easy.
True, Petrohawk was a timely sell. However, deep industry experience and success in various market conditions discount the suggestion that Petrohawk was a one-hit wonder.
This company is a product of marketing: there is no value.
It would seem that the equity was over-valued for a remarkable period of time. Considering HK is near 52-week price/share lows while hitting record production values, I think that view is rather dated. Adding in a price/book ratio under one is a nice kicker.
Fundamental Analysis says stay away: too much debt.
Yes, it does. What is more is that fundamental analysis generally urges one to stay away from the entire market sector of micro and small-cap E&P companies. This is a highly levered industry and there is an abundance of difficult to quantify information.
X and Y metric are really discouraging...
In the short-term, yes. As previously stated there is considerable data with nebulous implications. I won't bother to address the metrics one by one, but I will indulge the fabled multiple: HK's trailing PE (TTM) of ~100 is Enron-esque. However, already improving production and modest future production estimates put the forward P/E at ~15.
HK is trading at a rich valuation.
Maybe, that all depends on how one defines valuation: it is a malleable thing, and how one estimates fair valuation determines if it is fair. For instance, KOG has better EPS, but slower production growth. Furthermore, HK has significantly lower price/sale and price/book ratios than KOG. We are only four metrics deep, and it is already unclear who the cheaper buy is.
Small-cap energy companies usually have high beta values, and if you're an investor that is made uncomfortable by beta-rich profiles, this may not be the sector for you. Volatility is emphasized in this sector because of ties to the oil commodity market, adding an additional level of separation from value predictability.
Consider this: when E&P companies look as fundamentally attractive as a mature sandwich shop, it is time to start looking for dividends. If you seek alpha in small-cap energy, prepare to socialize with high beta values. Fundamental analysis will generally discourage the picky investor from a sector that is highly levered. Difficult to quantify x-factors like management, acreage and production values are essential considerations for fundamental analysis in these cases, and how the individual investor stratifies these criteria will likely determine their interest level.
Conclusion
Halcon Resources represents a mid to long term play with attractive valuation and a compelling story. Experienced management and quality acreage increase the company's chances of success. Relative low-pricing is coupled with a strong growth profile. The ideal end game eclipses in a buyout when a threshold BOE/day average production greater or equal to 75,000 is hit. High beta and price volatility encourage caution, but key factors indicate improving conditions that will propel this timely equity's price.
A final recap:
~740% Increased oil production
>50% Insider Ownership
Slightly above 52-week price lows
28-month high oil prices will magnify earnings in the short term
Newly positive diluted EPS
~17% Short interest looks squeezable considering production and spiking oil prices.
Personal Disclaimer: These figures come from SEC filings, NASDAQ reporting and other sources I believe to be trustworthy; however, as in any situation, transposition errors are possible and no number or calculation should be taken to be exact and the author cannot and will not be held accountable for deviations thereof. Similarly, my interpretation of data and conclusions are my own and are in no way to be categorized as investment advisement. Investors are always encouraged to do their own due diligence research.
Disclosure: I am long HK. I wrote this article myself, and it expresses my own opinions. I am not receiving compensation for it (other than from Seeking Alpha). I have no business relationship with any company whose stock is mentioned in this article.