I wrote an article back in June, discussing the tailwinds effecting mobile payment specialist Monitise (OTCPK:MONIF) and pointing out the company's characteristics that make it the go-to-partner for m-commerce solutions.
Since then the stock advanced about 50% to the upside, breaking out of its multi-year trading range and marking new all-time highs. Especially last Wednesday´s move, on the back of two new co-operations, pushed the stock upwards, with trading volumes not seen in half a year.
Monitise announced a couple of new deals since June and also released its full year results last week, which I want to take a look at to see if my growth projections and investment opinion are still valid.
Recent Deals
Monitise and Lloyds (NYSE:LYG) Commercial Banking Unit struck a co-operation to develop and offer mobile payment solutions for small merchants and start-ups in the UK, which will be launched in fall of this year.

A 5 year partnership with Telefonica (NYSE:TEF) was announced, making Monitise the preferred technology provider for the telecom giants mobile payment projects.

Telefonica of course is probably the most globally diversified telecommunications operator on the planet with brands like O2, Movistar and e-plus; counting over 300 million subscribers in 24 countries, mainly across Europe and South America.
This deal is a major milestone for Monitise, expanding their reach particularly in the fast growing markets throughout Latin America. As I mentioned in my first article, emerging markets post a special opportunity for the mobile payment/banking industry. When whole populations are considered under-banked but savvy consumers and enthusiastic cellphone users at the same time, the potential for a quick adoption and a direct leap into the mobile commerce age is very high.
Growth rates and transaction volumes could easily outstrip its developed world counterparts, fueling Monitise´s growth rates as well.
Considering that there are roughly 24 million people transacting on Monitise´s platform through various financial institutions at the moment, the potential by gaining a mobile operator with 300 million subscribers becomes obvious.
India´s largest private bank, ICICI (NYSE:IBN), struck a deal with Movida (the Joint Venture owned by Monitise and Visa (NYSE:V)) to offer its mobile payment services to their own banking clients. The importance of this deal lie in the same neighborhood as the Telefonica deal: broadening the customer base in the fast growing emerging markets.

Desjardins, a Canadian financial cooperative, chose Monitise to develop its NFC (near field communication) offerings. Operations are planned to go live sometime in 2014, and even though this deal is a far smaller one than with ICICI and Telefonica, it still underlines Monitise´s expertise and reputation in building world class mobile payment ecosystems for its clients.

CSCU (a group of Credit Unions) decided to go with Monitise to provide its 2600 member unions with mobile banking solutions.

"Big-Blue" IBM and Monitise partnered to extend the reach and scale of services offered to Visa Europe´s partner banks.

Even though the last mentioned partnership already exists to some extend for quite some time now, combining Monitise´s solutions with IBM´s "Smarter Commerce Initiative" will enable Visa members to bring mobile applications quicker and to a wider range of mobile devices.
Furthermore, the company acquired Grapple Mobile, a specialized app developer for retailers; opening the doors for Monitise to offer advertising features within its platform.
Full year results for 2013
Last weeks numbers were a bittersweet pill to swallow for Monitise stockholders. On one hand, the company kept pace with its past revenue growth rates, doubling sales for the fourth year in a row from £36.1 million to £72.8 million and lifting gross profit by 133% from £24 million to £55.2 million. On the other hand, operating expenses also more than doubled from £34.4 million to £74.5 million, widening the EBITDA loss from £-10.4 million to £-19.3 million. Considering the original guidance to break even in the second half, the bottom line results are a huge miss.
Management explains the risen expenses with technology and staff spending, to anticipate the increased demands of those large deals announced, particularly the Telefonica partnership. Guidance for the next 12 months aims at a more than 50% revenue growth and a break even for the second half, basically pushing profit targets out exactly another year.
Being disappointed by the bottom line results and selling the stock would be a plausible reaction but would miss the big picture of recent developments; as you can read in my June article, Monitise´s story is one that will play out over the next five years and not the next five months.
One very important factor to keep in mind is the complexity of building a platform that is able to seamlessly connect merchants, banking institutions, phone operators and consumers safely and on such a huge scale. Whoever is leading the charge and technological development in this area will likely continue to draw in big customers in the future; therefore Monitise is setting the entry barriers for new system operators very high, as it takes years to build the confidence and reputation the company is enjoying right now.
During last weeks presentation, management mentioned that the only real competition they see out there are internal IT-divisions of big companies, playing with the thought of building their own platform instead of partnering with Monitise.
And this is probably the point where huge co-operations with the likes of Telefonica, IBM and Visa will move the needle and convince corporations to rather go with Monitise than doing it on their own.
If this trend continues without any major players building a comparable platform, Monitise could become the de facto standard in the space; a space that will continue to see explosive growth over the next 5 to 10 years.
And a lot of the presented numbers are indeed very encouraging if you are willing to look a little closer:
Take for example the fact that the share of user generated revenues made up 65% (£29.2 million) of total revenues in the second half, up from 37% (£7.1 million) a year ago and those revenues carry a stunning gross margin of 92% compared to a 53% margin in the development and integration segment.
Monitise posted a customer acquisition chart during its presentation, and after doing the calculations you end up with the following table about how much customers are actually transacting using the companies technologies:
In (A) Monitise had (B) registered clients, each of them making on average (C) transactions with an average value of (D) per year.
| | | | |
| --- | --- | --- | --- |
| A | B | C | D |
| In... | # of clients | avg. # of transactions per year | avg. value of transaction |
| June 2010 | 2 million | 60 | *< 0.01$ |
| October 2011 | 6.5 million | 74 | 6.45$ |
| Clairmail Acquisition | | | |
| April 2012 | 13 million | 96 | 11.2$ |
| August 2012 | 17 million | 98 | 12.05$ |
| February 2013 | 20 million | 100 | 15.5$ |
| August 2013 | 24 million | 125 | 16.67$ |
*I think we can disregard this number
The trend shows a clear rise in customer engagement and a continuous rise in $ transacted; and I would argue that the big wave of mobile payment engagement is still way ahead in the future, pointing to a steady exponential increase in user generated revenues that yield those juicy 92% gross margins for Monitise.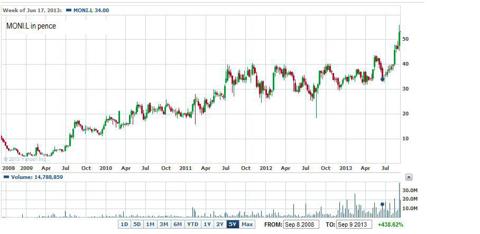 Conclusion
Given the companies outstanding reputation, and list of partners I conclude that Monitise will continue to be perfectly positioned for a perfect storm of mobile commerce applications taking over our shopping and banking behavior.
With a cash position of around £85.6 million and basically zero debt, operations should be well funded if there are no bigger acquisitions around the corner.
The company also announced to move its stock listing from AIM, the UK`s exchange for young companies, to the LSE´s prime market at some point during 2014, which should give the stock an additional boost of institutional interest.
With fundamental tailwinds in place and the company being able to attract huge corporations (Telefonica and its 300+ million clients) to its platform, I continue to be a raging long term bull on Monitise´s stock.
The table of revenue and profit expectations I posted in my June article should still be valid for the years 2015 and 2016, as I expected profit margins for live operations to hover around the mid 80´s while in fact they stabilize in the 90´s and management also gave a 2014 guidance of at least 50% growth in revenue.
Therefore I will stick with my price target of 200 pence per share by 2016/2017.
The recent leap probably took a lot of short term potential off the table, and cautious investors who are well ahead on their position might take some profit at current levels, even though I will stay fully invested, as my investing horizon extends at least 2-3 years into the future.
Investors who would like to open or add to a position should be advised to take dips under 50 pence as an opportunity.
Disclosure: I am long OTCPK:MONIF. I wrote this article myself, and it expresses my own opinions. I am not receiving compensation for it (other than from Seeking Alpha). I have no business relationship with any company whose stock is mentioned in this article.